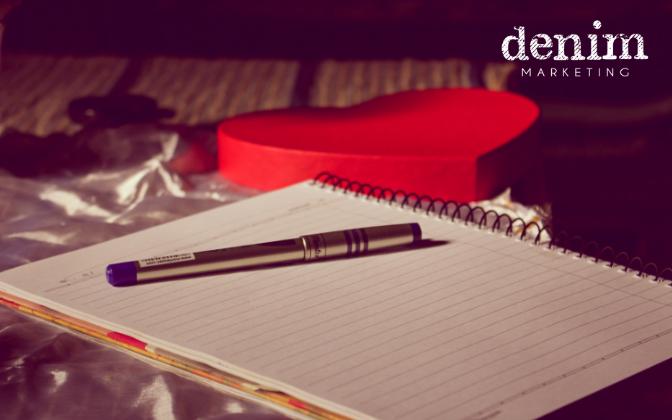 Love is in the air! Crafting content and telling stories is a key component of every service offered by Denim Marketing, and lucky for us, we love to write! It's long been said that content is king, and we believe it's true. From writing for public relations to getting creative on social media, it's how we spend most of our time – so it's a good thing we love it as much as we do!
Here are five types of content we love to write:
Content for Public Relations
The Denim Marketing team loves getting the creative juices flowing to share client news and score media coverage. Public relations, defined as the professional maintenance of a favorable public image by a company or other organization or a famous person, of course involves writing, but communicating with reporters to serve as a dependable source for information is also a key ingredient to being successful. It is important to cultivate relationships with reporters and editors – how many times do you truly invest when receiving a cold call or blanket email? News reporters and editors often have the same knee-jerk reaction of ignoring it, so it is important to trust your public relations to an agency who already has these relationships! We work to make sure the news releases we write have an attention-grabbing hook that has been crafted into a newsworthy piece of content. This is one of our favorite and most challenging tasks when writing content for PR. And, because of our dedication to this practice, news outlets often reach out to the Denim Marketing team to "get the scoop" for stories and trends and in turn, run news stories we pitch to them as well. Ultimately, a strong public relations strategy puts companies in a better position to get news out in the event of a crisis or important announcement. Denim Marketing loves being a trusted strategic public relations partner for both our clients and reporters. The bottom line is, we love to write content!
Content for Social Media
Let's face it, the majority of the population is having a love affair with social media. Most of us spend way too much time online, scrolling through Instagram, Facebook stalking browsing or watching funny videos. With so much content consumed on a daily basis – the average adult spends nearly an entire hour of their day on social media alone – it can be hard to stand out from the crowd and ensure your message gets heard. But we love a good challenge, especially one that involves writing! Each social media site requires a slightly different message, and we love nothing better than writing engaging content and then formatting it for each individual site. From shortening the message for Twitter to adding hashtag comments for Instagram, we love the time we spend writing content for social media!
Content for Blogs
Remember that journal full of thoughts, ideas and secrets you kept in your youth? You may have even written a few private love letters to a secret Valentine! Times have changed and now blogging helps individuals and companies reach millions of people through the same type of writing – less the few personal secrets. The blogs the Denim team writes help our clients put a more approachable voice out to the market. Blogs share knowledge about companies and help promote trends. Best of all, blogs relate to audiences in various ways to achieve that personal connection that everyone longs for. For 20 years, Denim Marketing has declared our love for blogging, and we continue falling in love with it every day!
Content for Email Marketing
Denim Marketing is sweet on email marketing, especially if it comes with a recipe for red velvet cake and cream cheese frosting. Email marketing is a great way to set your company apart from other companies. From the time a potential buyer visits your website or bricks and mortar location, email is a perfect solution for staying in touch with them. Denim Marketing puts together email campaigns that are as simple as promoting a new product or service to as elaborate as a set of 15 autoresponders with evergreen content. Putting words on paper (or in an email) keeps potential buyers engaged and helps to ensure they keep your business top-of-mind while they continue to shop.
Content for SEO
The most technical style of writing done at Denim Marketing, search engine optimized content is also perhaps the most powerful type of content we write. Whether it's updating what's on your website or crafting keyword-focused blog content, Denim Marketing's goal is to always write content that will be ranked highly when it's indexed by the search engines. Optimized content is a key component of every marketing strategy – without well-written content featuring keywords, your website won't rank on the search engines for the terms your potential clients are searching. If you don't rank on the search engines, they won't find you! And that's a thought no one loves.
No matter what type of content you need written, the team at Denim Marketing would love to write it! Writing content for public relations, blogs, social media, reputation management, websites, emails and even search engines are our specialties. Contact us online or call 770-383-3360 and let's talk about how we can write content that you'll love, too!