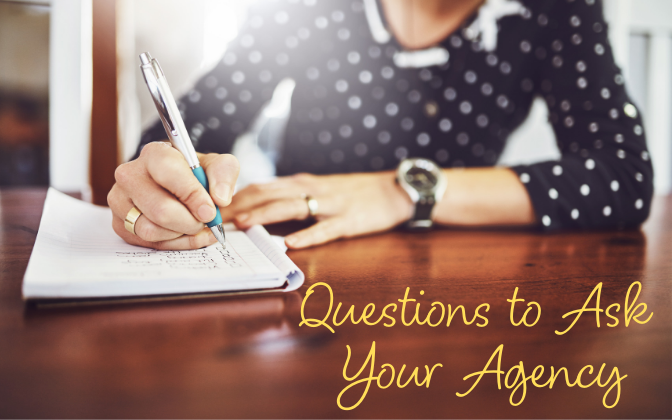 Looking to hire a new marketing or public relations agency? Well, here are a few questions you might want to ask. I was recently interviewed by a potential client and this is the set of questions that he used. Thanks to Leif Olsen for a delightful conversation, sharing his list of questions and allowing me to share this with you.
How does pricing typically work in this industry?
Most public relations and marketing agencies work on a retainer basis with their clients. The retainer is based on the scope of work (SOW) that has been agreed upon with the client. A certain number of hours will be associated with that SOW. For instance, if the agency budgeted 20 hours a month for blogging and social media, a typical retainer could be $2,000, $2,500 or $3,000 a month depending on the hourly rate. At Denim Marketing, most of our clients are on annual retainers, but we also will work on 90-day to 6-month projects, or bill by the hour for hours used.
What services do you offer?
Denim Marketing can do as much or as little as you need. Our core services are strategic marketing, content development, public relations, media relations, blogging, social media, email marketing, reputation management and social media advertising. We perform all of the work for these services in-house. We also direct outside vendors and work to provide our clients with a comprehensive plan that produces return on investment (ROI). There are a number of other services that Denim Marketing offers through trusted partners; these include search engine optimization, website development, pay per click ads on Google, retargeting, geotargeting, and more.
How are you going to get pictures, interviews, and content without physically being here?
We typically use Dropbox for sharing photos, and clients upload professional photography to it. Our clients will email us photos of happy homeowners at closing or when they sign a contract standing by their lot sign, or employees celebrating an anniversary throughout the month. With technology such as GoTo Meeting and other programs like it, we can conference call clients with video as needed to stay up-to-date. We plan content several months out, and conduct interviews via email, the phone or Skype as need with onsite staff, homeowners or other key partners.
How long does it take before your client starts seeing results?
How long it takes to get results depends on what marketing tactics are being implemented, and how many of the basics need updates. For instance, if the brand, website and content need huge overhauls, it may take longer to start seeing results. However, for a typical marketing campaign, we start seeing results at 90 to 120 days.
How do you stay on top of changing social media? How do we know that you are going to adapt with the algorithms, new features, and new platforms?
As a marketing agency managing multiple pages on multiple social media platforms, we see changes as they happen. It is typical at Denim Marketing to have a staff member call or IM the team saying, "Hey, did you see what Facebook just did?" or "The new SnapChat update stinks, why'd they change it?" We read a lot of newsletters to stay on top of the trends. There are several great sites that send out updates as they happen. We also attend webinars and conferences such as the International Builders' Show and PubCon to stay on top of the learning curve.
What is your content strategy?
We create unique content for all clients based on their brand, products, services, promotions and events. You'll never read a piece of our content and think, "Wow, that is so generic that it could be posted anywhere, and the source wouldn't matter." Because at our heart, we are a public relations agency specializing in media relations, we are uniquely adept at crafting original content to tell our client's stories.
How do you tailor your services to each individual client?
Each client has specific needs. We customize our services to meet their needs. If they don't have a marketing director, we fulfill that position for them. If they do have a marketing director, we serve as an extension of their department. Some clients need only media relations. Others require a full suite of services. No matter what it is, we aim to work hand-in-hand with their team to fill whatever void they may have.
Can you tell me about your background? Where did you start your career in business and marketing, learning social media, and where did that journey go before you ended up in the position you are in today?
Wow, this is a huge question. I started my career working in public relations for Atlanta's most-beloved nonprofit attractions – The High Museum at Georgia Pacific Center, Atlanta Botanical Garden and Zoo Atlanta. I held these positions long before we had any form of digital marketing or even email. I absolutely loved working for not-for-profit companies, but after almost a decade, I decided to move more into mainstream business.
After a year of working at a retail and real estate focused marketing firm, I went out on my own to form the company that now operates as Denim Marketing and is celebrating its 20th anniversary. I grew from a one-person PR practitioner into an agency with several employees in just a few short years. In 2005, we started posting content online to free PR sites, and by 2006, we'd launched Atlanta Real Estate Forum. Through blogging and keeping an eye on trends, we gained substantive knowledge of the relationship between search engine optimization and content and utilized blogs and keywords to grow traffic for our clients exponentially. In 2007, when businesses started digging deeper into new media, we jumped on board, looked at social media sites and started using them for a competitive advantage for our clients. It became evident that this area of marketing was going to continue to grow, so I submitted to speak at the International Builders' Show on social media with a panel of clients and our program was accepted becoming the first-ever program on social media for home builders. Soon after that, I wrote a book on Social Media for Home Builders that was published by Builder Books. In 2018, my fourth social media book was published!
Are you personally managing the social media or is your team managing it?
Denim Marketing has a skilled team of social media practitioners who manage the day-to-day on all accounts. I tend to work on audits, big picture strategy and content for clients; however, I do jump in as needed to manage social media and other account facets. We work in teams for clients, so the account manager has a back up person on each account to ensure success! 
What kind of online audience do you strive to build? Do you target general locations like the West Coast or do you hyper-target followers and subscribers?
We value quality over quantity on social media. It is way more important to have a group of qualified followers and raving fans who can buy from you or share your messages than it is to have a huge group of followers who just aren't relevant. On social advertising, we target ads geographically (state, zip, county, city, where they work), demographically (sex, income, etc.), interests, behaviors and even by engagement.
What else would you like to share about your agency?
Agency personality and style contribute to whether a public relations agency or marketing firm is a good fit for your business. Understanding how they work and what to expect is important. Having an agency doesn't mean that you can just turn your marketing over to them and cross it off your long, long list of things to do. At Denim Marketing, we see ourselves as an extension of your internal team. Denim Marketing becomes your partner for everything you do related to marketing which means taking time for a strategic planning session, participating in monthly calls, and providing photos and approvals, among other things.
Denim Marketing is a comfortable fit. We love our clients and strive to go the extra mile for them. If you think we might be the right partner for your marketing needs, give us a call at 770-383-3360 or contact us here.