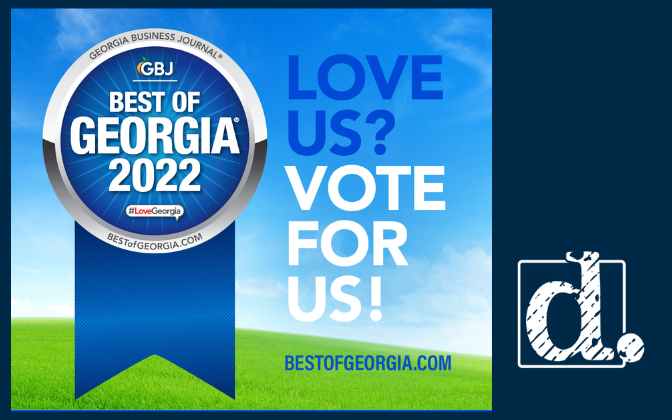 Denim Marketing is on the ballot in the Georgia Business Journal's 2022 Best of Georgia® awards. Please vote for us as a Top Marketing Firm in the Business & Creative Services category. Voting is live now through Monday, October 31 at 11:59 p.m. 
Carol Morgan, Denim Marketing President and Founder, states, "We are super pleased to be nominated for this prestigious award again! It reflects well on our strong social media connections and brand recognition." 
"Needless to say, we are competitive and like to win! So, help us out and please vote for Denim Marketing," Morgan adds.
Georgia Business Journal readers are voting on the best of everything in Georgia, honoring thousands of businesses and organizations in more than 20 business and community sectors.
The process starts with being nominated on the website. After that, voting runs for a month, and winners are ultimately announced! 
Winners and nominees are chosen by combining readers' votes and editors' input. They are vetted through several ranking sites, Better Business Bureau complaint reports, and voting pattern analysis reports.
Winners are named in hundreds of individual categories, giving Georgia Business Journal readers a go-to guide for the best of everything in Georgia. Georgia Business Journal recognizes three levels of winners: The Best of Georgia, Regional Winners and Honorable Mentions. Within each category, multiple honorees are named in each tier, depending on the size of the market sector.
We were one of the 2021 winners! You can view the complete list of winners at BESTofGEORGIA.com/winners.
Denim Marketing creates quality content for home builders, developers, remodelers and others in the industry. If you need content, Contact us here or call 770-383-3360.