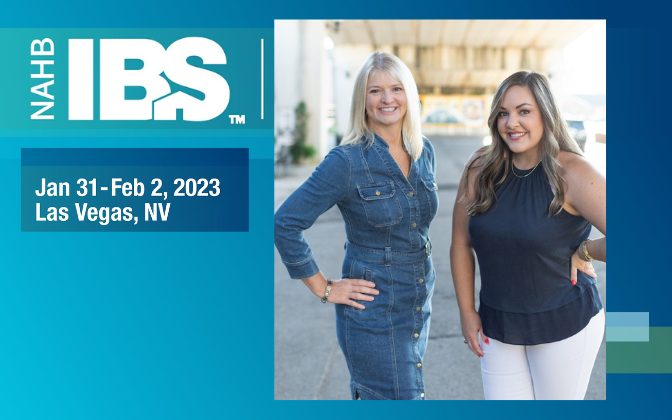 Carol Morgan and Courtney Stewart are again speaking at the International Builders' Show (IBS) from January 31 to February 2, 2023, in Las Vegas. Their topics include the importance of consistent communications and contractors' mistakes in the digital world.
Presented by the National Association of Home Builders (NAHB), IBS 2023 connects the residential construction industry as a hub for education, product launches, construction demonstrations, workshops, panel discussions and more.
Industry thought leader Carol Morgan, President and Founder of Denim Marketing, is speaking at the show for the 17th consecutive year. A sought-after speaker on marketing and business practices, she is joined by Rob Krohn from Epcon Communities. They are presenting the following session:
Fantastic sales can blind builders to the basics of marketing. Hear from industry experts why it doesn't pay in the long run to neglect content! It may only be words, but they serve a purpose in attracting prospects and feeding the search engines. Find out why telling your brand story via public relations, blogging, social media and email marketing sets your company apart and could mean keeping a lead versus losing the sale. Discover more about Google's "helpful content update" and why it is more important than ever to write content for humans.
Courtney Stewart, Vice President of Client Services for Denim Marketing, returns for the fifth year to present the following session with Brandon Schmidt, Director of Digital Strategy for YDOP.
Are your digital marketing efforts helping – or hurting – your online reputation? In a digital-first world, word of mouth has moved online. Homeowners are increasingly making snap judgments on who to hire solely based on online signals. This session looks at the common mistakes contractors make with their online reputation. We'll see how, when done right, your website, your Google listing, and your social media accounts can help build your reputation and grow your business. Plus, we'll cover the best ways to combat negative comments on social media and how to be proactive to deter negativity.
The International Builders' Show 2023 takes place in person at the Las Vegas Convention Center. This year marks the 79th anniversary of the world's largest annual light construction show. Visit www.BuildersShow.com for complete details regarding exhibitors and education sessions.
Need help with marketing? Let us know! Contact us here or call 770-383-3360.