Denim Marketing is pleased to welcome Ranch Cottages for Rent as a new client. The Cottage communities reflect decades of homebuilding expertise from well-known Atlanta homebuilder Jim Chapman. Recognizing a growing desire for smaller, maintenance-free, ranch options, Jim Chapman Communities began creating open, spacious and light-filled primary suite on main floor plans for rental communities. Our team is honored to partner with Ranch Cottages for Rent on its social media, blogging, email marketing, and Facebook and Instagram ad campaigns.
Developed to meet the needs of a developing niche market in metro Atlanta, the team behind Jim Chapman Communities came together to introduce stylish, amenity-rich homes in top Georgia locations under the brand Ranch Cottages for Rent. This build-to-rent endeavor is a new venture for Jim Chapman that leads with all the hallmark qualities the builder is known for in the Atlanta market.
"We are beyond thrilled to partner with Denim Marketing to introduce the Ranch Cottages for Rent brand to a larger audience. Carol Morgan and her talented team have a knack for navigating the marketing intricacies of the homebuilding industry. Selecting them as our marketing agency was the obvious choice," said Melanie Burruss, Sales and Marketing Coordinator of Jim Chapman Communities, Inc.
Each community delivers top wish list items for individuals looking to rent a home versus an apartment. Residents love the low-maintenance, lock-and-leave lifestyle that allows them to take full advantage of weekends and free time. From 24-hour emergency management to today's hottest amenities, each community comes fully equipped for a well-rounded life, providing the perfect environment for active adults, seniors, millennials, and even furry friends to flourish!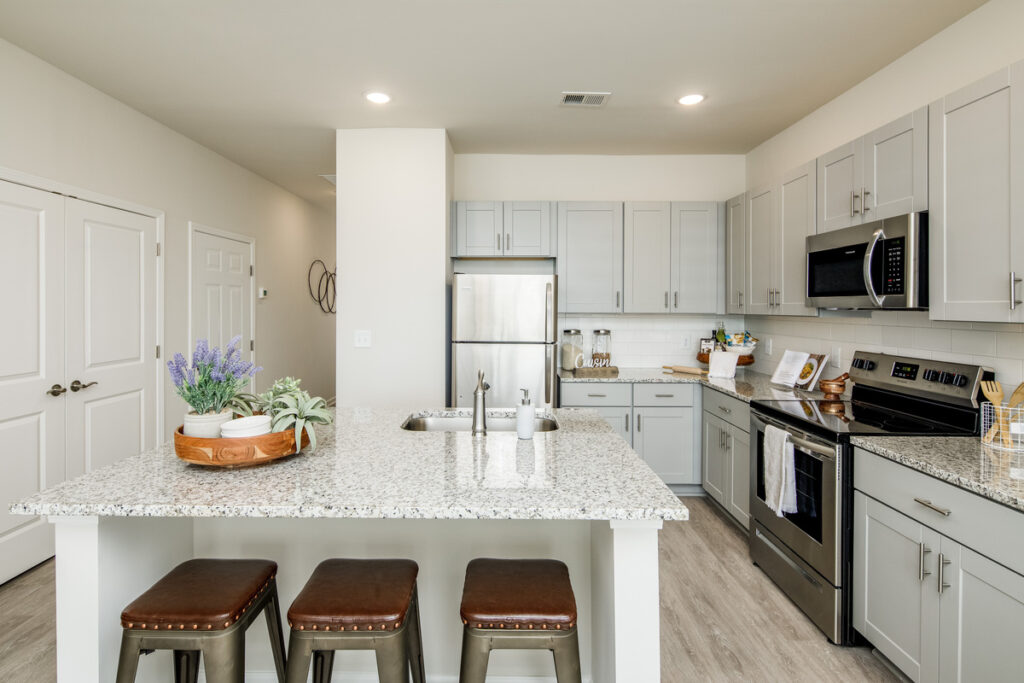 After providing the Atlanta market with well-constructed, beautiful homes for over 25 years, it's no surprise that the builder's entrance into the build-to-rent market was timely and noteworthy. While an attractive option for active adults, Ranch Cottages for Rent also serves as a fantastic, dependable rental option for millennials and seniors.
With communities currently leasing in Athens, Dawsonville, Brunswick, Hampton and Loganville, Ranch Cottages for Rent is slowly covering the state of Georgia one beautiful neighborhood at a time. Residents can begin a new life in one of five floor plans that highlight zero-step entry features, open layouts, stainless steel appliances, top amenities and more.
The Ranch Cottages for Rent design team carefully considers and creates spaces that are functional for renters of all abilities and reflective of today's top home design trends by incorporating granite countertops, white design appointments, neutral tones and more! Each community clubhouse features both indoor and outside entertainment opportunities and provides a collective space for the community to connect for events, holidays and more.
Ready to join our brilliant lineup of clients? Contact us here or call 770-383-3360 to tailor your marketing, public relations or branding plan to set your business up for continued success.