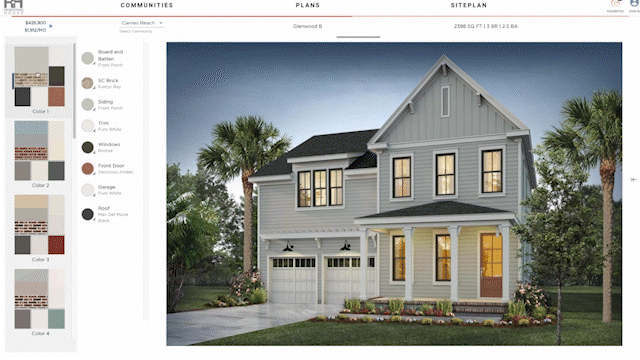 Color renderings or architectural renderings are very popular with today's new homebuyers. This MarTech allows shoppers to envision what the home will look like when complete. If a home builder is building a new home plan, they won't have a picture to put on the website or show to a prospective buyer. And luckily for home builders, color renderings are much more affordable than they were in the past; in fact, they are typically more economical than watercolor renderings.
For home builders spending time and money on getting home elevations rendered in multiple color schemes, Anewgo offers technology that simplifies and allows home builders to control that process. The first step is to get the elevation rendered. It is then uploaded to an app that provides access to unlimited paint and manufacturer colors. Home builders have autonomy to create color schemes, see new product colors on homes and create unlimited marketing collateral material. This saves money, as you pay one time for a rendering to be created, and time, which was once wasted on waiting around for specific color schemes from your service provider.
The sky's the limit in the variety of schemes available to create and download. Builders that subscribe to Anewgo can show clients what their homes will look like (whether it is to be built or a spec home) and you don't have to rely on paint chips, driving all over town, or your imagination. There is no more sending off color schemes to rendering companies.
This tool is being used by small, medium, large and national builders. It is also leveraged by custom home builders and architects. Clients are delighted that they can see their home with their home selections. The added bonus of this being an app is that you could add it to your website to drive engagement.
Pricing for elevation renderings start at $400/elevation (one-time fee) and subscription to the app is $1,200/year total (annual). Click to try it out. For more information, contact Sara Williams at Anewgo: sara@anewgo.com.
Put a few new tools in your homebuilding marketing tool kit with this new MarTech! Of course, if you are looking for help with home builder marketing, reach out to Denim Marketing via our contact form or by calling 770-383-3360.