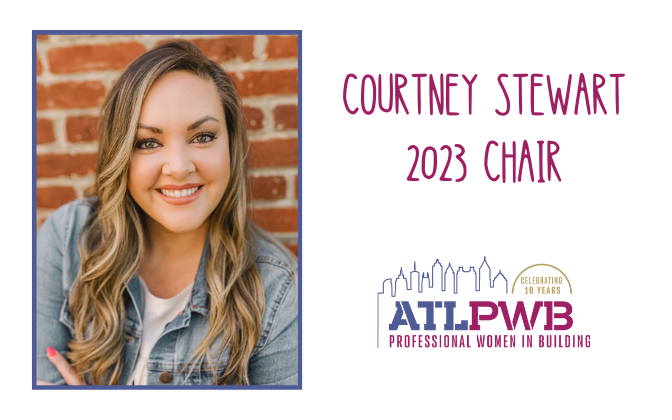 Denim Marketing is proud to announce that Courtney Stewart, Vice President of Client Services, has been elected Chair of the Atlanta Professional Women in Building (PWB) Council for 2023. Under Stewart's leadership, PWB aims to grow its events and programs through increased sponsorship and attendance while celebrating its tenth anniversary with the theme "Thrive. Engage. Nurture."
Stewart's ambitious goals for 2023 build on the solid foundation laid by previous boards and chairs, with a focus on expanding the impact of PWB's events and programs. To date, PWB has exceeded its sponsorship goal, raising over $35,000 to support its initiatives. Additionally, PWB has successfully recruited a diverse board consisting of more than 50% homebuilder members.
"I am thrilled to see Courtney Stewart take on the role of Chair for Atlanta Professional Women in Building. Her passion for empowering women in the home building industry and dedication to creating meaningful and engaging experiences for members is truly inspiring. I have no doubt that under Courtney's leadership, PWB will continue to grow and positively impact the lives of women professionals in our industry," said Carol Morgan, President of Denim Marketing and past chair of NAHB PWB and a charter member of Atlanta PWB.
In alignment with the theme "Thrive. Engage. Nurture," PWB's programming encourages members to excel in their personal and professional lives, fosters engagement within the Greater Atlanta Home Builders Association (HBA), and nurtures business relationships and personal aspirations.
PWB's community outreach initiatives include partnering with HomeAid Atlanta for the Essentials Drive, providing self-care baskets to homeless mothers on Mother's Day, and hosting a Care Day in September during PWB Week. The organization is also raising funds to provide five $1,000 scholarships to students pursuing careers in the residential construction industry.
Innovative programming, such as the annual Backyard Builder Bash, offers members unique opportunities for networking and fun. This year's event, scheduled for October 5, features an adult field day-style competition, food trucks, and a live DJ.
PWB's support of the Greater Atlanta HBA is crucial to its mission, as the organization provides a niche for women in the predominantly male homebuilding industry. PWB's focus on personal development and unique programming attracts women professionals, while offering valuable networking and personal growth opportunities.
Upcoming PWB events include the Pints & Punchlines Comedy Show on May 11, a networking social in July, Care Day with HomeAid Atlanta on September 15, the Backyard Builder Bash on October 5, and a panel and election night program meeting on November 16.
For more information on the Atlanta Professional Women in Building Council, and to learn how to get involved, visit www.AtlantaHomebuilders.com.
Learn more about Courtney Stewart and the Denim Marketing team.