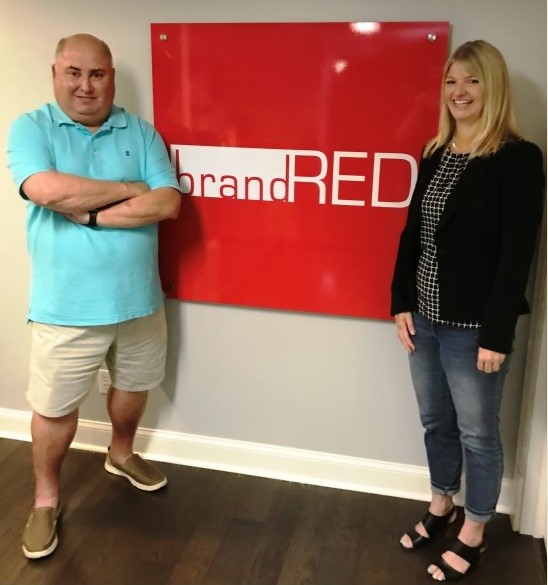 Carol Morgan recently joined John Druckenmiller on the Hometown Headlines Podcast to discuss how  social media enhances brand presence. This lively segment was recorded at Brand RED in Rome, Georgia. (Check out this cool marketing company for your company's photography, video and audio needs.)
You can tune in and download the entire podcast here.
Or you can read on to learn some of the highlights of the show, as well as additional information that has been added for those who really like to read!
What's the best way to jump into social? 
Have a Plan – Create a Content Calendar
Run Ads on Facebook and Instagram
Call to Action – URL, Phone or Text
Graphics, Photos, Videos – Step it Up
Empower and Ignite your Team
Triple threat: Which three social media options should I master?
If we are going by shear numbers, then Facebook is the most widely used and its user base is most reflective of the population as a whole. YouTube, Instagram, Pinterest, Snapchat, LinkedIn and Twitter follow.
According to Pew Research's study released earlier this year, here are the number of adults over age 18 on these sites:
Facebook – 68%
YouTube – 73%
Instagram – 35%
Pinterest – 29%
Linked In – 25%
Twitter – 24%
Of course, if you want to reach 18-29 year olds, you'll find them on YouTube (91%) and Snapchat (68%).
I'm scared of putting too much information on social media and yet I need it. Best practices?
Businesses today should be more scared of putting too little information out there. If your online presence is slim, you could lose the sale. Be careful that you aren't giving so little information that your target buyer just keeps shopping and passes you by.
Small businesses should post a minimum of three times a week. If you have enough information, post daily or even multiple times a day.
In small business, please share some of the success stories you've seen — or orchestrated.
We have had a lot of success with promotions and events. Two that come to mind are:
Heatherland Homes' Hip 2 B Square
City of Powder Springs' P.S. Did you know?
What are some tips for ways businesses can use social media?
Disseminate Information – let consumers know what is going on with your business. For instance, what is on the menu today? When is that new phase of a community released? What promotion are you running?
Engage and Interact – find out what your followers want to know more about and share it. Reshare news from other pages. Interact with others on social. Become seen as a page that "talks back."
Be Accessible – give followers a way to reach out about things they like and don't like.
Improve Brand – promote all the positive things going on within your company, promote the people who work there and have fun.
Be Inclusive – create events and ask followers to attend, create polls and ask their opinion, find a way to reach different constituents and be inclusive of all.
Do I need to outsource my social media needs?
If social media isn't something you understand, or care to learn about, then outsource it.
If you don't have time to keep up with your social media sites or don't want to keep up with them, then yes, by all means outsource it.
What key items should every post include?
A graphic, photo or a video – to catch their attention.
A few sentences with a call to action – what do you want them to do?
The appropriate URL – to your website or a page on the site or to a landing page OR a phone number. Or, include both.
Huge thanks to Rome, Georgia's one and only Hometown Headlines and John Druckenmiller for featuring Carol on this podcast. You can get all of your news for Northwest Georgia from www.hometownheadlines.com. Get updates on your favorite Podcast app:
-Weekday updates from Northwest Georgia (HHPodcast News)
-Long-form interviews with local newsmakers (HHPodcast Interviews)
For more information on social media marketing and how social media enhances brand for businesses, contact us at Denim Marketing. Carol's book, "Social Media Marketing for Your Business," is available via Amazon, Barnes & Noble and Builderbooks.com.