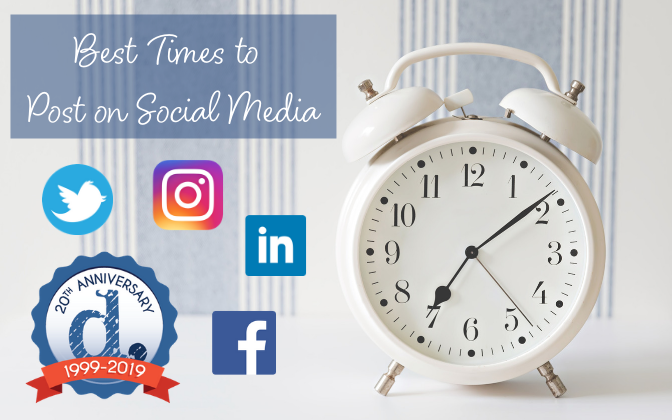 Have you ever wondered when you should share content on social media? While social media allows users to post at any time, doing so isn't necessarily the best idea from an engagement standpoint. Social media is continuously evolving – and quickly. With so many posts competing for attention, it can be difficult to garner attention for your business pages.
To maximize social media engagement for your business, it is best practice to post when your customers and followers are online and active. Each social media platform has a different audience with different activity behavior. Being knowledgeable of the times that these users are most active on each site can help businesses get the most out of their social media.
The Denim Marketing team posts a lot of content on social media. We work to maximize every post for optimal results – whether that is engagement or a click to a website or something else. To maximize the best times to post, we look at the analytics on each client's account, but we also refer to the Best Times to Post on Social Media guidelines recently published by Sprout Social. The Sprout Social platform is one of the most widely used social media publishing and engagement platforms online today. Sprout's website says it was built to help today's smartest social businesses put their customers at the center of their strategic approach.
What follows are the best days and times to post on the various platforms via Sprout Social. It is important to note that Sprout is reporting all times in Central time, so adjust for your time zone. We are reporting at a very high level here, so to see more granular results, click the link above and dive into the full report.
The Best Days to Post on Each Social Media Platform
Facebook
As the most populated platform with over two billion active users, Facebook provides endless engagement opportunities. When it comes to the best day and time to post, Wednesdays at 11 a.m. and 1 p.m. are a company's best bet for receiving optimum engagements. Most users are on their lunch breaks during this time, meaning they have more time to scroll through Facebook and interact with interesting posts.
Instagram
Instagram is on the rise as a social media platform with new interactive features that have changed the way users engage with the posts that they see. For those businesses using Instagram as part of a social media strategy, Wednesdays are the best overall day for peak engagement. Posting at 11 a.m. Wednesday, as well as 1 p.m. on Fridays, are the two times that will attract the most audience engagement.
Twitter
Unlike other social media platforms, Twitter wakes up early. What we mean is that twitter has an early cup of coffee and gets a bit of an earlier start to the day. Since Twitter is commonly used as a source of news, many users begin their day on Twitter to catch up on the latest news stories and updates. With that being said, the best times to post on Twitter are Wednesday at 9 a.m. and Friday at 9 a.m. Tuesdays are also a great day for engagements but avoid Saturdays and every day from 10 p.m. to 4 a.m. when engagement is low.
LinkedIn
Being the business platform that it is, LinkedIn has a more specific audience than the other social media platforms. Consisting primarily of business leaders and job seekers, it's no surprise that that engagement is highest during the work week. Like other social media sites, Wednesdays are the prime day for user activity. Times between 9 and 10 a.m., as well as noon, have proven to be the best times for engagement.
It is clear to see that Wednesday, fondly referred to as hump day for its mid-week position, is the best day to post on these sites. Maybe Wednesday is just a good day to take a break from real life and spend some time browsing online to see what everyone else is up to?
Consider your own social media use patterns. Most likely the times you are most active and engaged on social media are similar to your audience. As a rule of thumb, mid-day and mid-week are the best times to post on platforms. Avoid weekends when audiences are away from their computers, along with late night and early morning when users are settling down for the night or still fast asleep in their beds.
Social media engagement is crucial for creating brand awareness, reaching target audiences and expanding market reach. At Denim Marketing, one way we help companies succeed online is by building engagement through a strong social media presence. Contact us if you need help with social media, marketing, public relations, Facebook advertising or any other tactic.