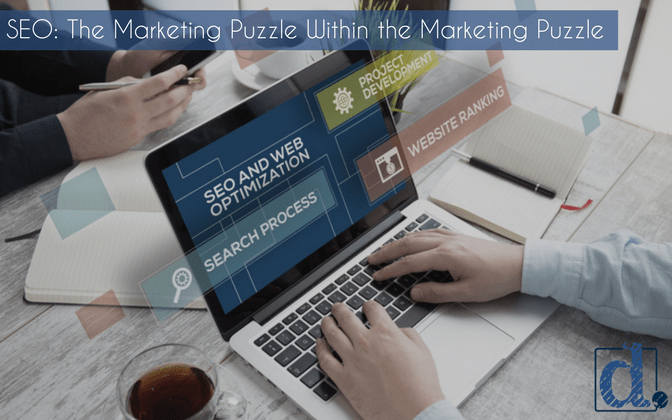 Search engine optimization (SEO) is rarely fully understood. Plug a few keywords into your website, launch it, and BOOM! Google ranks your site at the top. You're done, right? Unfortunately, there is much more to good SEO practices than incorporating keywords into your website and blog or news page. This is, indeed, a good way to get Google to rank your site, but it isn't the only thing your company should be doing.
Just like marketing takes more than a great website, engaging social media pages and an attractive brand, SEO requires more than one method to truly work its full magic and be effective. All of these pieces – keywords, UX, analytics, URL structure, mobile SEO, content, branding, research tools and more – are important and overwhelming. Fortunately, the team at Denim Marketing has a broad understanding of how to use SEO to your advantage.
Very simply put, search engine optimization is using tools and tactics to get Google (and the other search engines) to like your website and rank it above other similar sites with similar content. When Google's bots index your website and content, and the algorithm ranks the site higher than others like it. This means people (read: potential customers) who know what they're looking (product or service) for but don't know your company's name will be able to find your website. SEO, correctly conducted, can even result in a purchase from your company ("Twenty-eight percent of searches for something nearby result in a purchase." Google, 2016.)
So, what are some important things to consider when planning a SEO strategy? First, consider that keywords, like all technology, have evolved since their early days. No longer do you have to exactly match keywords. Instead use phrases that incorporate your keywords, and similar words. This actually makes it easier to optimize your content  now that you don't have to spend time stuffing keywords where they don't fit or sound natural. The more readable your content is, the more Google will like it. And, the more potential and current clients will enjoy reading it.
User experience (UX) is another crucial factor that contributes to good SEO. Is your website easy to navigate, user-friendly, speedy and does it readily provide the information your clients are looking for?
Furthermore, does your website operate well for the user (again, the customer) on their laptops, desktops and their phones? Google's most recent algorithm update has switched to a mobile-first index, which means that when Google ranks or indexes your site, it is now based on the mobile experience for your users instead of the desktop experience. While desktop traffic still captures 44 percent of overall website traffic, 55 percent of traffic is coming from a mobile device. So, this means, in short, that your website should focus more heavily on UX from a mobile standpoint. The best way to accomplish this and still bring in traffic from desktop users is to match the content, images and clickpaths between the desktop and mobile versions or your website.
Other essential SEO tactics include:
Having and maintaining a Google Business page
Link building (not all links are bad)
Website URL structure
Citations, or references to your company's name, address and phone number (NAP)
Site speed
Age of domain
These are only a few tips to help improve your overall search engine optimization. There are many more things you can do to grab the attention of those potential customers and users who are looking for your product or service. SEO can seem overwhelming, but Denim Marketing understands how it should fit into the larger puzzle of your company's marketing strategy, even with all its own separate pieces. To get more eyes on you and what you do, visit www.DenimMarketing.com/Services or call us at 770-383-3360.