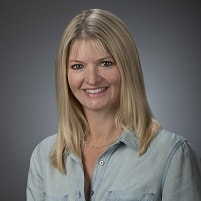 Carol Morgan, MIRM, CAPS, CSP and President of Denim Marketing views her new role as the 2018 NAHB Membership Committee Chair as an opportunity to implement innovative ideas to increase membership – a challenge she is eager to meet. The 2018 leadership team includes Helmut Mundt (2019 Membership Chair) and Rich Robinson (2020 Membership Chair).  Morgan states, "We have built a leadership team with an eye towards unified goals. We are working to meet our objectives with a multi-year plan that will grow this association and achieve the needs of our current and future members."
The membership committee's focus on growth is backed by the strategic plan of NAHB's 2018 Chairman of the Board Randy Noel. In fact, Randy has charged the membership committee to lead the growth of 10,000 net new members by the end of the year.
Working as Membership Chair is a highly visible role in a member-driven federation like NAHB. Morgan and her committee are focused on growing the association by reaching a wider and more diverse group of potential members.
The residential building industry includes a significant number of women, African Americans and Hispanic builders including many under the age of 45.
Morgan sees this as a great opportunity."NAHB's demographic mix hasn't changed much over the years, while the makeup of the industry has changed.  By targeting these under-represented groups, NAHB will be more representative of the industry as a whole." Says Morgan, "and this can position us to experience significant growth."
"Technology will also play a significant role towards achieving our goals," says Morgan.  "Dues Hub, an online payment processing platform can help local HBA's not only grown their membership but save staff time."
Dues Hub expands payment options, offers auto renewal and anytime-anywhere access. Dues Hub is a third-party online platform that provides payment flexibility for new and renewing members. Here are a few of its benefits:
Locals can accept online applications, renewals and payments.
Members can pay dues monthly or quarterly for a small fee.
Electronic payments are stored (PCI Compliant) and automatically processed for installment plans and/or with an automatic renewal option.
Dues payments are allocated proportionately automatically among local, state and national.
Local, state and national pay merchant fees only on their portion of the dues payment.
Data is synced automatically between Dues Hub and the local, state and national associations.
Payments are processed in real-time, and membership records are updated daily.
To learn more about the Dues Hub program or to schedule a demonstration for your HBA, visit http://www2.billhighway.co/NAHB.
Morgan also encourages every HBA to sign up for the 2018 Membership Drive. This year's drive once again focuses on Net Growth.
"More than 150 of our HBAs grew during 2017 and were awarded prize money.  We'd like to see even more participation in 2018. NAHB staff has created professional marketing materials to help with your drive, including social media posts, email banners and much more.  These resources are free for every HBA and many can be customized. Should you have questions about the materials or need help strategizing your drive, NAHB staff is there to help.  There is no reason not to sign up."
The drive's theme, "We're More than Homes" showcases the many reasons that members join the association — networking, education, advocacy, savings and more. Sign up now at www.nahb.org/2018membershipdrive and incorporate the new social media tools and all of the other resources available to help make your drive successful.
"There are a number of other initiatives underway which can lead to growth in 2018," says Morgan.  "We've got a terrific committee leadership team in place and dedicated committee members.  Their dedication along with the help of our member volunteers at every level of the Federation and of course our Spikes will help us grow. By working together with focus and determination, we can go a long way toward reaching Randy's goal."
Morgan is past Chair of NAHB's Professional Women in Building and serves as the Advocacy Vice Chair for the Associates Council. A graduate of Oglethorpe University, she is the recipient of the 2008 Spirit of Oglethorpe Award, PRSA Georgia Chapter's prestigious George Goodwin Award, the 2009 Greater Atlanta Home Builders Association's Associate of the Year and 2012 Council Chair of the Year. She holds the MIRM (Masters in Residential Marketing), CAPS (Certified Aging in Place Specialist) and CSP (Certified Sales Professional) designations from NAHB.