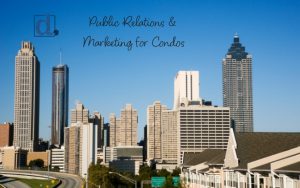 Back in the day, before the great housing recession, condo marketing and public relations for condos was hot! There were lots of condos being built in Atlanta, around the Southeast, and nationally. We had the distinct pleasure of promoting many of them through public relations, blogging, social media and community outreach. Some of the projects we worked on include: Element Atlantic Station, The Astoria, Independence Station, Sovereign, Oakland Park, 1010 Midtown, Woodstock Downtown Condos, Sera, Serrano, Sky Lofts, Skyline at Lindberg and The Pinnacle.
Now, a decade later, the demand for condos has returned and there are several buildings under construction in Atlanta. We are proud to add Seven88 West Midtown to our list of condominium clients. Denim Marketing is representing this trendy building in West Midtown as its public relations partner. Senior Account Manager Courtney Rogers says, "We look forward to telling all the stories about this fabulous condo building. From the location, to the developer, architect, and designers, there is a lot to share."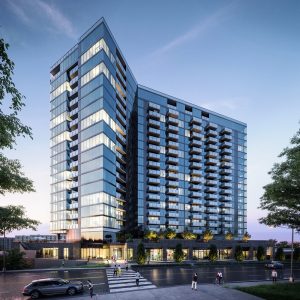 Public relations for condos tells the story of Seven88 West Midtown, and shares the lifestyle that residents will lead. A glass and concrete residential high-rise building in West Midtown, Seven88 West Midtown is now under construction. Located at 788 West Marietta St., the 20-story building will feature bold, contemporary architecture with 279 residences and penthouses offering sweeping skyline views from floor-to-ceiling glass windows.
One of the largest residential buildings and the only glass tower currently under development in Midtown, Seven88 West Midtown was designed by renowned Atlanta architecture firm Goode Van Slyke, one of three local architect firms selected to work on Mercedes-Benz Stadium. Developed by Norcross-based McKinley Homes, the building will feature modern architecture and finishes throughout, with resort-style amenities including an immense deck with an outdoor dining space, a saltwater swimming pool, concierge service and more. In addition, Seven88 West Midtown will feature 9,000 square feet of ground level curated retail, restaurant and entertainment space.
Ownership opportunities at Seven88 West Midtown are now available through Ansley Developer Services, with floor plans ranging from 699 to more than 2,800 square feet and prices starting in the mid-$300,000s to $1 million+. For more information and sales opportunities, visit www.788WestMidtown.com.
Here are some highlights of our past projects: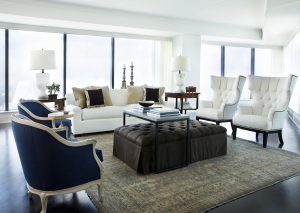 Sovereign, built by Regent Partners, is a 50-story mixed used tower on Peachtree Road in Atlanta's popular Buckhead district. It includes more than one-half million square feet of Class A office and retail space. The building is crowned by 82 luxurious condominiums that begin on the building's 28th floor. Sovereign is home to the famed Buckhead Club, as well as Buckhead Life Groups' Bistro Niko and F20/Fresh to Order. We provided public relations to Sovereign.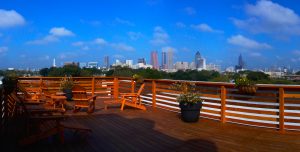 Oakland Park, located at 563 Memorial Drive, is certified as a green building by the U.S. Green Building Council as part of the LEED (Leadership in Energy and Environmental Design) New Construction program. Oakland Park is the first multifamily housing project to receive LEED certification in Atlanta, and has achieved LEED Silver. The six-story building is remarkable because of the "forever views" of the Atlanta skyline that can be seen across Oakland Cemetery, and because of the care taken by developers to create an environmentally friendly building.  Oakland Park is a joint venture project between Atlanta's Urban Realty Partners and Melaver, Inc., a sustainable real estate developer based in Savannah, Georgia. We provided public relations and community outreach to Oakland Park.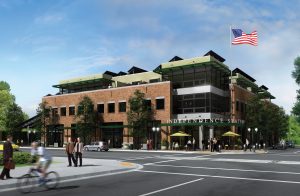 Independence Station was slated to be the World's Greenest Building. Built by Aldeia, LLC, it was on track to earn the world's highest LEED rating when completed. Located in the historic pioneer town of Independence, Oregon, the building will obtain its energy primarily from the sun and vegetable oil with leftover energy going to the local utility to show how the new Smart Grid technologies can help solve National Energy Security challenges. A $15 million, 57,000-square-foot project, Independence Station will host real and virtual offices, residential units, a restaurant, an Internet café, a green data storage facility, research facilities and classroom space. In addition, vacationers and residents will enjoy and learn about sustainable practices in the building's one- and two-bedroom condominiums, with the goal of living well on just 17% of the total lifestyle energy that the average American now consumes. We provided public relations and blogger outreach for Independence Station.
We love condo marketing! I guess you could say the steel, concrete, glass and stone are in our blood. Telling the stories through public relations about the people building the building is just as rewarding as interviewing those first few homeowners and sharing their stories. When you need help with words and want coverage from the media, think Denim Marketing – we'll be your comfortable fit.