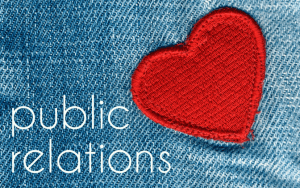 While it can be easy to be distracted by every new bell and whistle on the social media forefront, few marketing tactics are as effective at promoting businesses as good, old-fashioned public relations. The truth is that many companies spend excessive amounts of time posting to social platforms while not spending any time garnering coverage from reputable media sources through public relations. These articles written by third parties give tremendous external brand credibility.
Founder and President of Denim Marketing Carol Morgan describes media or public relations as "earned coverage" that comes from relationships and dialogue with reporters. This is a departure from other marketing components that are paid, like Facebook ads, Google pay-per-click or sponsorships. This type of media coverage results from public relations practitioners pitching news releases, story ideas and clients as sources to media contacts. Building relationships with media outlets and journalists can take years, as becoming a trusted source doesn't happen overnight or from working with a reporter just one time.
Public relations, or media relations, is generally meant to make the reporter's job of finding reputable sources easier while gaining media coverage for clients – essentially creating a win-win scenario for both the reporter and the source. The best part in many cases is that the rapport that develops between the journalist and public relations practitioner then translates into future conversations, as well as additional stories.
Alternatively, getting clients in front of the press is just one aspect of earning coverage. Public relations agencies strive to place client's stories online in front of consumers and customers as well. This is often called content marketing and can include blogs, websites and forums. Some of the sites that we utilize regularly include Patch.com, Atlanta Daybook, Atlanta Real Estate Forum and neighbor newspapers, to name a few.
Another way to make content more available to the press is by having an online newsroom with corporate background information, biographies of company principals, headshots, product photos and other relevant source material. Having these in place heightens the professional polish of the company and confirms the impression that the company is a reliable story source.
Denim Marketing has a team of public relations experts who know who, how and when to pitch ideas to different news outlets. Our team prides itself on developing relationships with industry publications and journalists and seeks to make their job easier by providing our clients as sources for stories.
At Denim Marketing, we design stories to garner media coverage and get the right eyes focused on your brand. Call 770-383-3360 or contact us to find out how Denim can provide the right fit for your media and public relations needs.