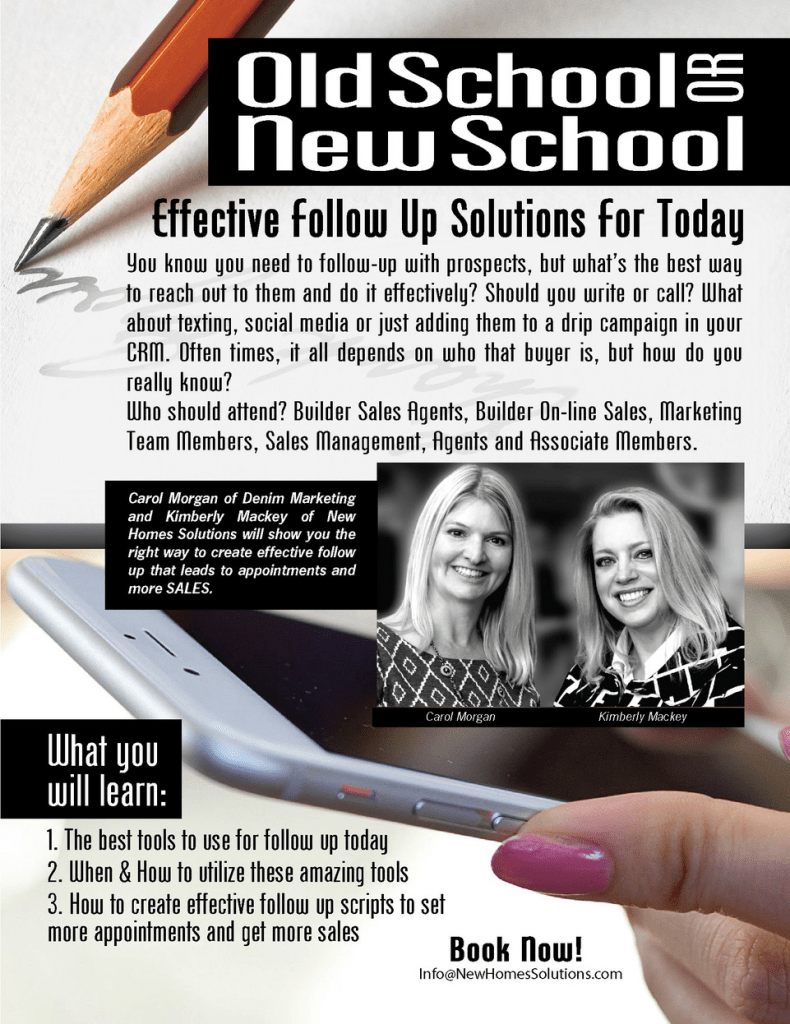 Whether you are more Old School and prefer paper and pen (or a pencil) or more New School and like a keyboard under your fingers, this new home sales seminar will present effective follow up solutions you can start using today! Old School or New School is geared toward agents, brokers, marketing managers and others focusing on residential real estate and new home sales.
You know you need to follow up with prospects, but what's the best way to contact with them and do it effectively? Should you write or call, what about texting, social media, or just adding them to a drip campaign…? Often times, it depends on who that buyer is, but how do you know?
Carol Morgan of Denim Marketing and Kimberly Mackey of New Homes Solutions will show you the right way to create effective follow up that leads to appointments and $ALES.
What you will learn:
1. The best tools to use for follow up today.
2. When and how to use those tools.
3. How to create effective follow up scripts to set more appointments and get more sales.
Who should attend:
Builder On-site Sales Agents, Builder On-line Sales Counselors, Marketing Team Members, Sales Management, Builder Principles and Leaders, General Real Estate Agents, and Associate Members.
For more information on this half-day new home sales seminar or to Book now, contact info @ newhomesolutions.com
More information on Kimberly:
"Your sales people can and should be producing 50 sales per year BEFORE any walk-in traffic. If they aren't, then we need to talk!"  – Kimberly Mackey, New Homes Solutions
Kimberly Mackey is the president and founder of New Homes Solutions. She and her team will provide you with original new tools, powerful skills and proven solutions needed to outperform the competition and increase your bottom line. A sought after consultant, speaker and trainer, Kimberly knows what it takes to maximize and increase your sales performance.
For more information on Carol Morgan, visit Our Team.