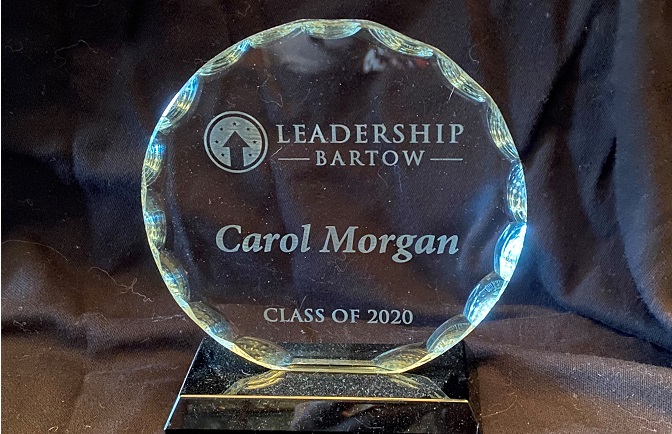 Denim Marketing congratulates our Founder and President Carol Morgan for successfully completing the Cartersville-Bartow Chamber of Commerce's Leadership Bartow 2020 Class. Not an easy task in 2020, this year's Leadership Class (like so many other events and plans) was interrupted by the outbreak of COVID-19 (coronavirus) and cut short.
During the year-long program, Carol participated in a class of 30 business leaders from Bartow County. The class was led by a group of Leadership Bartow alumni who worked hard to provide valuable programming and team building.
Leadership Bartow focuses on team building, solving problems within the county (through team projects) and learning more about leadership. The J.W. Fanning Institute for Leadership – an executive coaching program offered by the University of Georgia – was instrumental in leading the leadership studies and exercises.
Tough issues facing the County were brought up and discussed including parking in downtown, education, drug prevention, and affordable housing and how Bartow County can potentially attract more housing that is attainable by the bulk of its workforce. Local experts were brought in for interviews and teams looked for ways to solve problems with their help.
Due to her involvement with the National Association of Home Builders (NAHB), Carol has become an affordable housing advocate and influencer. As the producer and host of Atlanta Real Estate Forum Radio she highlights organizations working to provide housing opportunities that are both affordable and attainable. As one of NAHB Chairman Greg Ugalde's five advisors in 2019, they worked closely at housing affordability on the national level.
At present the City of Cartersville (Cartersville High School district) has a deficit of new home inventory priced below $400,000. In fact, there is a deficit of both new home and resale inventory in this price point in the city. When looking at the entire county, there are less than 4.8 months of new home supply under $450,000 and this dwindles even more under $400,000 (an 88-unit deficit). Like many municipalities across the U.S., to continue to grow and attract manufacturing and distribution facilities, the county must address the dearth of new home supply. (Data Source: MarketNsight)
Many things impact the cost of a new home. The unfortunate reality is that most of them are impacted by government. Zoning stipulates lot size which impacts the price of a home (a bigger lot equals a larger and a more expensive home). Impact fees, government fees from building permits to zoning changes to sewer taps all cost money and add to the price of a home. The NAHB estimates that these add-on charges cost home buyers as much as 40 percent of the cost of a new home.
NAHB's latest estimates show that, nationally, a $1,000 increase in the price of a median-priced new home will price 158,857 U.S. households out of the market. Based on incomes and standard underwriting criteria, these households can qualify for a mortgage to purchase the home before the price increase, but not afterward.
Solving the housing affordability crisis facing the nation is going to take open dialogue between public and private entities, a strong look at zoning and vision for the future.
Leadership Bartow was established in 1984 to enhance the civic participation of emerging leaders within the Cartersville area. This group is comprised of business leaders and focuses on developing leadership skills, fostering understanding of major issues facing Bartow County, improving the communications network among leaders of various backgrounds and interests and, most importantly, motivating leaders to voluntary participate in civic activities.
Carol was chosen for the class due to her decades of business knowledge (including 21 years at Denim Marketing – happy anniversary to us!!) and her long-standing participation as a volunteer for various nonprofits including HomeAid Atlanta, Oglethorpe University, NAHB and Canine Pet Rescue.
Congratulations to Carol and the entire class of Leadership Bartow 2020 for graduating despite the challenges this year's class faced. For more information on Carol, visit our Team Page.