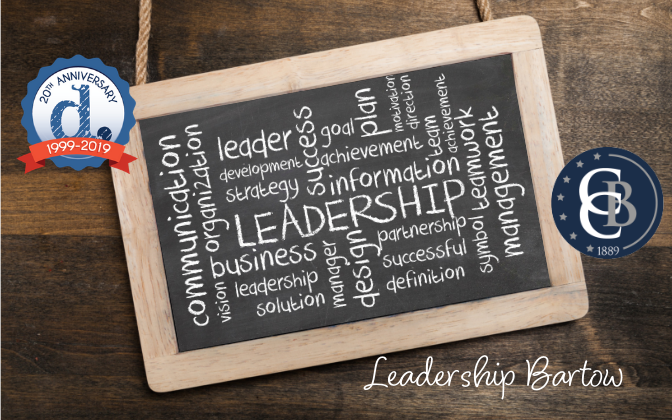 Denim Marketing is pleased to announce that our President Carol Morgan has been chosen to participate in the Cartersville-Bartow Chamber of Commerce's Leadership Bartow 2020 Class.
Established in 1984 to enhance the civic participation of emerging leaders within the Cartersville area, Leadership Bartow is comprised of business leaders and focuses on developing leadership skills, fostering understanding of major issues facing Bartow County, improving the communications network among leaders of various backgrounds and interests and, most importantly, motivating leaders to voluntary participate in civic activities.
"The greatest leader is not necessarily the one who does the greatest things. He is the one that gets the people to do the greatest things." -Ronald Reagan
Carol was chosen for the class due to her decades of business knowledge (including 20 years at Denim Marketing – happy anniversary to us!!) and her long-standing participation as a volunteer for various nonprofits.
Kimberly Garwood, Director of Marketing for Traton Homes, wrote this in her letter of recommendation for Leadership Bartow:
Carol was visionary as it related to both blogging and social media. In fact, she was operating in the space when it was called "new media" as it had not yet been named. She has spoken for more than a decade at the International Builders' Show on the topics of social media, search engine optimization, marketing and buyer demographics. She speaks at Home Builder Associations around the country and at other regional trade shows and is always willing to answer questions on social media when people ask. To say that she led builders into the social media revolution is an understatement.

She has given back to our industry at a high level through her involvement at the National Association of Home Builders (NAHB). She has written four books on social media that have been published by Builder Books, and is in the process of writing an online course on social media for the home building industry in conjunction with the NAHB.
Barbara Henry, Director of Donor Relations for Oglethorpe University, wrote this about Carol:
After graduating, she went on to work at a number of very cool places including The High Museum at Georgia Pacific Center (where she had interned), Atlanta Botanical Garden and Zoo Atlanta. It was fun to watch her grow and exceed expectations as the public relations director of these various institutions. During this time, she served on the Oglethorpe Alumni board and volunteered for the Girl Scouts and various other groups. She is the recipient of our most prestigious award. The Spirit of Oglethorpe Award. which is given to one alumni a year who exemplifies the Oglethorpe University motto — make a life, make a living, make a difference.

Carol went on to start her own company, write several books on social media and start a podcast. She is a great example of what we hope all Oglethorpe alumni will become – a leader, a hard worker, someone who gives back and is constantly innovating.
Since its inception, hundreds of individuals have completed the Leadership Bartow program, acquiring the skills, knowledge and passion necessary to participate fully in the life of the Bartow County community.
The program has brought together individuals ranging from corporate executives and entrepreneurs, to educators, non-profit managers and public servants. These individuals have forged lasting networks that prove essential to creating a vital, positive community for current and future generations.
"A leader takes people where they want to go. A great leader takes people where they don't necessarily want to go, but ought to be." –Rosalynn Carter
Leadership Bartow is a vital effort to ensure that the pool of talent from which the community can draw its future leaders continues to be renewed.
Congratulations to Carol and the entire class of Leadership Bartow 2020. For more information on Carol, visit our Team Page.