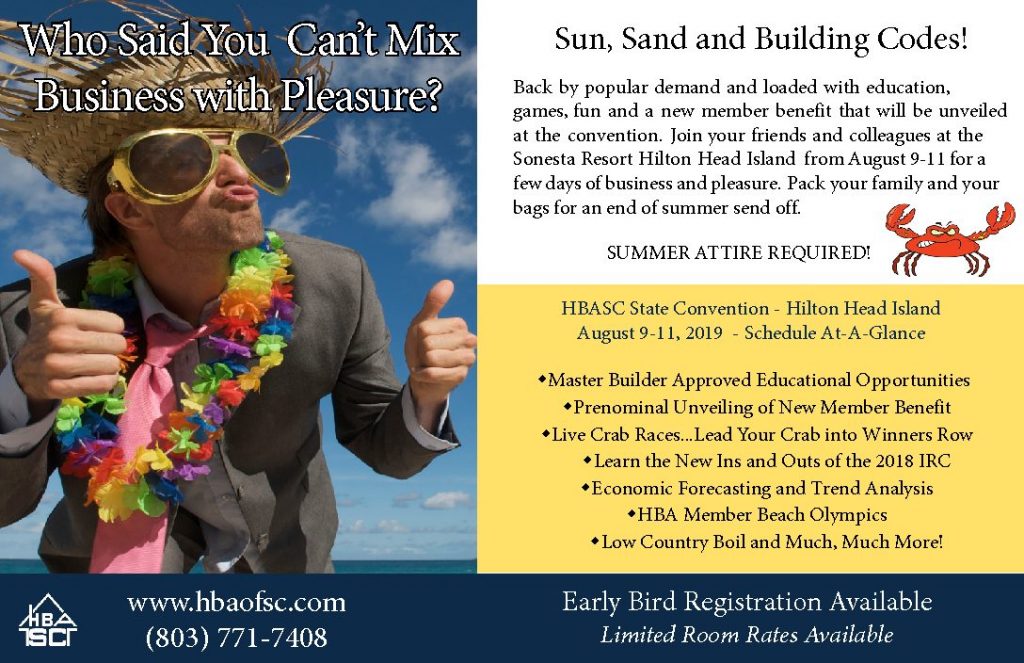 The HBASC Convention is back at Hilton Head Island this year from August 9- 11 and I get the pleasure of attending to present two sessions – one is a social media seminar –  5 Things You Should be Doing in Social Media, and the other has become a crowd favorite since its revision late last year –  Netiquette 3.0. As always, this promises to be a fun few days with a good mix of business, networking and pleasure. The weekend kicks off with a Port Royal Cruise and Tour, includes two keynote speakers, the Celebration of Excellence Luncheon and Trade Show, a number of educational break out sessions, a hypnotist show and a low country boil and crab races.
Here are overviews of my classes:
5 Things to Do in Social Media
TwittFaceGram. . . Home builders, remodelers and others in the new home industry have embraced social media, but are you doing everything you should be doing? How do you capture market share of eyes and potential buyers in this ever crowded space where everyone is posting their marketing messages and sometimes useless content? Carol Morgan of Denim Marketing will focus on these five things you should be doing to break free of the clutter in this lively class.
Have a Plan – Create a Content Calendar
Run Ads on Facebook and Instagram
Call to Action – URL, Phone or Text
Graphics, Photos, Videos – Step it Up
Empower and Ignite your Team
Come ready to participate and ask questions. This class will move fast!
Netiquette 3.0
Netiquette, where common courtesy meets the internet, has become a necessary focus as business communications have evolved and become internet based. The telephone is no longer a primary form of business communication as texting, instant messaging and social media have become mainstream. When is it ok to text a client or business partner versus sending an email? And, is the answer the same for a Boomer, Gen X or Gen Z? Do we overuse the exclamation point? And what about using emojis or emoticons in emails? What is polite behavior and how do you keep from offending an important contact? Individuals with excellent manners, especially the way they communicate with their business associates, have always been equated to having a higher social status, greater wealth, supreme standards and an excellent education. It used to be that everyone had manners, now that is not the norm. Technology allows us to do more – faster. Because we are always in a hurry, corners get cut and netiquette gets left out. During Netiquette: Communications 3.0, you'll be entertained and engaged as instructor Carol Morgan reminds participants of tried and true practices and brings up thought provoking subject matter.
If your organization or association is looking for a marketing speaker, keep the team at Denim Marketing in mind. We offer a number of classes. Whether you are looking for a social media seminar or a marketing class, we can customize it for all sizes and types of groups. Read about our offerings on our seminars page.