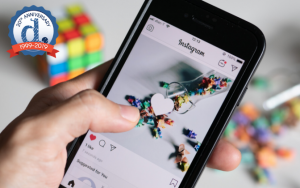 Have you heard the news? Big changes are coming to social media this week as Instagram begins to test hiding post likes in the United States. Back in May, Instagram rolled out the new update in Canada and has since extended it to six other countries for testing. Garnering post likes is one of the app's major features and its removal, if made permanent, would change the way the app works, how users perceive it and ultimately how accounts measure engagement.
Before panicking, it's important to note that Instagram isn't removing likes completely, just public likes. What this means is you will still be able to see likes on your posts, but other Instagram users will not. As you scroll through the app, rather than seeing a like count under the photo, it will say '[name of Instagram account] and others.' Other users can click on "others" to see who liked the post, but a like total will not be provided.
While followers and other Instagram users may not be able to see how many posts likes you are getting, the account owner still can. To view post likes, users can go in their post setting or click on "others" under their post to see how many likes the post received and which accounts liked it.
Why is Instagram removing public likes?
What is the point of this new update? Speaking at a WIRED25 Conference, Instagram CEO Adam Mosseri explained that the new update is an attempt to depressurize the photo sharing app in order to reduce anxiety and social comparison among users, particularly the younger generations.
In recent years, the rise of influencer and brand culture has turned Instagram into a numbers game where users post for likes, popularity and fame rather than actual enjoyment. With the removal of public likes, Instagram hopes to create a healthier and more inclusive social environment where users focus less on numbers and comparison, and more on connecting with others and sharing what they love.
What does this mean for businesses?
Instagram is a popular place to do business and an excellent tool for measuring brand engagement. While it's easy to understand why Instagram would make this big change for users, you're probably wondering: "How will this new Instagram update affect my business?"
While it may be too early to tell exactly how business accounts will be affected, we do know that it will come with some challenges. With the removal of public likes, users may be less inclined to like posts without immediately knowing how many others have liked it. This means that relying on likes to measure engagement may not be the best indicator of audience engagement.
Instead of relying on likes alone, other engagement methods such as reach, impressions and comments will become much more important ways of measuring the success of business accounts. For businesses, these engagement methods tend to be important measuring tools anyway and, therefore, should already be used when analyzing data.
Additionally, the removal of likes will likely increase the importance of quality content that is appealing enough to spark engagement and drive conversation in the comment section. This will challenge businesses to be more creative and original with their Instagram content, and re-think what works and what doesn't when it comes to engagement.
With the current Instagram algorithm and the new removal of likes, it is important that businesses be intentional with their posts, focusing more on quality over quantity. This not only goes for posts, but hashtags, too. Use fewer hashtags that are relevant to the post and place them within the caption rather than as a comment. This ensures that Instagram doesn't flag your post as spam and includes it in your audience's feed.
Don't be afraid of the new Instagram changes. Instead, embrace it and use it to your advantage! Get creative with your content and use it as a push to better connect with your audience rather than just relying on them for likes. At Denim Marketing, we are experts in social media and are focused on helping our clients succeed online by building engagement through quality content. Contact us if you need help with your business' social media, marketing, public relations, Facebook advertising or any other tactic.
And of course, be sure to follow us on Instagram!