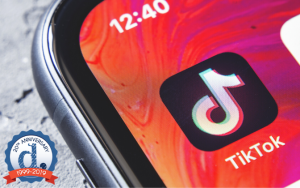 If you keep up with social media trends or have a child under age 18, you've probably heard of TikTok and Snapchat. These photo- and video-sharing apps are incredibly popular among teens and tweens due to their addicting and viral nature. In particular, these two apps are the new phenomenon in social media marketing and businesses are beginning to include these platforms in their marketing strategy, especially if they want to sell a product to this age group or build their brand for future sales.
What is TikTok?
TikTok is a social media app that allows users to record, edit and share short, looping videos with text, music overlay and sound and video effects. These 15- to 60-second snippets tend to be short, funny and quirky videos that attract the attention of younger Millennial and Gen Z users. Since its launch in 2017 and merge with the lip-syncing app Musical.ly in 2018, TikTok has exploded with over 1.5 billion users according to SensorTower. Now surpassing Facebook and Instagram in total downloads, TikTok is the next big thing in social media.
What is Snapchat?
Released in 2011, Snapchat began as a platform for users to share private, person-to-person images and videos but has since turned into a popular mobile messaging tool that includes texts, drawings, live video and filtered lenses. The one feature that sets Snapchat apart from messaging options is its short-lived photos and videos that are only visible for a select amount of time before they disappear. The story feature, which allows users to compile photos and videos for all of their friends to see for a 24 hour period, is popular among users as well as businesses, brands and celebrities.
Why Should You Care?
Perhaps the biggest question when it comes to TikTok and Snapchat is "Why does it matter?" Aside from being entertaining apps, both TikTok and Snapchat are full of potential for brands to connect with harder-to-reach audiences in a new, creative and authentic way. Here are a few app features that are changing the social media game for brands and businesses:
Video Format
Videos have emerged as one of the most popular forms of content on the internet, which explains how TikTok and Snapchat have grown so quickly. This further explains the attraction of younger users who prefer content that is quickly digested, yet visually entertaining. The video format of such apps makes it easy for brands to easily create raw, unpolished short-form content that users are more likely to pay attention to due to its casual feel. We see many brands and businesses use videos to build anticipation among audiences or share behind-the-scenes content that gives an inside glimpse into the brand.
User-Generated Content
When it comes to TikTok and Snapchat, one of the most effective tools to attract your target audience is asking them to create user-generated content. One of Snapchat's most popular features, Geo-Filters, is a location-based overlay that can be found by swiping right on a Snapchat photo. Businesses have the ability to create a business-branded filter to promote regularly or create a more personalized filter for an event or campaign. Users within the Geo-Filter's location range use the feature and share it on their snaps or stories. On TikTok, user-generated content tends to come in the form of video challenges created by brands that allow their target audience members to be creative, participate and share with others using the challenge-specific hashtag.
Hashtags
The hashtag feature on TikTok is a great marketing tool for businesses and brands. Once a video is made, the app allows the creator to add hashtags to categorize the video, which makes it easier to find via search. Just like how they are used on other social media sites and apps, hashtags tend to be specific with certain ones garnering more exposure than others. We also see brands use hashtags on TikTok to promote new campaigns or create video challenges that other users can then search, share and interact with. The app even has a new e-commerce feature called "Hashtag Challenge Plus" that allows users to shop within the app for products associated with a sponsored hashtag.
TikTok and Snapchat are fairly new, but they have taken social media by storm. Both apps are continuously improving their features and experimenting with new ways to create value and opportunities for businesses. Whether TikTok or SnapChat's user demographic is your target audience or not, adding these emerging platforms to your strategy is worth considering to stay in front of your future buyers.
Download the apps and experiment with creating content that is engaging and shows off your brand in a playful, lighthearted way. Plus, with analytics tools like TikTok Pro and Snapchat Insights, measuring performance and engagement is easy.
If you need help with coming up with engaging campaigns or content ideas, let the team at Denim Marketing know. We are here to help with all of your digital marketing needs! Click here to learn more.