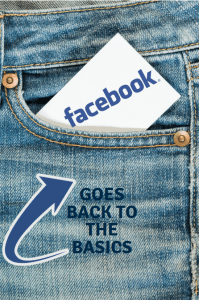 In today's society, people are too concerned with complicated details and new theories. They have forgotten what it's like to just read relevant content that is of interest to them; content that makes them happy. Facebook has slowly tried changing this with features such as "on this day" and other small tweaks to help individual people post something fun.
When Facebook first launched, the basic idea was to make users happy and to help them understand what was going on in their world — Not to become a news curator. While producing news did help the social media outlet become the most powerful network with more than 2 billion active users, it also meant the company had strayed from its roots.
The current Facebook algorithm puts more focus on interactions between friends and family, which means Facebook is simply going back to the basics. Facebook hopes that by eliminating some of that media noise and creating more personal connections, people will stress less.
There was once a time when Facebook displayed posts chronologically. You followed people to see what they had to say. And their posters were shown to you in the order they were meant to be seen. The social world was in a happy place where strategies were less complicated and the user was in control.
In late 2016, the infamous algorithm hit and Facebook limited Page reach to 30 percent of your total follower count. The algorithm decided what content should be displayed feeds,  and free-flowing content turned into regulated content and the reach of business profiles was reduced. This reduction caused businesses to have to pay for ads just to get their content seen by audiences.
With the announcement a few weeks ago of yet another new algorithm, the social world is once again shaken. In a huge attempt to stop the spread of fake content, Facebook has decided to show less business and media content and more from the individual users.
What will be the real impact for brands, given that many already use paid media as a marketing approach? Frequent organic posting of unpaid content will no longer be enough to get posts made by business Pages seen. If you're already basing your social strategy on paid advertising, there's not too much to worry about. However, if you aren't using paid ads, it is time to add them to your budget. Everyone is competing for advertising space; therefore standards for advertising are likely to become stricter. It's time to buckle down on your ads and make sure they are fun and engaging as well as in compliance with Facebook policy.
As a company who firmly believes in going back to the basics, the Denim team knows that a strong foundation is a key to success. Facebook is still a social network. If your content is engaging and relevant to your audience, it will continue to perform well. An original, signature product with quality content will help create authentic relationships with your viewers over social media outlets. The key to the new algorithm is meaningful interactions between people. Although business Pages and public content won't be as visible, engagements will be more valuable than ever for getting your content seen.
At Denim Marketing, we keep abreast of social media trends and are willing to roll up our sleeves to get the information into the right hands. For more information, contact us or call 770-383-3360.