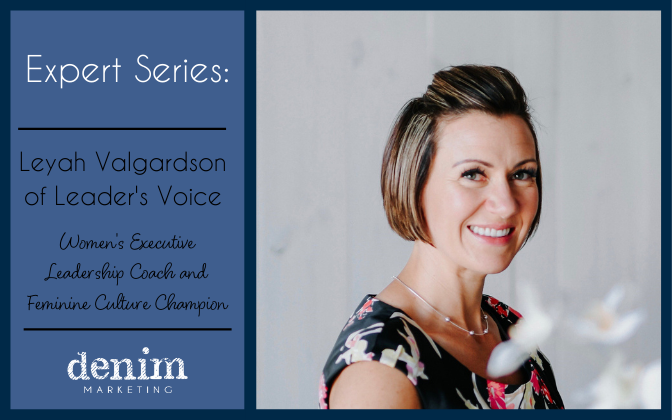 Leyah Valgardson, founder and owner of Leader's Voice, has worked most of her career in the home building industry. Mainly working in customer experience to ensure homeowners received the best possible experience, Valgardson worked closely with superintendents and builders. Along with the invaluable skills Valgardson gained while working in the building industry, she also realized the trials and tribulations a woman encounters while working in a male dominated industry. These realizations and experiences helped her to create Leader's Voice.
Throughout her career in the building industry, Valgardson began to realize the challenges associated with being a woman in her particular workplace. From minor tasks like being the one asked to make copies and coffee, to more noticeable instances such as being dismissed or always having to prove herself, Valgardson saw the discrepancies between men and women in the workplace.
Leyah Valgardson noticed the instances where her treatment was not necessarily fair and fought to prove herself, establishing herself in the company. Over the years, she rose through the ranks and became the national director of training and development of a large home builder. Her main job was helping people become better versions of themselves by creating systems to help departments run seamlessly for the best overall experience. The passion she gained in this role paired with her knowledge and experience in the industry led her to create the business she currently owns: Leaders Voice.
Created in spring of 2018, Valgardson left her corporate job and launched a business with the goal of helping women rise. As a demographic that represents half the population, she was disappointed when she realized how underrepresented the group was. Her approach to helping women rise in all industries includes a wholistic and productive method. She realizes it is a collaborative effort that not only includes the individual and women as a whole, but also men. Valgardson believes cooperation between all parties is the foundation for success.
Leader's Voice is unique because of three separate approaches to help women rise. Valgardson focuses on leadership, the feminine voice and authentic synergy as the keys to success. She works to join masculine and feminine energies together, both externally and internally, to bring the workplace together.
"Many women were playing like a man because there was no one else to look up to," said Valgardson. "Kudos to them for taking the lead and forging the path, but that isn't necessarily to only way. We can hone feminine leaders without excluding that masculine energy. No one is all masculine or all feminine. Knowing when to use what energy is what works."
Leyah Valgardson offers many different approaches to coaching women to rise including executive coaching, group coaching and workshops. Her favorite approach is one-on-one executive coaching because it allows her to work closely and intimately with clients. She can find out what their greatest needs are and how to apply their strengths accordingly. Although executive coaching is her favorite, Valgardson cannot discount the passion she has for speaking to groups.
"I love to speak to a group of people and share a message I think needs to be heard," said Valgardson. "Nothing beats speaking to a mixed audience of men and women, especially emotionally intelligent ones, who want women to rise."
Although her business is successful and rewarding, it is not without its challenges. Any small business needs to obtain and retain customers. Not only does Valgardson want to gain and create a following, but she is also concerned with getting the word out about her business while also resonating with her audience.
The passion Valgardson has for helping women rise and educating the public is what motivates her throughout her career. Making a difference is what her company is all about, and seeing her dreams come to fruition is the most rewarding part of the experience.
"When people come up and say things about how their lives are changed because of the work I do, it touches my heart," said Valgardson. "But I can't take credit for that! I am a coach. I'm not doing the heavy lifting; they are doing the whole thing."
The main advice Valgardson has for women working in a male dominated workplace like the building industry is to remember that everyone is human. Appreciation is a universal language and it goes a long way. Valgardson encourages women to lean into their femininity. She urges them to not be afraid to bring that femininity into the work space, while also appreciating everyone for what they bring to the table.
"Women are resilient and powerful, and change the world for the better," said Valgardson. This happens the moment we can really lean into our authentic selves and truly lead. It's an honor to help women realize that."
To learn more about Leyah Valgardson and Leader's Voice, visit www.leadersvoice.co. You can also take her online quiz to find out what your leadership style is and how to apply it. Make sure to check out our past Expert Series blogs at www.denimmarketing.com/blog.