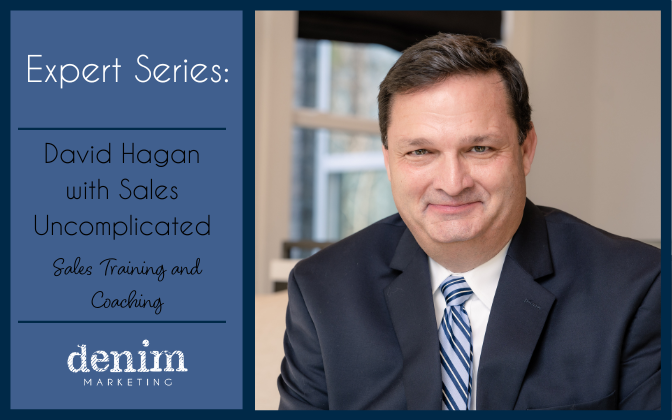 David Hagan founded Sales Uncomplicated, a sales training and coaching firm, in February 2022. His role as Chief Executive Officer, which he jokingly describes as the Chief Executive "Uncomplicator," is the culmination of a career in sales and leadership, including the past 10 years in the homebuilding industry.
Tell us about your background working with home builders.
In 2012, a close friend, Lamar Smith, invited me to join his Savannah homebuilding company, Smith Family Homes. He wanted to bring sales in-house, so I was hired to recruit, train and lead a new home sales team. I later served as the director of sales and marketing for the Southeast Coastal Division of K. Hovnanian Homes. Four years ago, I came to Atlanta to work in sales leadership for Meritage Homes and then Smith Douglas Homes.
Why did you decide to go out on your own?
I love people. I enjoy learning new things and then helping other people learn those things. I am big on practiced procedures, and I have found that processes are a crucial part of being successful in sales.
I also love the homebuilding industry. Lamar likes to say that we can import our food, furniture, clothes and everything else we consume in America, but we can't import our homes. Our homes are still built right here! That's just one unique and exciting thing about the new home industry.
I wanted to expand my ability to help sales teams across our industry. After much prayer and consideration, my wife and I decided the time was right to launch my company.
What is the Uncomplicated Method® for sales?
The Uncomplicated Method® is a sales process I created to fill a void in new home sales, but I realized that it works for any sales environment. Most sales processes guide buyers through a linear process designed around the critical path theory that we adopted in the '70s from manufacturing and medicine. This worked in new home sales for many years.
What I realized over the past years is that customers today don't like critical path sales processes, and they no longer have to follow our lead in the sales center because they have access to all of the information we have. In the past, they needed a salesperson's help to see pricing, floorplans and standard feature information or to tour the model home and homesites.
With today's technology, buyers typically know exactly what they want to see when they come in, and they're almost ready to make a decision. They want to start at step 12 on the critical path. But the sales agents are trained to start at step one, as they are often evaluated on their ability go through the phases in order. A good salesperson will adapt to their buyer but may fail their secret shop evaluation when they do!
The Uncomplicated Method® is an adaptive sales process designed to be used in a non-linear way, based on the needs of the buyer who is in front of you. The Uncomplicated Method takes all the traditional, time-tested, proven elements of a sales process and reduces them to their most irreducible points. What we have then is four uncomplicated phases: The Connection Phase, the Curiosity Phase, the Contribution Phase and the Commitment Phase. We train salespeople to master four uncomplicated phases, so they are equipped to begin their sales presentation anywhere needed.
For example, if a buyer doesn't want to answer the salesperson's initial questions, the salesperson can start in the Contribution Phase. The salesperson still makes every attempt to conduct discovery and build rapport so they can develop a position of trust and influence the buying decision. They still have a solid sales process, but they're no longer confined to a rigid path.
Instead, the Uncomplicated Method® gives the salesperson confidence and freedom to move around in their process based on where the buyer is in the buyer's journey and based on what the buyer wants to accomplish during their visit.
Does the method work for veteran sales agents as well as rookies?
Yes. The Uncomplicated Method® works for veteran salespeople because we're building on the same concepts and skills they've used for years, showing how to perfect them in an adaptive sales process. We show newcomers how to have confidence to make their sales presentation every time, regardless of the buyer's needs or stage in the process.
Describe your perfect client.
Our perfect client is the home builder, president or sales leader who relies on sales to generate revenue. Whether you have a single new home sales agent or several teams in different markets, we help increase your sales efficiency to capture more profit margin and more market share.
Why is sales training important right now?
For the most part, our new home sales teams haven't had to use their sales skills for the past two years. If the market slows, we will have new home veterans who have never sold in a declining market, nor with interest rates as high as they are today. Now is the time to prepare for shifts in the market and to ensure that your sales team is ready and able to perform at a high level.
Consider these questions:
Will your sales team be able to generate their own leads?
Are they ready to negotiate when buyers start demanding incentives and discounts again?
Can they get prospective buyers to set and keep appointments?
Are they able to overcome objections and convert sales at a high percentage?
Are they skilled in backlog management?
Can they get their buyers to close even with higher interest rates than when they contracted?
Should builders spend time training their entire team?
I think everyone on the team needs to be trained, and then they need constant and consistent coaching. That doesn't mean you need someone from the outside forever. Top salespeople always want to grow and learn, and they often share what they learn with others on their team. You must create a culture of training and coaching to continue to attract and keep the best talent.
Talk about the gift of gab. Do you have to have "it" to be good at sales?
I'm writing a book entitled Gab is Not the Gift, and the thesis is that you don't have to be a talker or be born with a silver tongue to be a highly successful sales professional. I believe what is needed for success in sales is skill-based and can be learned. Gab isn't the gift. The sales process is. For the record, I'm not saying my sales process is the only one that works, but you must use a good sales process to be successful.
"Buy Now" is a hot topic. What's your take on it?
More consumers will purchase homes completely online in the future. There is also more to this than just adding a button on a website. The roles of both the online sales team and the onsite sales team will evolve as buyers become more and more accustomed to e-commerce. Most buyers will still visit the community before they decide to purchase a home because geography and location are still such important parts of the process, but I do think it's prudent for home  builders to offer buy now options.
Where do you see technology going in the next few years related to sales and home buying?
Technology will continue to play a huge role in the homebuyer's decision-making process. I can remember not long ago when marketing technology experts told us that they expected mobile traffic to hit as high as 50% of all web traffic to our homebuilding websites. Now, we're getting 90 to 95% or higher mobile traffic.
Things evolve so quickly that it's hard to keep up with sometimes. I don't know exactly what will disrupt the homebuilding industry, but I am confident that there will be a disruption caused by technology. For the record, I think it will be a great thing for everyone from the consumer to the industry professionals.
What else would you like to add?
It is an honor to be asked to participate in this series. Denim Marketing is a giant in the fields of marketing and the homebuilding industry. They really do set the pace for so many things. I'm grateful to everyone who took the time to read about my experience and perspective!
Stay up to date with the latest in the homebuilding industry through our Expert Series collection of blogs at www.DenimMarketing.com/blog.
Looking for a marketing company that is the perfect fit for your home building company? Call us at 770-383-3360 or reach out to us online today.