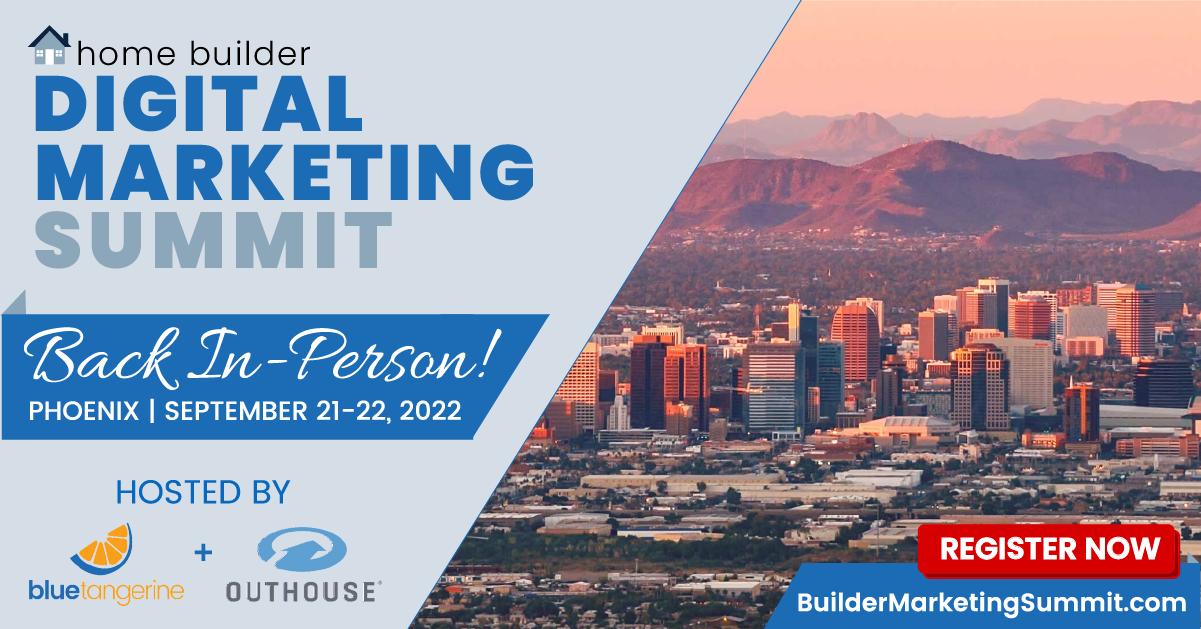 As an agency highly involved in the homebuilding industry with a focus on staying up to date on the latest marketing trends, Denim Marketing is thrilled to serve as a Silver Sponsor of the 2022 Home Builder Digital Marketing Summit. Hosted by Blue Tangerine and Outhouse, this year's event returns in-person to Phoenix, Arizona.
Taking place September 21-22, 2022, at the FOUND:RE Phoenix hotel, the fourth annual Home Builder Digital Marketing Summit features two days of presentations from leading industry experts and peers. Aimed at helping attendees make the most of their websites and digital marketing as it pertains to home sales, attendees will enjoy round-table breakout groups, builder panel discussions and networking activities focused on buying and selling homes online, lead generation, SEO, digital marketing tactics and more.
Speakers include:
Stephanie McCarty, Chief Marketing and Communications Officer, Taylor Morrison Homes.
Dana Spencer, National VP of Sales, K. Hovnanian Homes.
Bob Mirman, CEO and Owner, Eliant, Inc.
Kristi Allen, Owner, WoodCastle Homes.
Susan Paul, VP of Sales and Marketing, Costa Verde Homes.
Greg Bray, President, Blue Tangerine.
Kevin Weitzel, VP of Business Development and Sales, Outhouse.
Cabe Vinson, Director of New Business Development and Sr. Strategist, Blue Tangerine.
Erik Martinez, Executive Vice President, Blue Tangerine.
Mila Sorenson, Sr. Director of Marketing and Client Services, Blue Tangerine.
Cory Dotson, Sr. Director of Development Operations, Blue Tangerine.
In addition to educational sessions, the Home Builder Digital Marketing Summit also features networking opportunities to foster conversations and help attendees see how the information they have learned in sessions can be put to practical use. Click here for the full agenda.
Register by July 15, 2022, to receive early bird pricing. To learn more, visit www.BuilderMarketingSummit.com.
Consider partnering with the Denim Marketing team for exciting marketing and content strategies for your brand. For more information, call 770-383-3360, ext. 20 or contact us.