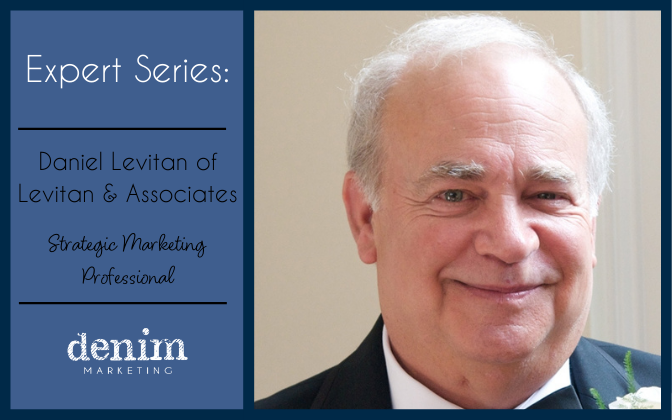 Daniel Levitan founded Levitan & Associates in 1995. He opened this Fort Lauderdale-based management consulting firm immediately after the closing of The Greenman Group. At the time of its closing, the Greenman Group was one of the largest, fully integrated comprehensive sales and marketing consulting firms in the country that exclusively served the homebuilding industry. Levitan closed The Greenman Group and opened Levitan & Associates to help fill a gap in the market and serve his clients more impactfully.
"My belief was that the industry had evolved to the point where one firm, no matter how large and diverse, could not effectively provide the complete sales and marketing services that were needed for all potential clients due to their varying needs and capabilities," said Daniel Levitan. "Instead, I wished to continue to serve my clients, including builders, developers, landowners and lenders by providing the hands-on individually crafted and tailored strategic consultation that they each specifically required."
With this goal in mind, Levitan created Levitan & Associates with a focus on strategic marketing and the idea that working with other specialists to obtain services could create the best-individualized marketing strategy for each client. Because the industry is everchanging and evolving, Levitan does a thorough market evaluation and reviews his clients' place in the industry before implementing a strategy. His team runs an unbiased analysis of the client to optimize each marketing strategy and find out where the client stands within its market.
Daniel Levitan, no stranger to the home building industry, grew up working summers and weekends for a family member who was a custom builder. His first full-time job was working for a local merchant builder as an administrative assistant. He took on more and more responsibilities and continued to move up, advancing all the way to the president of the company. Following that he worked in mortgage and finance and operations as a general sales manager, progressing again up to the vice president and national marketing director position. In addition to his work experience in the industry, Levitan also has a deep educational history with the home building market. He has taken and taught many classes related to real estate and appraisal, building, construction and finance. Levitan combines his extensive work resume, lifelong passion for learning and experience in the field with his consulting firm Levitan & Associates.
One of the most popular services offered by Levitan & Associates is the Levitan Strategic Marketing Audit™. This is an independent examination of the client's total marketing environment, both internal and external. It looks at the company and evaluates it with the goal of creating a strategy to optimize performance and profitability. It can also be customized to reflect the client's specific needs and tailored individually to provide not only a deeper analysis but also to fit within most budgets.
Levitan & Associates recognizes that each client's needs and abilities are unique, and in turn, customizes the services provided to the specifics of the client at a price they can afford. This combined with a large depth of experience and stellar resume sets Levitan & Associates apart from other industry competitors.
"Since founding Levitan & Associates, 100% of my business is with existing clients or from referrals from those existing clients and associated professionals," said Levitan. This suggests to me that I am providing the services that they need and contributing to their ongoing success."
Not only does Levitan & Associates have client satisfaction to back up its work, but Levitan himself has an extensive list of accolades and awards to further prove the depth of his commitment to the industry and clients, including:
The Florida Home Builders' "John P. Hall Award" in 1997, 2006 and 2014 (the only three-time winner)
The Institute of Residential Marketing's "Trina Ripley Excellence in Education Award"
The National Association of Home Builders' "Bill Molster Award"
The Institute of Residential Marketing's "President's Award"
Inducted as the first "Fellow" of the College of Fellows of the Institute of Residential Marketing
Recognized by the National Association of Home Builders as the first "MIRM of the Year"
Named a "Legend of Residential Marketing" by the National Association of Home Builders.
Levitan & Associates is dedicated to helping all types of home builder clients. Levitan understands that home builders must recognize their specific needs and takes steps to ensure their company, and in turn, prevent unseen misfortune while also maximizing the potential for success. Often, small to medium-sized builders lack the in-house experience to properly evaluate new products, new market segments or new market locations. At this point, Levitan & Associates steps in to provide an impartial and unbiased viewpoint to help the company evaluate its standing and make decisions based on its analysis.
With his extensive career in the industry, Levitan understands the changing nature of the business. Staying up-to-date and on top of trends, shifts and updates in the market allow him to better represent and help his clients. In addition to economic and competitive conditions, consumer tastes adapt regularly to reflect the changing household patterns, variations in society and the introduction of new technology. Levitan believes housing must adapt and change to the shifts as well to be successful.
To aid in this process, Levitan and his team at Levitan & Associates are constantly examining, inspecting and analyzing the total marketing environment to be aware of these changes and make necessary adjustments.
"I am pleased that a substantial number of my clients have chosen to establish and maintain a long-term relationship including several that now approach 20+ years," said Levitan. "I believe that is an exceptional complement, suggesting that my clients see such value in the service that I provide that they have made me a permanent member of their teams.  But more importantly, all of my clients have become much more than mere clients – they have become friends."
To learn more about Daniel Levitan or Levitan & Associates, visit www.levitanassociates.net  You can also stay up-to-date with the latest in the home building industry through our Expert Series blog collection at www.denimmarketing.com/blog.