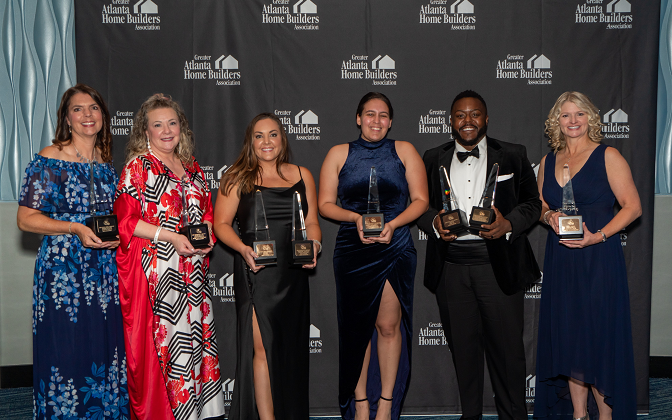 Denim Marketing, a leading name in innovative marketing solutions for new home builders and developers, has set a remarkable benchmark by winning eight Gold OBIE Awards at the 43rd Annual OBIE Awards ceremony.
The prestigious OBIE Awards celebrate the pinnacle of sales and marketing excellence within the Atlanta new home construction industry. Organized by the Atlanta Sales and Marketing Council (SMC) in association with the Greater Atlanta Home Builders Association (HBA), the awards offer recognition for standout achievements in the realm of sales and marketing and personal achievement.
Carol Morgan, Founder and President of Denim Marketing, comments, "These eight Gold OBIE Awards are not just accolades for our team, but they represent the trust and collaboration of our valued clients. Our commitment has always been to create impactful marketing solutions tailored to our clients' unique needs that produce ROI. We thank our clients for their continued belief in us and the Atlanta Sales and Marketing Council for this immense honor."
Denim Marketing's impressive Gold OBIEs include:
Best Logo for a Community: Maple & Elm
Best Advertising Campaign Builder: Peachtree Residential for the Buyer Assurance program
Social Media Campaign Builder: Ranch Cottages For Rent for the delightful mascot Dogwood, the bulldog
Best Social Media Campaign Associate: Denim Marketing for Denim Pets
Best Social Media Application Associate: Denim Marketing for Denim Pets
Best Marketing Campaign Over $10,000: Ranch Cottages for Rent featuring Dogwood
Best Marketing Campaign Under $10,000 Associate: Denim Marketing for the Atlanta Real Estate Forum Legends of Real Estate Podcast series
Best Marketing Campaign Over $10,000 Associate: Lake Oconee Area Builder's Association for The Big Event
Courtney Stewart, Vice President of Client Services, adds, "We've had a lot of fun this year creating campaigns to engage with buyers — both B2B and B2C. Our Denim Marketing Pets campaign and Dogwood, the Ranch Cottages for Rent mascot, showcase this."
Morgan quotes her favorite Dr. Seuss line, "After all, it is fun to have fun, but you have to know how."
Denim Marketing is known for its award-winning work for build-to-rent developers, custom home builders, trade associations, spec home builders, master planned developers, active adult developers, condos, real estate podcasts, real estate technology, private lenders and others in the industry.
Home builders, BTR developers, general contractors, land developers, home building associations and others in the homebuilding industry who want to create campaigns that resonate with your customers should contact Denim Marketing. I Want to Win Awards Too!