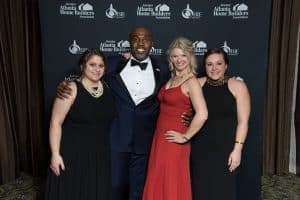 Just a little Bling! Denim Marketing wins Gold OBIEs! We are thrilled to share that we were awarded three OBIE awards, two gold and one silver, at the Greater Atlanta Home Builders Association's 37th annual OBIE Awards. Presented by the Atlanta Sales and Marketing Council, the OBIE Awards are the premier awards given in the Atlanta new home construction industry.
Denim Marketing found its fit in the marketing category by taking home gold OBIEs for Best Social Media Campaign – Associate and Best Logo – Associate. In addition, Denim Marketing won a silver OBIE for Best Newspaper Ad, created in conjunction with Marketing Relevance.
"These awards are confirmation that Denim is quickly distinguishing itself as an award-winning marketing agency," said Carol Morgan, founder and owner of Denim Marketing. "It is always nice to bring home a little bling. We are proud of our work and when you try us on for size, you will find Denim to be genuine, trusted and versatile."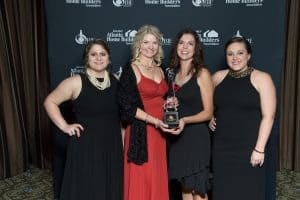 When it was time to rebrand, Denim Marketing wanted a logo that represented its brand assets of being authentic, trusted, reliable and dependable while also incorporating the agency's tagline, "A comfortable fit." Denim partnered with Dina Gunderson, owner of Creative Thunder Design, to develop the logo. Morgan comments, "Dina immediately grasped what we wanted to convey and created our denim-blue colored, textured logo. The combination of font types used for the logo and the tagline, "A comfortable fit," communicates a strong, sturdy and reliable presence that is easily recognized. And the color blue conveys trust, loyalty, imagination and stability."
Denim Marketing introduced the new brand with a two-week long social media campaign. The main focus was on the agency's strengths – marketing strategy, public relations, blogging, social media and reputation management. A series of super-catchy graphics were created by the in-house graphic artist. Additionally, to ensure that the market knew the composition of the Denim Marketing team, a series of posts focusing on each individual staff member were developed. Graphics were posted daily and alternated between company and staff information.
Additionally, Denim Marketing also received a silver OBIE award for Best Print Communication – Newspaper Ad. The ad was designed for a local Atlanta home builder's spring promotion, which targeted prospective buyers in the Atlanta metro area.
As one of the media sponsors for The Greater Atlanta Home Builders Association's OBIE Awards, Denim Marketing is publishing all Gold OBIEs on Atlanta Real Estate Forum during November and December. Visit the site to the award-winning entries www.AtlantaRealEstateForum.com/category/obies.
The OBIE awards began in 1980 and have grown to include more than 100 building, remodeling, marketing and personal achievement categories. In case you wondered where the name OBIE came from — the OBIE Awards are named after the obelisk shape of the actual award given.
For more information on Denim Marketing, Contact Us on this site or call 770-383-3360.