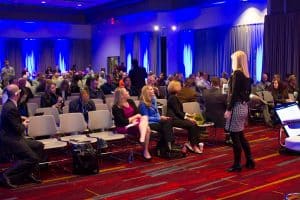 Denim Marketing Founder and President, Carol Morgan, is thrilled to speak once again at the International Builders' Show. In fact, 2018 marks Morgan's 10th year speaking at the show. Her first presentation in 2009 was the first social media presentation at IBS, so it is fitting for her to once again share how social media fits into the marketing mix at the 2018 International Builders' Show in Orlando. Show attendees and participants will have three opportunities to hear her in a variety of sessions including how to best use social media to market to target various generations, her personal success story and the importance of maintaining a good online reputation. Make sure to add these to your show planner.
Tuesday, January 9
Gauging the Generations: Millennials to Boomers
9:30-10:30 AM | Orange County Convention Center – West Concourse, Level 3, Room W311G
Do you know who your buyers are and what they want? Or do you sometimes feel like you are speaking Greek? Understanding who is buying, why and where to reach them impacts marketing decisions and your bottom line. This lively and interactive townhall draws on 20 years of ViaSearch data on buyer profiles, media ratings and buyer preferences. Get a clear overview of the home shopping preferences of each generation. Find out what today's buyer looks like from the loss of the millennials to the emergence of the empty nester boomer buyer – what do they want and how do they find it. Take the guess work out of marketing. Search engines have become as important today as signs were to Sunday afternoon shoppers in the past. Find out where buyers shop for homes from online and what they expect to find on social media.
Participants will gain valuable information about what the diverse needs of each generation of home buyers wants, what is influencing their home buying decisions, where on social media to grab their attention and how to reach Millennials. You won't want to miss this informative yet entertaining presentation presented by Carol Morgan, MIRM, CAPS, CSP and John Hunt, founder and principal of ViaSearch and MarketNsight.
Wednesday, January 10
Give Them Something to Talk About: Online Reputation Management
9:50-10:20 AM | Orange County Convention Center – West Concourse, Level 2, Room W230
10:30-11:30 AM | Office Hours
Carol is joined by Paul Cardis of Avid Ratings for this Tech Bytes session. The majority of people trust online reviews and endorsements from friends when making purchasing decisions. In fact, they turn to the internet for recommendations or confirmations before approaching the market. Consumer access to reviews can either benefit or damage a company's sales. Managing your reputation online is critical. Learn how to harness the power of positive reviews and reap the benefits of crafting a solid online reputation.
Following this program, you are invited to stick around to work one-on-one or in small groups with Carol and Paul to have them review your reputation and answer any specific questions you may have.
Embrace Change: Leadership, Passion & Inspiration
2:45-3:30 PM | Orange County Convention Center – West Concourse, Level 3, Room W305
Carol will share her inspirations and passions as a leader, and share how throughout her career she has innovated, reinvented and focused to not just survive but grow and be successful. Like many women in business today, Carol has adapted to meet family needs while still excelling and running a successful marketing company. Carol is a Past National PWB Chair and Woman of the Year recipient.
We hope to see you at the Builder's Show. Mark your calendars and visit www.BuildersShow.com to learn how you can attend these sessions. For more information on Denim Marketing, Contact Us or call 770-383-3360. And, let us know if you would like to make an appointment to meet with Carol Morgan or Courtney Rogers at the show.