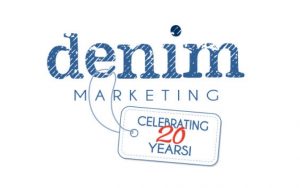 According to the anniversary experts, you are supposed to give china for a traditional 20th anniversary. Or, if you are going more modern, give platinum. If feeling a little trendy, the day lily is the flower associated with the 20th anniversary. We'd like to suggest an alternative to all of these! In 2019, Denim Marketing celebrates its 20th Anniversary and to celebrate, we want everyone to get to know Denim Marketing! We think you will find that we are a comfortable fit!
Our parent company, Flammer Relations, Inc., launched in 1999. Founder Carol Morgan had just given birth to her son and like men can do, he challenged her to work around his schedule. Carol did what any mother would do with a fussy child, she quit her full-time job with a marketing agency and opted to stay home and start a new company on her own.  Now, 20 years later, I'd say both Mother and Son would agree that it was a good decision, as will many clients, partners and friends in the industry.
In honor of all the brave women out there who change direction in life because of motherhood, we invite you to get to know Denim Marketing! We are a woman-owned, woman-run marketing company specializing in home – home builders, construction products, kitchen and bath products, apartments, condos, developers, cities, relocation magazines, utilities, interior designers, home staging and much, much more. We believe that your "home" and your partnership with your marketing agency should be a comfortable fit. We also know that women make all decisions related to home, so who better to represent you than a group of creative and talented women.
As we reflect on the past 20 years, we celebrate our successes and we invite you to celebrate with us. Here are some of the highlights of the past two decades. Please add your highlights in the comments!
Four-wheeling around The Manor Golf & Country Club with J.D. Brooks while planning public relations stories
Planning Bowen Family Homes' Casino Parties with CCP Events (Terry Singleton) and Kelly Fink
Traveling to Cologne, Germany for Hettich's 75th anniversary to work with American media
Booth training for the Sawtec/Blastrac team at World of Concrete in Las Vegas
Organizing a media tour for Wheelabrator during the IWF show in Atlanta
Scoring a WSB-TV interview for MarketNsight's MarketWatch with Jim Strickland
Getting 60 leads in two days for The Providence Group after scoring placement in Atlanta Business Chronicle and Curbed
Carol speaking for the 10th year in a row at the International Builders' Show
Three team members speaking at IBS in 2019
Carol writing five books on Social Media Marketing for Builder Books
Courtney leading the Atlanta Young Professionals Group for more than two years
Being awarded HomeAid Trade Partner of the Year for blogging and promoting them on an ongoing basis
Carol serving as Chair of NAHB's Professional Women in Building
Being green – we recycle everything (paper, plastic, aluminum, glass, cardboard, etc.)
Promoting green – EarthCraft, LEED, HERS ratings, etc.
Launching Atlanta's favorite, award-winning new home blog Atlanta Real Estate Forum in 2006
Mandy being elected to the Sales & Marketing Council
Launching Atlanta Real Estate Forum Radio in 2011 – now sponsored by Jackson EMC
Winning an OBIE for our Denim Marketing logo
Social media overtaking organic search as the number one traffic driver for several of our client's websites.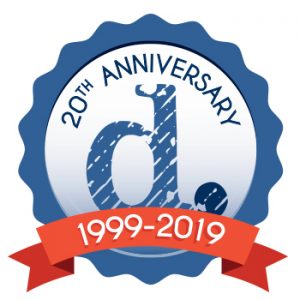 As we reflect on our past and plan for our future, we hope you will join the celebration and try us on for size. At Denim Marketing, we strive to be a comfortable fit. Celebrate with us! Let us know how we can help you, whether you need a marketing strategy, public relations plan, for us to fill in for your maternity leave or a 90-day promotion.