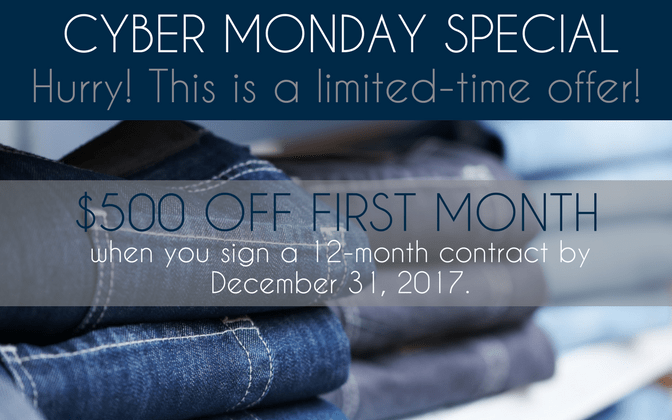 Looking for a great deal online? Well, here's one from Denim Marketing. If you want to expand your marketing footprint in 2018, then we have a Cyber Monday Deal to put some bank in your marketing budget! New clients — Get $500 off your first month of service when you sign a 12-month contract by December 31, 2017.
Ideas for how to spend your $500? We offer a full range of services including strategic marketing, marketing evaluations, blogging, social media, promotions, advertising, public relations, reputation management and more. We are known for our reliability and creativity. We know that writing quality content is often difficult because of other priorities and crazy workloads, so we are here to help. Whether you need two blog posts a month, a content calendar and interaction on social media, or a full public relations plan, we'd love to help.
It also is time to start planning for Q1 2018, so let's look at a promotion or special to entice buyers to visit and buy. We love producing promotional campaigns that show results, and we'd be happy to talk and set up an ROI-focused campaign.
Still not sure what service you need or how we can help? Visit our portfolio to see examples of our best work and get ideas on how we can jazz up your marketing plan in 2018.
Most people shop on Cyber Monday for holiday presents such as clothes, home goods,TVs, Fitbits, gaming consoles or other technology items. Wouldn't it be nice to save money while contributing to your company's bottom line?
Contact us for details on our Cyber Monday Deal! We'd love to write a proposal for your company. Call 770-383-3360 x20 for Carol Morgan.