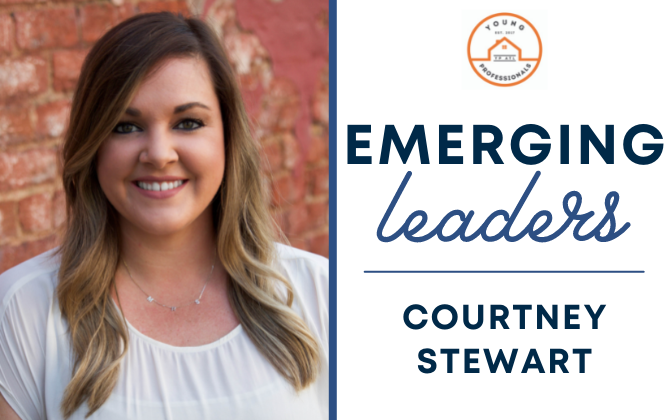 The Young Professional Group, a division of the Greater Atlanta Home Builders Association, recently announced the 16 participants for its inaugural Emerging Leaders Program. The program is dedicated to engaging and building the next generation of rising leaders by teaching them about the association's four pillars: advocacy, networking, education and community service. Courtney Stewart, senior account manager at Denim Marketing, is one of the members of this inaugural class. Throughout the year-long program, she will learn about the building industry through networking and educational opportunities.
"Courtney is the perfect addition to this class of emerging leaders as she is a leader at Denim Marketing, as well as respected in our industry for her contributions. I look forward to seeing her grow in her knowledge and understanding of the home building industry through this program," comments Carol Morgan, president of Denim Marketing.
Geared toward individuals with less than 10 years of professional experience, the participants must attend two Emerging Leaders Program sessions in addition to attending 10 out of 13 designated meetings or events, ranging from council and chapter meetings to volunteer days.
Emerging Leaders kicks off with a welcome party thrown in honor of all the participants with food and drinks. This event serves as a chance for participants to introduce themselves and begin building relationships.
Courtney's expertise includes budgeting, creating and managing advertising plans, creating strategic marketing plans and promotions, and writing content to increase client exposure. During her eight years with Denim Marketing, she has developed and coordinated various campaigns for homebuilder and developer accounts. Mixing personal and professional, Courtney is also the immediate past Chair of the Younger Professionals group, and a current executive board member of the Professional Women in Building Council. Courtney serves as a member of the Parade of Homes Committee where she gives insight into marketing and public relations. Additionally, she has spoken at the International Builders' Show for the past four years on various marketing topics.
Participating in the Emerging Leaders Program is an opportunity for Courtney to learn more about the progressive building industry while gaining more experience in a field she already loves.
To learn more about Courtney or Denim Marketing, feel free to contact us. To learn more about GAHBA's first-ever Emerging Leaders Program, click here to visit their website.