Do you know the popular phrase just stated with these emojis? Even if you don't, these symbols pulled you in and made you want to read the content. Emojis have taken over the way we communicate online. According to a Hubspot study, participants who were sent messages with emojis remembered more of the message than those who were sent messages without emojis, indicating that emojis can make your message more memorable.
These tiny pictographs are fun, as well as memorable, but they also allow businesses to join consumers' everyday conversations and help connect with them. From a marketing standpoint, emojis are certainly effective. According to Hubspot, emojis in a tweet can increase engagement by 25.4 percent, and emojis in a Facebook post can increase the number of likes by 57 percent and the number of comments and shares by 33 percent.
These little symbols are significant – they may be small, but they say a lot. Many brands have already managed to incorporate the language of emojis into their campaigns with huge success. For example, Burger King promoted the return of its Chicken Fries with emoji-based content on Twitter. In 2015, Dominos created a service that allows the consumer to order pizza just by texting them a pizza emoji.
What are Emojis?
First, let's look at history and make sure we are all on the same page. Emojis are not the same thing as emoticons. An emoticon is a typographic display of a facial representation used to convey emotion in a text-only medium. Emoticons are symbols you can create from your keyboard, like 🙂 or 🙁 . They have been around for 20 years. Emojis are pictographs, or actual pictures, of everything from flowers to facial expressions that add personality to a text-based conversation. Emojis are graphics that you can cut and paste, but you can't create them with your keyboard. Makes perfect sense? Right?
With that being said, there are 2,666 emojis to choose from.
From a business standpoint, which of these expressions help increase engagement and which ones should you avoid altogether? Hubspot conducted a study of their own published posts across all social platforms: LinkedIn, Facebook, Twitter, Google Plus and Instagram, and found the top 10 emojis that create engagement and the top 10 that most likely encourage click-through. To view their results, click here.

Denim Marketing includes emojis in social media posts for clients and we keep an eye on what works and what doesn't.  During April 2018 the top five emojis on client social media posts that garnered the most engagement are: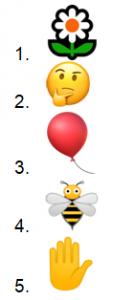 Why Use Emojis?
Emojis are fun, short, expressive and the perfect way to engage an audience. Incorporating emojis into your content strategy should be a decision based on knowledge of your audience and your core message.
In 2017, University of Delaware Professor Kyle Emich studied the effects of emotions and emojis in the workplace. In these studies, they induce different emotions by showing people happy or sad videos or pictures. He says since emojis use facial expressions, it could make a person "feel the emotion the emoji displays" since people tend to mimic what others are doing. He also found in his research that emojis can broaden your mindset by encouraging you to "consider people that you might not normally contact," Emich said.
In 2014, Jeremy Burge of Emojipedia founded World Emoji Day. He chose July 17 for the date to celebrate this holiday because July 17 is displayed in the "Calendar Emoji" when using an emjoi for apple calendar. If emojis are cool enough to have their own day, they're cool enough to incorporate into marketing content!
According to a report published by the Emogi Research Team, 92 percent of people use emojis and more than 30 percent use emojis several times a day. Whether it's a smiley face to convey thanks or a bashful face when apologizing, emojis can effectively express emotion without words.
At Denim Marketing, our team uses emojis successfully in everyday content to become more engaging and fun. If you're lost in the emoji world, visit denimmarketing.com; we can help!

We almost forgot the answer to the very first sentence: Don't cry over spilled milk.