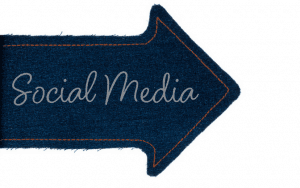 Social media platforms vary as widely as different fits of jeans – skinny, flared, boot-cut or straight. Every site has its own nuances. For instance it is considered acceptable, maybe even mandatory to use hashtags on Instagram and Twitter, but on Facebook hashtags are really only acceptable when they are used for contests and promotions. Posting content to multiple sites is also taboo, especially creating an auto post of content from a Facebook page to Twitter or for that matter, from Twitter to Facebook. People want to see photos and video and posts made on native sites, not a sentence or two with a link to another social media site. Knowing how to use social media sites to your company's advantage takes knowledge of the platform, time, energy and creativity. At Denim Marketing, we know what messages work best for a platform and how to maximize content for social media marketing.
Facebook has two billion users and because of this garners the lion's share of all time spent on social media. According to Pew Research Center fact sheet that was published January 12, 2017, "Facebook is the most-widely used of the major social media platforms, and its user base is most broadly representative of the population as a whole. Smaller shares of Americans use sites such as Twitter, Pinterest, Instagram and LinkedIn." In fact, this same research brief shows that 68 percent of all adult Americans participate on Facebook. And, of these users, for many of them social media part of what they do each day with three-quarters of Facebook users and about half of Instagram users visiting the sites at least one time each day.
Facebook also garners the largest share of corporate marketing dollars. In fact, recent studies show that companies spend the bulk of their social media advertising budget on Facebook. The Facebook advertising platform is one of the most sophisticated platforms online today. Because Facebook knows so much about its users, it makes it easy to target them.
But other platforms offer things that Facebook can't or won't offer. Instagram, for example, started as a way to curate day-in-the-life images and to apply fun filters to create different photo effects. While some may question the usefulness of this seemingly strictly personal platform, Instagram allows the photos to tell a company's story, creating a bond with the audience and giving a brand the chance to be easily recognized without becoming too pitch-heavy. Additionally, buyers are motivated by images and videos, and Instagram ads are often used to sell consumer products.
Twitter remains focused on breaking news in brief, but easy to consume posts. Posts are limited to 140 – 280 characters, depending on whether your account has received the update allowing for longer posts. This makes it easy for users to engage with brands, leave feedback and ask questions. Major brands who keep up with their accounts have even developed excellent customer service reputations on Twitter.
These three examples alone make the case that each of them are important to any social media marketing strategy. Drafting a message, and then developing that message for each site exposes different users, customers and demographics to a company. However, it should not be done without time, attention and a well-crafted, detailed plan.
Denim Marketing's social media experts create content and imagery while managing every account for multiple clients. We recommend strategies and platforms to propel your story and get you noticed. Call us at 770-383-3360 or Contact Us to find out how we can handle your social media marketing.