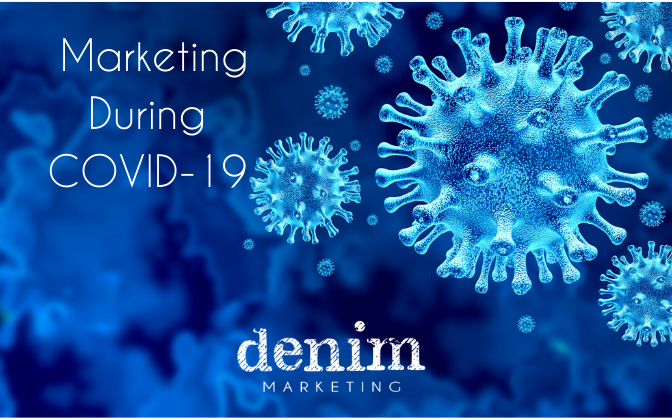 It is all over the news – COVID-19, a pandemic. For companies and employees trying to continue moving forward with work, we are in challenging times. Yet, so much of what we do today is done on the computer and online. Can we mitigate the damage by focusing on what we can do online? Let's talk about sales and marketing during COVID-19.
Here are some ideas of what you can do:
Focus online
Host virtual meetings: use FaceTime, Skype, GoToMeeting or a myriad of other tools to host meetings. These tools allow face-to-face interaction (something people are missing presently), and they also provide the ability to give a virtual tour of a model home or even provide a boutique shopper a method of picking the perfect outfit before having it shipped. Focus on selling and taking orders via web chat. My vet's office is offering to diagnose pets over the phone or via FaceTime. They also have a website where owners can order medicine and it will be shipped to them.
If you don't have online chat, now is a good time to add online chat. Typically, live chat or online chat can increase online leads by an average of 40% and conversion by more than 45%.
Rethink social media strategy and send potential customers to your website (versus a physical location) to gather information, shop virtual tours and continue looking around, thus continuing the shopping process. Think, "visit us online" versus "stop by today." When marketing during COVID-19 on social media you want to make sure you are providing the information they need to keep you in the consideration process.
Audit all social media sites to ensure that they are fully built out and have all the latest information, photos and videos on them. Add 3D tours or anything new you can to enhance sites and provide more information. This might be a good time to update Pinterest and encourage new home shoppers to select design options.
Beef up your website with new information. Get creative, and ask yourself what you can add. Now may be the time to revisit adding interactive floor plans or virtual tours.
Add more video with live videos on Facebook and Instagram and other social sites. Give tips, tour model homes, show your lunch special (that customers can order online for pickup).
Now is also a good time to explore text messaging or SMS marketing apps. We all know customers would rather text than talk. In fact, I think we have all become millennials in this way! According to Media Post, 67% of customers would rather send and receive text messages to communicate about appointments versus using email or the phone. One app that we follow is MobileMonkey. It provides a myriad of services to streamline texting with clients and customers.
Focus on Remarketing
What do you already know about your customers that you haven't had time to dig into? This is a great time to remarket to customers who have visited your website or opened an email.  If you have not yet set up the Facebook Pixel, Google Pixel or LinkedIn Insight Tag, take time to do these now. If the pixels and tags are set up, then remarket to those potential customers via targeted ads on Facebook, Google, the Google ad network or via LinkedIn. Email marketing tools such as Mailchimp, Constant Contact and many CRMs show when prospects open and click. Dive into this data and determine what additional information can be sent to prospects to keep them interested or help them take the next step.
Make it Personal
Find out what they need and want, then cater to their hot buttons. Send a BombBomb video through email or text photos of the product they expressed interest in. Treat them to an exceptional, but virtual personal experience. If sending mass email, personalize these with a greeting and the recipient's first name. The overall goal of these emails is to catch their attention, anticipate their needs and remain relevant and not become creepy!
Don't forget to include multi-lingual messaging, particularly regarding updates during the COVID-19 outbreak, so every constituent knows the latest facts and what is going on. You know your buyers and target audience, make sure to include all of them.
Revisit Social Media Advertising
Update social media ads to be as interactive as possible. Use videos when possible and have the ads click to videos and 3D tours on your website. Don't encourage people to stop by (especially if you aren't open); instead encourage online shopping!
Real Life Applications
The Denim Marketing team is working from home through the end of the month to do our part to stop the spread of COVID-19 and to keep our families safe. As you know, we already work from home regularly on Wednesdays and Fridays, so we are set up to work remotely. Please feel free to reach out via phone, email or text if you need to contact any of us directly. We do apologize in advance if you hear a dog bark, cat meow or Carol's bird sing the iPhone ringtone during a call. We all have pets, some of us more than others!
Traton Homes has gone to showings By Appointment Only. Here is what they have published on the website, blog and social media. They, like all of us, continue to evaluate sales and marketing during COVID-19.
In the current environment, it is important for all of us to act smarter and more consciously. With interest rates at nearly all-time lows, we understand that now is a great time to secure your dream home. That being said, in order to ensure the health, safety, and well-being of our employees and customers, as well as to do our part in trying to mitigate the spread of COVID-19 throughout the community, our sales offices and model homes are now open By Appointment Only until further notice. Your appointment time is individual to you and no other customers will be present during your appointment time.  We will refrain from handshaking and practice social distancing (3-6 feet) during appointments, and also take extra steps to clean and sanitize high-touch point locations (door handles, restrooms, etc.) between appointments. For those of you who are uncomfortable leaving your home, we are happy to schedule online meetings to assist you.  We understand that this is a rapidly evolving situation and we will post any changes to this protocol as conditions warrant. Please take care of yourself and your family. Together we will get through this. To make an appointment, visit our website for contact information. www.tratonhomes.com

Sublime Homes has a plan for marketing during COVID-19 they are directing all Facebook advertisements to the virtual tours on their website. And a recent Facebook post says this:
Don't let the COVID-19 stop you from shopping for your dream home! Sublime is here to help navigate your search either in person or virtually. Whatever makes you feel most comfortable. We are here for you!
We're doing business, as usual, no large crowds here. Here are a few ways to search for your dream home:
Friday 3/13: We're OPEN for our viewing day. I'll be around in our home until 4PM. Come by and view this gorgeous spec home 8332 Wyman Dr., St. John (Corner of 93rd and Cline)
Shop on your own time during daylight hours with our NterNow on-demand lock.
Set up a virtual showing! Text Amy 219-281-1533 to set up a virtual time to use Facebook Messenger, Instagram Messenger or Facetime to view our home.
Check out any of our matterport virtual tours on our website, coming by Monday, the new matterport of our newest spec home and model, the Magnolia! http://bit.ly/toursbySublime
Our clients are working on creative and thoughtful ways to keep business moving forward while working to safeguard the health of employees and customers.  What is your business doing to cope with today's challenges? We'd love your tips for Marketing During COVID-19! If you want to talk about how to best work during the Coronavirus, contact us or call 770-383-3360.