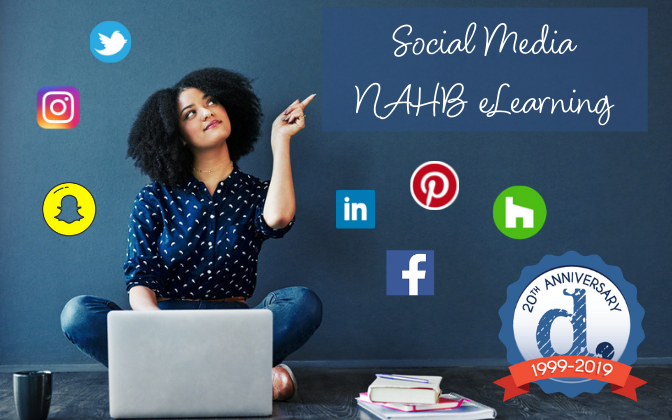 Continue your life-long learning from the comfort of your own office or home. This fall, NAHB eLearning presents Social Media Marketing for Your Business. This three-part eLearning webinar, developed by Denim Marketing's President Carol Morgan and NAHB, is a deep dive into how social media fits into an overall marketing plan. The six hour course, based on Morgan's Book, "Social Media Marketing for Your Business" published by Builder Books,  takes place over three consecutive Tuesdays,  October 1, 8 and 15 from 1 to 3 p.m. ET.
Throughout the webinar, Morgan helps companies think strategically about social media and how it fits into the "big picture." A well-designed marketing program starts with a strong foundation comprised of the company website, brand and content. After the foundation is in place, tactics like social media can be incorporated to drive traffic to the website, engage customers online, improve SERP (search engine results placements) and more.
Most companies have a website, Facebook and Twitter pages and various other social media accounts. Often what they are missing is the strategy to make them work together and produce results that meet goals. This course will help participants craft a marketing plan that includes social media as a key component.
The world has changed; it is no longer enough to just be online. Millennials have changed the game for all generations. The sales process is about the user experience, so make it fun!
Participants in this course will be able to:
Identify the fundamentals of a sound marketing foundation
Recognize how social media relates to the company's marketing foundation
Use content calendars to effectively plan and maintain a strategic program
Identify and engage the right audience
Discover how to start conversations today for sales tomorrow
Determine how to measure ROI and look at analytics
For more information on the course, visit NAHB eLearning Social Media Marketing for Your Business.
Important Registration Details: 
Instructor: Carol L. Morgan
Course Length: 6 hours
NAHB Continuing Education: 6 hours for the following 12 designations: CAPS, CGA, CGB, CGP, CGR, CMP, CSP, GMB, GMR, Master CGP, Master CSP, MIRM.
Please note: You have one year after purchase to access the materials associated with this course.
After you have participated in all three live sessions, you must take a timed, one-hour skills check and earn a score of 70% or higher to receive course credit. If you do not pass, you have one opportunity to retake it. Once you have passed the skills check and completed the course evaluation, you can print out your certificate of completion.
$199 for NAHB members
$299 for non-members
Registration is open until 3 p.m. ET (12 p.m. PT) on Monday, Sept. 30.
NAHB eLearning presents Social Media Marketing for Your Business this fall. Don't miss out! Visit elearning.nahb.org/live-online-courses for more information.  For additional information on other courses taught by Carol Morgan, visit seminars on this site.