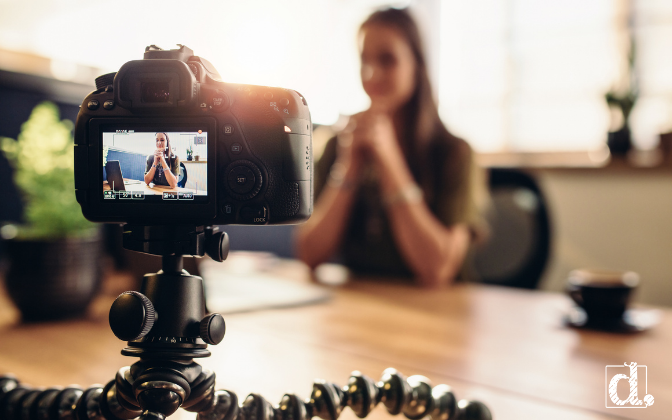 It's no secret that short-form video content is a top digital trend of today! This quick, easy-to-make content easily captures consumer attention, receives great engagement and greatly enhances customer experience.
From guided home tours to home buying process guides or answers to frequently asked questions, there are several ways that home builders can easily implement this component into their marketing strategy! Videos perform even better when they feature faces – is your team ready to take on this effective strategy?
On the most recent Sales & Marketing Power Hour, Chris Hartley with K. Hovnanian Homes joined hosts Carol Morgan and Kimberly Mackey for an engaging discussion on how to transform your team into video-making experts. As early adopters of disruptive technology, Chris and his team are no strangers to creating attention-grabbing videos, even before they became all the rage. In this timely webinar, he provided expertise on best practices for using videos for hand-offs, marketing, social, prospecting and more!
How to Start Incorporating Video into Your Marketing Strategy
Many builders overlook popular marketing trends due to a lack of funds allocated toward testing new strategies. Instead, they plan to incorporate those trends into the following yearly budget, but by doing this they miss out on highly advantageous opportunities to engage their audience! That's why industry leaders like Chris suggest creating a research budget dedicated to adapting popular tools and tactics while they're achieving great popularity to see the best results.
Make videos widely accessible to key audiences by placing them on the website, using them in email to buyers asking for more information, etc. It's easy for visitors to miss key content on a builder's website, which makes it crucial to have the videos available as a separate resource if needed. These videos include community videos, model home videos, inventory videos and more.
According to Chris, often, the most common barrier to entry for a sales or marketing professional creating video content is laziness. Although video has been around for decades, and research even shows that video emails are opened 85% more than regular emails (for which the open rate is seven percent), many homebuilding industry professionals resist the use of this technology within their sales and marketing techniques. As most homebuilding sales teams are facing sales restrictions, they're left with all the additional time they need to quickly shoot and edit short video content – the key is taking the first step and getting in on the action!
Another obstacle for camera-shy team members may be that they feel self-conscious about being in the spotlight. Despite this fear, video content is another fantastic way sales teams can stand out against competitors. More important than their worries about how they look or sound is providing an exceptional customer experience and helping buyers attain homeownership! These videos aren't about the sales team members creating them, it's about the customers and delivering a helpful, engaging encounter with the company!
Getting Your Sales Team Camera-Ready
Many sales teams may face initial discomfort and frustration when forced to be in front of the camera, resulting in a lack of motivation. Instead, take Chris' tips to turn this new strategy into an engaging team activity with a contest.
A few video contest tips for sales agents:
Make the contest competitive and fun.
Offer worthwhile monetary prizes for top winners and watch as your team becomes excited to participate together whether they work in teams or compete solo.
Finally, showcase the videos at a sales meeting and vote on the winners!
If there's a video type essential for homebuilding sales teams, it is the hand-off video from the online sales team to the onsite sales team. After an online salesperson schedules an appointment for a member of the onsite team, a video email or text introduces the salesperson to the new prospect. Buyers conversion rates are often much higher when they are familiar with the person they're meeting rather than walking in cold. Another benefit is that when new leads come in that aren't as high-quality, immediately reaching out to them allows a salesperson to dismiss that lead or successfully help them find the best community fit.
Guidelines for Shooting Video Content
How "professional" do the videos need to be? Well, this answer varies for each video type sales teams produce. Videos that should be professionally shot include:
Videos with OSCs
Team member introductions
Design center features
Other videos can be easily shot on a mobile device to create personalized messages that feel special for each prospect. Each team should also have a list of content ideas to execute that benefit prospective homebuyers. Content ideas on your list could include:
New inventory home features
Community updates
Answers to "why buy now?"
Addressing rising costs
Facing high interest rates
Creating Video Content that Aligns with the Brand
To ensure the best customer experience, it's important to always control the consistency of the company's messages through video. As a marketer, there are always brand guidelines that need to be addressed and followed. Here are some tips for ensuring the company's video content is consistent and aligns with your brand:
Converse about the do's and don'ts for your video content.
Have the marketing team create a syllabus on relevant and appropriate videos to shoot and provide to prospects.
Ensure each video is reviewed by the marketing team before sharing to ensure cohesive messaging and branding throughout.
Before shooting a video, it's also critical to lay a foundation and establish overarching goals for the brand content. Marketers and salespeople focus on the customer journey and experience as the most important pieces. When making videos, the entire team must consistently address why buyers should choose to buy a home with the builder.
Chris Hartley's Tips & Tricks for a Great Virtual Presentation
Remove Distractions – Create a quiet and focused space. A successful video presentation shouldn't be filled with distractions, avoid this issue by selecting a comfortable area to film.
No Virtual Backgrounds – These are acceptable for casual meetings, but when interacting with customers it's important to offer a highly professional appearance. This feature is often distracting and takes away attention from the conversation.
Engage the Camera – When sitting in front of the camera, don't forget to focus on eye contact! Don't let the audience wonder what you were staring at the entire time – show them they have your full attention by always facing and looking directly at the camera.
Dress for the Role – Always look professional from the top down! Make sure to always dress for the part to assure buyers of your credibility.
Watch Your Delivery Cadence – Speak clearly and slowly enough for your audience to understand what is being discussed. Share information and updates with conviction.
Don't Let Your Audience Get Bored – If you aren't delivering information in an engaging, interesting way, the audience won't listen despite the relevance of the video. Make sure to have fun and create a distinguishing presence that interests your audience.
Upcoming Webinars:
August 17 – TBD
Oct 19 – TBD
Dec 14 – 2023 Lasso Style Round Up
REGISTER HERE FOR THE NEXT WEBINAR
Sales & Marketing Power Hour is a webinar series for new home sales and marketing professionals. Hosted by the dynamic duo Kimberly Mackey of New Homes Solutions Consulting and Carol Morgan of Denim Marketing, Sales & Marketing Power Hour was accoladed by The Nationals as a Silver Award winner for Best Professional Development Series.
Focused on providing solutions, tips and ideas to both sales and marketing teams in the new home industry, Sales & Marketing Power Hour offers best practices and practical advice on what is working in today's real estate market. This program is appropriate for company visionaries, sales and marketing leadership, on-site sales professionals, and anyone who wants to remain relevant as our industry grows its technological footprint.