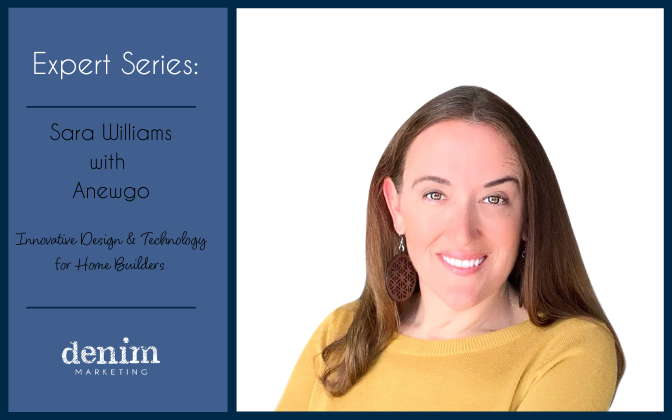 Sara Williams, Director of Sales, Anewgo has worked in the new home industry for more than 19 years, implementing strategic technology and sales and marketing processes for homebuilders and tech companies. A past winner of the NAHB Sales and Marketing Council's Gold Award for Online Sales, she has trained onsite, online and operational teams throughout North America to focus on winning back time while selling more homes. In her current role at Anewgo, Sara serves homebuilders as a sales, marketing and ecommerce consultant.
Tell us about Anewgo.
Anewgo is a forward-thinking and innovative design, visualization and technology company that has been serving the new home industry for over 20 years (formerly named Rendering House). We have offices in Raleigh, NC, California and remote employees scattered across the country.
Anewgo has evolved and reinvented itself many times. We started as a rendering artist doing pen and ink and watercolor designs, then added printing services before creating 3D visuals and building smart technology. All along, our goals have been:
Help our builder partners scale their businesses,
Give home shoppers a better customer experience with visualization and digital shopping tools,
Make our builders more profitable.
Our most exciting venture launched in the fall of 2022. It is an exclusive marketplace for new construction homebuilders to provide interactive experiences so home shoppers can find, design and eventually buy new homes online. You can visit and shop at anewgo.com
Talk a little about how you work with homebuilders and developers.
VTX Room Option Configurator.mp4 from Anewgo on Vimeo.
Anewgo has such a broad scope of offerings. I like to tell builders and developers if you have any home, property or community you are trying to bring to life, promote/market and sell (even if it's just a pile of dirt right or a concept) you are in the right place.
We offer everything from static images to fly-through tours to interactive tools to help homebuyers visualize different elements of a home. Our platform can take someone through the whole shopping journey, including e-signatures and payment.
Our client base includes small custom builders, real estate agencies, architects and every size builder and developer. Our sweet spot is really giving small to mid-size builders tools to scale their businesses and compete with big-budget builders. But to be fair, we also serve 4 of the 5 largest builders in the USA too.
I personally work on the sales and consulting side of our business. I get to consult and strategize on the best tools and sales/marketing approach for a project. I bring in different team members to execute the art and technology, depending on what services we are providing. Anewgo has such knowledgeable team members who have been serving the building industry for decades, in addition to young professionals who bring innovative ideas, new skills and creative solutions that keep us on the cutting edge.
What design services does Anewgo offer?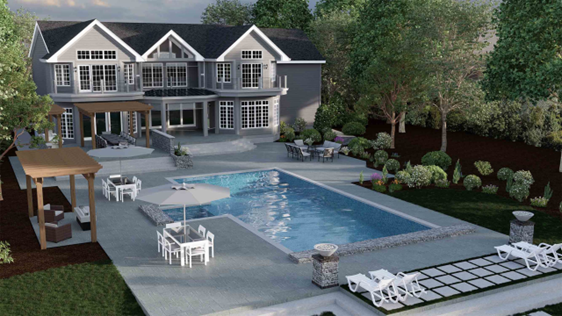 Our design services are:
Photorealistic Rendering
Interactive Color Renderings (the ability to change colors of the exterior of the home)
Virtual Photography, Staging and Tours
Floorplans (static images and interactive tools with pricing)
Kitchen and Bathroom Color and Material Interactive Visualizer Tools
Flyovers and Birds-Eye Views of Communities, Properties and Amenity Centers
Digital Brochures
What is one service that you wish more homebuilders would take advantage of?
That would have to be our pricing feature in our My Home App platform. When you add pricing to your home elevations and your interactive floorplan options, your shoppers can see how much the home will cost. It also allows them to use a mortgage calculator to determine how much more a fireplace or a sunroom would cost per month versus not buying it. When you give the power back to the consumer, they actually spend more on options. Shoppers want pricing transparency.
The biggest obstacle for builders is being organized enough to be able to feed another system this data. The builders that do leverage this feature provide the data via API, spreadsheets and or manual input.
The beauty of Anewgo is that when someone prices out their home online and creates a digital brochure, it pulls all the option pricing in, and you see the total cost, the mortgage amount and the included features. This is the full picture of the home they want. Once builders start putting pricing on their website, they will be set up with the ability to create digital sales processes that would allow buyers to remotely transact (assisted or unassisted).
What is your most innovative service?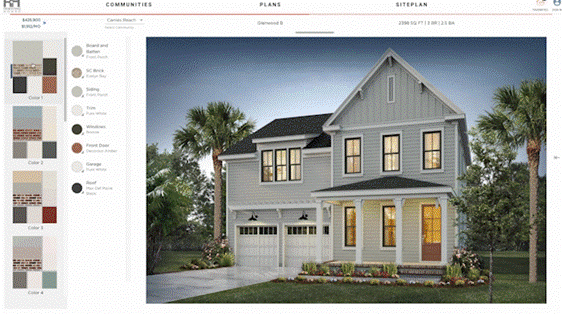 We have a ton of innovation happening here at Anewgo, but our exterior color visualizer is a crowd favorite, the most affordable and scalable of our innovative products, and our company's secret sauce. Others have been trying to figure it out for years.
We can save our builders so much time and money when they use it. Builders access limitless color options using our technology and get millions of renderings for the cost of one. When they sign up for our color tool, our clients get access to paint colors from hundreds of manufacturers. Architects, custom builders, national builders and builders of all sizes are taking advantage of it. It's a no-brainer once builders start using it.
Talk a little about your new marketplace.
Our Anewgo marketplace (anewgo.com) had a soft launch in September 2022. Anewgo will drive traffic to the marketplace and promote our builders and their communities.
The biggest differentiator between us and other new home shopping portals is that we have design tools baked into the shopping experience, allowing for that HGTV feel that buyers are looking for. Whether someone can afford a new home today or in the future, they can dream up their perfect home exterior, interior home options, and their dream kitchen and bath.
On top of our design element, we also injected our platform with smart filters. Shoppers can find a needle in a haystack based on their wants, needs and desires. An example: show me all of the homes in Raleigh, NC, that have 4 bedrooms, 2.5 baths, a mudroom, flex space and a back porch in a community with a swimming pool. Our search engine has all of that data stored and can find a home(s) that match that granular search. Our smart filters are driving our AI engine, and we believe marketplaces and AI search engines will dominate how shoppers search and find new homes in our industry in the very near future. It's already happening, and it's going to be more advanced.
How do you define success?
I define success as achieving your desired outcome to a plan, dream or mission.
Important things to consider in preparing for success are self-evolution, preparation and opportunities. If we are evolving and growing ourselves in a positive way, visualizing and preparing for what we want or are trying to achieve, when an opportunity arises, our chances for success are huge.
Success can be little things in life or big goals and achievements. I am a huge believer in visualizing what I want to achieve and putting a plan in place to get there. When an opportunity shows up, I recognize it, and with proper execution, success can be mine. No matter how small or large your accomplishment is, celebrate it because it trains your brain to remove self-doubt and increases self-confidence for your future goals and aspirations.
What do you like to do in your free time?
I have been married to Jason, my college sweetheart, for 15 years. We have three awesome kids and a great rescue pup named Ava. They all keep us super busy. I love to spend time by the pool or on the beach with my family on weekends. I love to read up and geek out on tech trends, business and spiritual books. My guilty pleasure is sitting on my porch drinking a cup of hot tea.
What else would you like to add?
I am so grateful to be a part of this series among so many amazing individuals. Thank you to Carol Morgan and Denim Marketing for giving me this opportunity. If anyone has questions about Anewgo, industry tech trends, and online and hybrid approaches to sales and marketing, please feel free to reach out to me.
Stay up to date with the latest in the home building industry through our Expert Series collection of blogs at www.DenimMarketing.com/blog.
Looking for a marketing company that is the perfect fit for your home building company? Call us at 770-383-3360 or reach out to us online today.