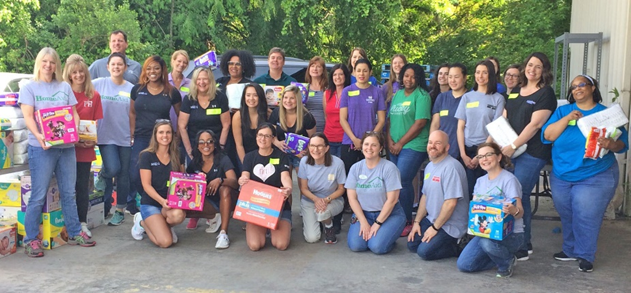 We'd like to congratulate HomeAid Atlanta for its recent Essentials Drive which collected 175,000 items valued at $33,000 to support homeless mothers and children.
I am happy to serve on both the HomeAid Atlanta Outreach and Essentials committees. This has been a rewarding experience and is just one of the many ways that Denim Marketing gives back to the community. It is always fun to spend the day with fellow volunteers supporting a good cause. I enjoy the opportunity to network with this group while sorting donations for the various shelters.
This was HomeAid Atlanta's 18th Annual Essentials Drive and items were delivered to 23 Atlanta-area nonprofits, providing critical support to these organizations and the families they serve.
The Essentials Drive is HomeAid's annual community-wide drive to collect "essentials" such as diapers, baby wipes, baby food and formula for homeless infants and toddlers. The drive, held annually since 2002, is conducted in conjunction with Mother's Day, providing a great opportunity to help homeless mothers and their babies. Sadly, an estimated 7,500 people in metro Atlanta are homeless on any given night and almost 50% are women and children. Thanks to the community support, this drive has collected over 1,000,000 essential baby items, assisting hundreds of moms and babies in the metro Atlanta area.
More than 60 organizations served as collection sites and hundreds of individuals participated in the 2019 Essentials Drive with donations of items, financial and/or volunteer support. Atlanta-based UPS joined HomeAid for the 13th year to assist with delivery of donated items as well.
Brian Hengesbaugh, Director of Development and Strategic Initiatives at CAPN Clinics – Community Advanced Practice Nurses, Inc., appreciated the gifts, saying:
"Wow, thank you for the incredible donation delivery today! We really appreciate the work that went into making this donation possible, and the generosity of all of the donors who support HomeAid. These gifts will go a long way in support of the clients that we serve."
Denim Marketing also supports HomeAid Atlanta by providing benefits to its Cornerstone Sponsors. For this effort, we provide a big box ad on Atlanta Real Estate Forum. This is part of a bigger package with Atlanta's Best New Homes TV and New Home Guide.
Another way we support HomeAid Atlanta is to share their news on Atlanta Real Estate Forum. Click here to read their stories.