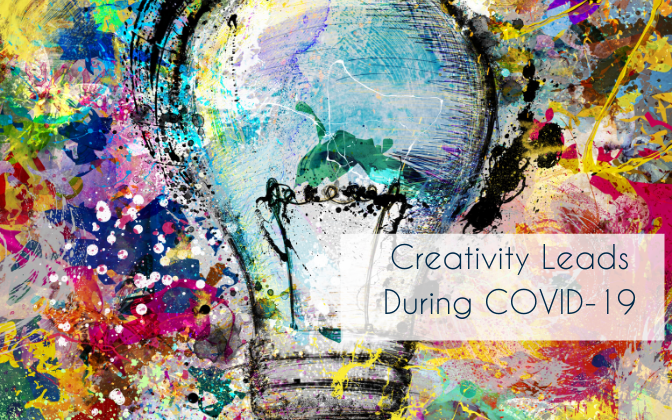 There is a lot of energy focused on marketing during the COVID-19 (coronavirus) crisis and one fact is for certain, creativity leads during coronavirus. Today I'm focusing on what companies in the homebuilding industry are doing well. The coronavirus crisis has sparked lots of creativity. From major corporations separating the letters in their names, to changing logo colors and more, everyone is embracing social distancing and looking for ways to continue to sell  Here are some examples of what our clients around the U.S. are doing.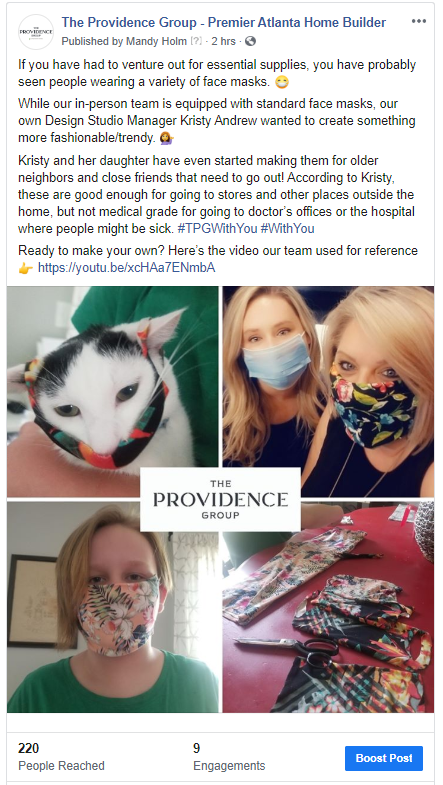 The Providence Group is sharing posts featuring team members with popular hashtags #TPGWithYou, #WithMe and #WithYou (#WithYou is trending on Twitter and #WithMe on Google search at present).
Staff from The Providence Group share photos of doing schoolwork with their kids, their kids daily schedules, the family pets, date nights and more.
The Providence Group also has a series of YouTube videos that are shared on social media to promote private VIP tours, video tours and historical low interest rates.
https://youtu.be/gp4Xwc3H-Lc – The Providence Group – Discover the Place You Can Make Space for Life
https://youtu.be/-8lSvJtrcwg – Video Tours and Private VIP Tours Available at The Providence Group
https://youtu.be/XiDH5Obx3ic – Take Advantage of Historical Low Interest Rates on New Homes in Atlanta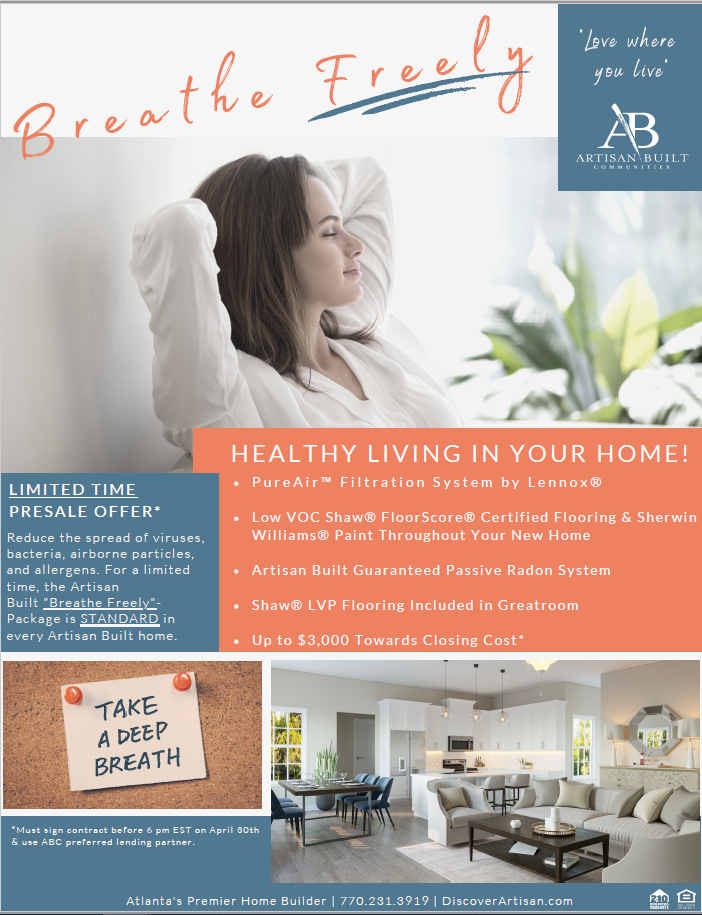 Artisan Built Communities recently introduced its Breathe Freely package designed to promote healthy living in every new home it builds. For a limited time, the Breathe Freely Package is standard in every Artisan Built home.
The Breathe Freely package includes:
PureAir™ Merv-16 Filtration System by Lennox®
Low VOC Shaw® FloorScore® certified flooring and Sherwin Williams® paint
Artisan Built guaranteed passive radon system
Shaw® Low-VOC LVP flooring in the great room
Up to $3,000 toward closing costs
"COVID-19 has made us realize that living in a healthy home is more important than ever, and as a new home builder, we have the ability to build one for our buyers," Stephen Haines, president of Artisan Built Communities, said. "We are proud to offer products that are designed to reduce the spread of viruses, bacteria, airborne particles and allergens."
Artisan Built has been using Facebook Live to showcase homes and amenities within their communities and interact with viewers in real time.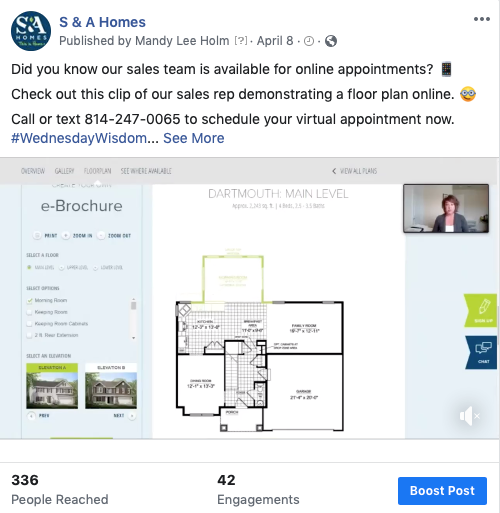 S&A Homes is promoting virtual tools/services on their blog and social media. They posted a video on Facebook of one of their sales representatives demonstrating a floor plan to show what it is like to attend a virtual appointment. S&A has also posted a blog on virtual tours and appointments, letting their buyers know what they will experience.
While in-person visits and tours are on hold for the time being, the S&A Homes sales team is still working remotely and available to help homebuyers with a variety of online tools as well as virtual sales appointments.
A combination of online interactive tools are available on the S&A Homes website:
Online chat available 7 days per week
Interactive floor plans and homesite maps
Floor plan image galleries, video walk-throughs and 3D virtual tours
Community information including base prices, homesite availability and more
Interior design firm, Crosby Design Group hosted a virtual family Easter egg coloring party on Zoom. This is a great way to keep staff engaged and connected. Virtual anything is an important way to maintain communications with team members. Including their families and children while they are all sheltering in place at home makes everyone feel part of the team.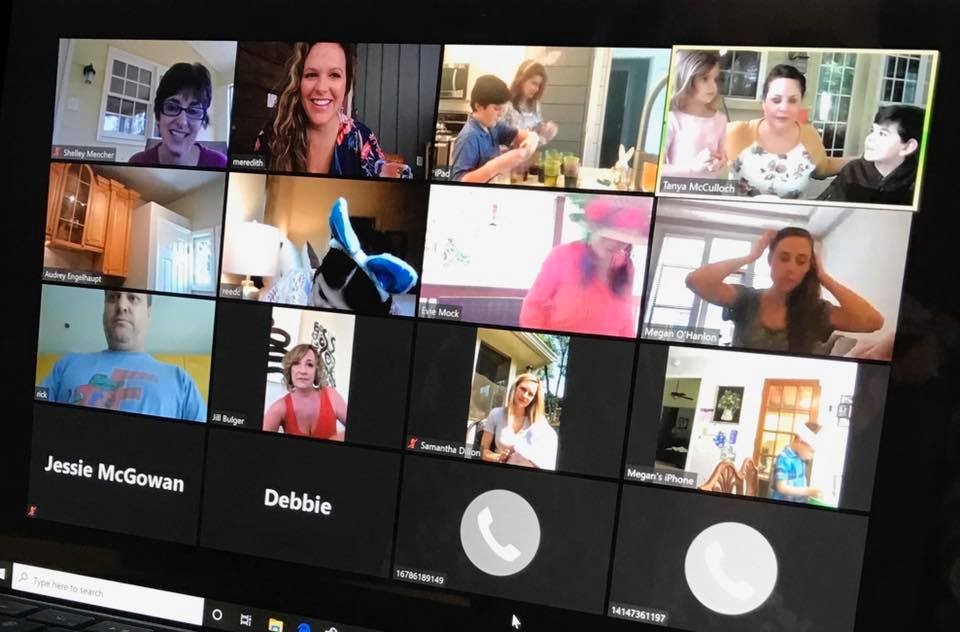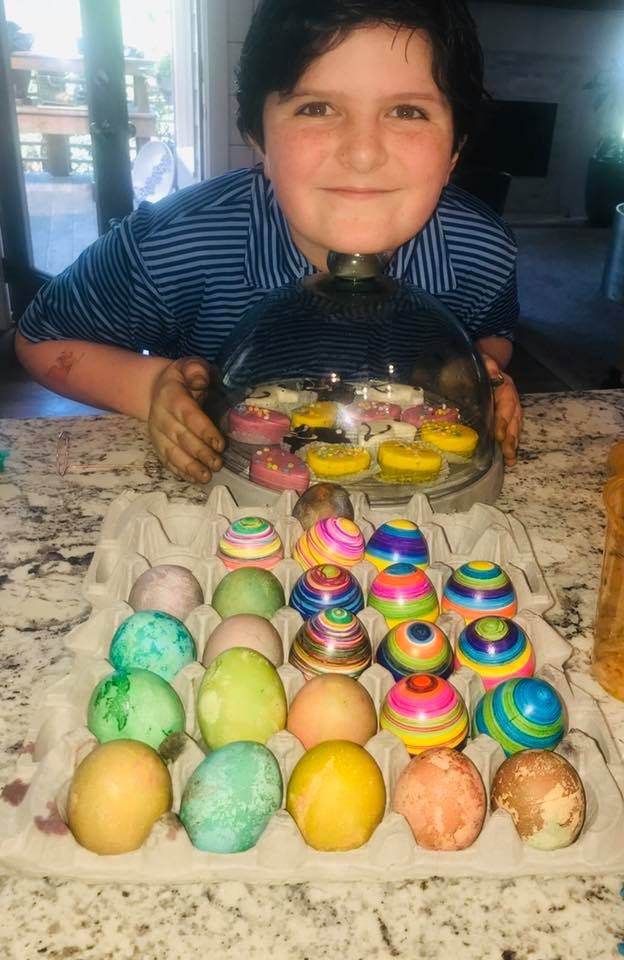 Kiper Homes is focusing on #TakeATourTuesday and other methods of promoting virtual tours of properties. Staying top of mind with buying and letting them know they can still tour their model homes, even if only virtually, is an important part of the buying process. This allows be back buyers and others in the shopping process to continue looking, evaluating and even making the purchase.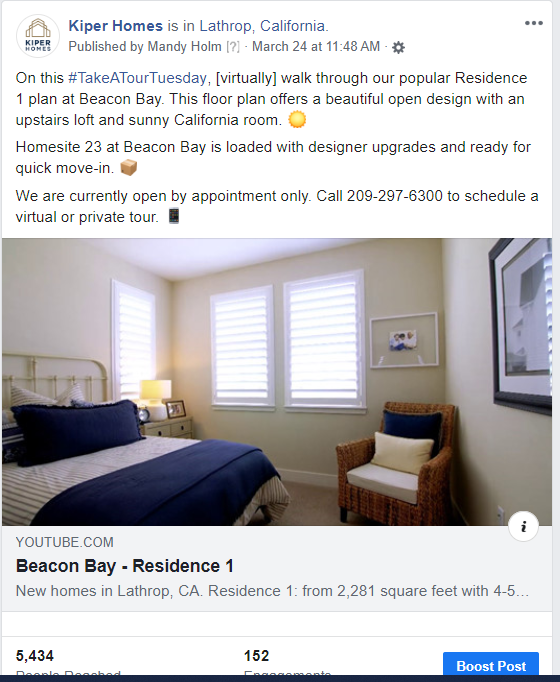 SR Homes created a #TogetherAtHome blog series to connect with homeowners/buyers and provide them with ideas of things to do at home. The series features education, fitness and entertainment topics. So far, they have covered ways to keep education fun for the entire family, ways to stay creative with art projects and suggestions for working out from home. Clever creative ties all of the blogs together with a graphic depicting the home with a heart in it.
Click here to visit the Together at Home blog series.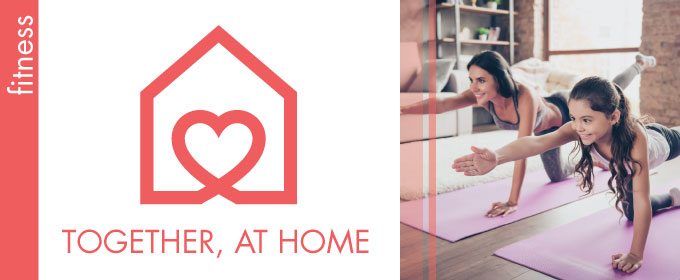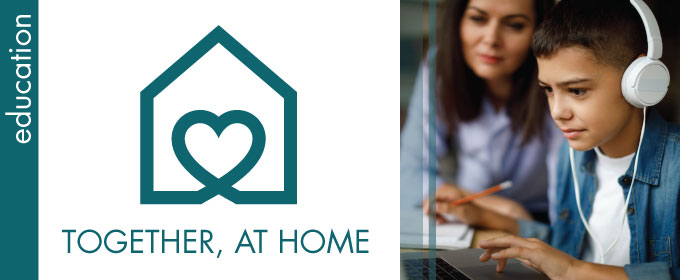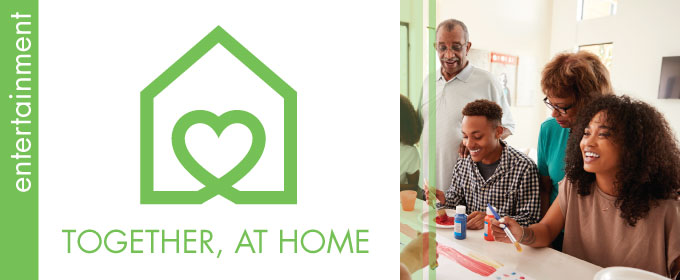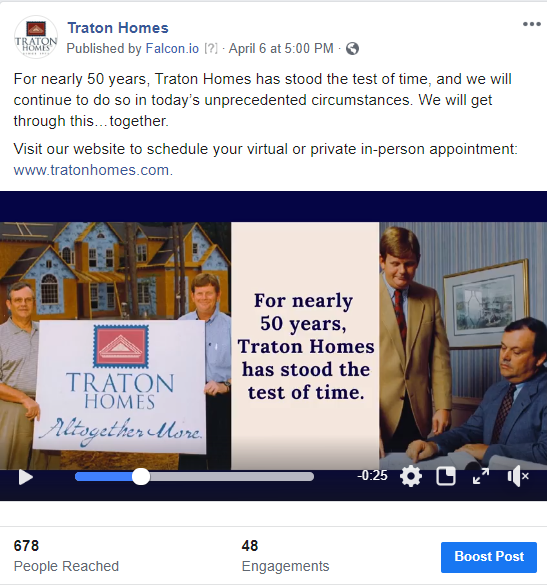 Traton Homes is running a Cyber Spring Campaign to promote homes that will be ready by the end of May. Home shoppers are encouraged to schedule an online appointment to tour these homes either privately in-person or virtually.
The builder will have six new models opening in May and June and plans to host a Virtual Tour of Homes in June where homebuyers can tour homes on their website, YouTube, Facebook and Pinterest pages.
The builder recently created a video highlighting owners/founders and its almost 50 years in the industry. This shows longevity, and helps to give buyers peace of mind.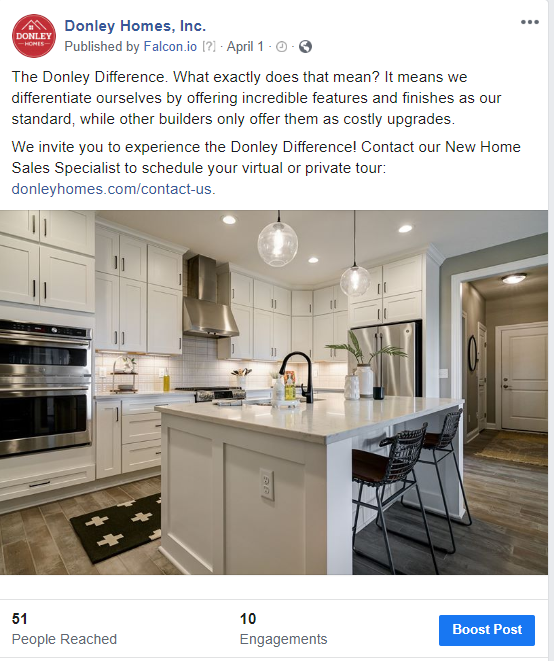 Donley Homes is focusing on vitual or private tours and showcasing homes on walk-throughs on Facebook Live.
Like many builders they have changed all of their messaging to focus on what they can do.
Share with your examples of how creativity leads coronavirus. We'd love to see more examples of what home builders and others in the industry are doing and, as always, if you need marketing help, contact us at Denim Marketing.