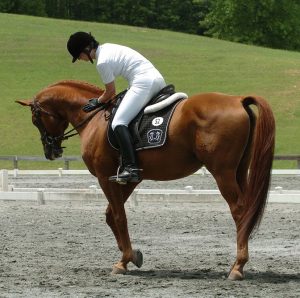 Voyage Atlanta recently shared our founder's story, Meet Carol Morgan of Denim Marketing with their audience and we thought it would be fun to share it with you here on our blog as well. Her voyage, or journey, from college to agency president is an interesting read.
So, let's start at the beginning and we can move on from there.
Originally from Knoxville, Tennessee, Carol attended Oglethorpe University on a scholarship and graduated with a BA in Business and Behavioral Science. After college, she stayed in Georgia. Her grandparents fondly called her their Georgia peach because she felt at home in Atlanta and they were both from Georgia – Savannah and Macon.
During her senior year of college, she participated in the Governor's Intern Program and interned with the High Museum at Georgia Pacific Center. During that internship, she met Pam Heisler and experienced public relations. From there, she went on to work as the public relations manager at the Atlanta Botanical Garden where she became experienced at celebrity tours, events, working with volunteers and, of course, flowers. Carol comments, "I loved that job because of the fun people I met and worked with, as well as the perennials."
Carol's next job was at Zoo Atlanta where she was the director of public relations from 1994 to1998. She was there during the 1996 Summer Olympics, right after Kudzu the gorilla was born and when Ivan the shopping mall gorilla was transferred from the B&I Shopping Mall in Tacoma, Washington to the beautiful Ford African Rain Forest in Atlanta. Carol comments on the day Ivan arrived, "Ivan arriving was a career highlight for me. Not only was it a milestone in his life, but it was a milestone in my career as we had 22 news crews on site that day – one-third Atlanta, one-third Seattle/ Tacoma and one-third national."
She goes on to describe other amazing experiences at the zoo from feeding the rhino, meeting Newt Gingrich and riding an elephant to coordinating Joan Lunden's helicopter landing in the front parking lot for Good Morning America. During her zoo tenure, Carol scored a tremendous amount of press for the zoo and articles often quoted her. After the Zoo Atlanta, she worked for a small marketing firm with a specialty in real estate.
Carol started the firm's in-house public relations department working for large master-planned developers and a few nonprofits and retail accounts. Then in 1999, her son Forrest was born. She says, "To say he was a fussy baby would be an understatement. But, he was the push I needed to go out on my own. So, in 1999 I founded Flammer Relations, Inc. the same company that I operate today as Denim Marketing. We will celebrate 20 years in January of 2019!" Denim Marketing is a woman-owned business. We focus on strategic marketing as it relates to planning and great content.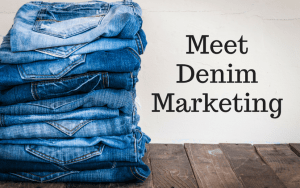 Denim Marketing focuses on the big picture and building a strategy that drives traffic back to your core assets – your website, brand and content. By approaching marketing this way, they create an effective and flexible marketing plan that includes content development and syndication, search engine optimization, social media, public relations, promotions, creative, reputation management, email marketing and media/advertising management. Carol says, "We really do strive to be a comfortable fit for our clients. We want to be seen as their strategic marketing partner, an extension of their in-house staff."
Carol has focused on trends in marketing and social media throughout her career. A sought-after speaker, she has been speaking on social media for the home building industry for more than a decade. In fact, she organized the first social media presentation for the International Builders' Show (IBS).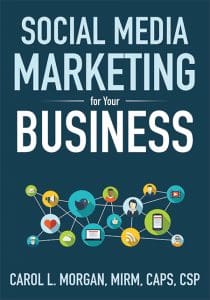 Next year marks her 10th consecutive year speaking at IBS!
This year, the Atlanta Woman's Expo selected Carol to share her story as its keynote speaker. An accomplished author, Carol has written four books on social media. Her latest is Social Media Marketing for Your Business. It is published by Builder Books and available at www.BuilderBooks.com, as well as on Amazon and Barnes & Noble.
Understanding the benefits of blogging long before others did, Carol is the creator of the nationally-ranked and award-winning www.AtlantaRealEstateForum.com, Atlanta's most popular real estate blog. Launched in 2006, she was blogging for SEO long before it became mainstream. She continued to launch cutting-edge products with the launch of
Atlanta Real Estate Forum Radio in October of 2011. The podcast airs twice a week and covers things to do "Around Atlanta" and "All About Real Estate." Carol and her co-host Todd Schnick interview the movers and shakers that make Atlanta real estate and the new home building market a success. The show is seven years old and available on iTunes or via your favorite podcast application.
What does she do in her free time?  She says, "I am the mother of one amazing son and I live on a 20-acre horse farm. In my free time, I like to cook, eat, garden, sample wine, spend time with friends and family and ride my dressage horse."
The Past Chair of NAHB's Professional Women in Building, Carol currently serves as NAHB's Membership Chair and is a member of the Associates Council. A graduate of Oglethorpe University, she is the recipient of the 2008 Spirit of Oglethorpe Award, PRSA Georgia Chapter's prestigious George Goodwin Award, the 2009 Greater Atlanta Home Builders Association's Associate of the Year and 2012 Council Chair of the Year. Carol holds the MIRM (Masters in Residential Marketing), CAPS (Certified Aging in Place Specialist) and CSP (Certified Sales Professional) designations from NAHB.
Has it been a smooth road?
Carol answers, "There are always struggles. It took a huge leap of faith to go out on my own in the first place. My initial goal was to replace like 60 percent of my income so we could just get by. Well, I more than replaced my income that first year."  She continues, "Growing into an agency and all the accounting, insurance, government regulations and human resource needs were definitely a learning curve."
People didn't understand her!
Carol shares her vision, "I made a hard turn toward online or new media as it was called in 2004. Everyone thought I had two heads. I knew that everything was going online and that my agency needed to be there. Leading that trend with an online news release and blogging was difficult in those days as no one saw the value." She continues, "Let's just say, I told someone close to me at the time that if I didn't do this that I'd be a 40-year-old dinosaur with no clients. I was right, the investment was worth it, my team grew into a digitally focused content team that is as comfortable pitching a press release to a reporter as we are posting it on a client's blog with all the proper search engine optimization tactics needed."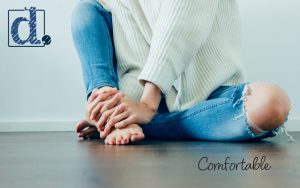 So let's switch gears a bit and go into the Denim Marketing story. Tell us more about the business.
We are known for great content, reliability and our work in social media and public relations. We are very proud of our ability to drive traffic and leads to our client's websites. Our work involves home — anything related to homes.
Our clients include new home builders, remodelers, custom builders, multifamily developers, master-planned neighborhoods, interior design companies, home staging companies, utilities, cities and counties, magazines and publications, mortgage companies, market feasibility companies, technology companies, closing attorneys and others.
Our clients rely on us to meet deadlines, stay on top of them and get it done at a high level. They will tell you that Denim Marketing is an extension of their marketing team – a comfortable fit.
How do you think the industry will change over the next decade?
There will be more and more focus online. More focus on user-generated content and the customer experience, as well as customer engagement. Video will continue to grow.
Marketers will continue to be challenged by how best to get their stories and content in front of an ever-crowded screen! Of course, demographics, geofencing and targeting will continue to improve.
For more information on the team at Denim marketing, click here. Find out more about how you can work with us by calling 770-383-3660 x20 or contacting us.