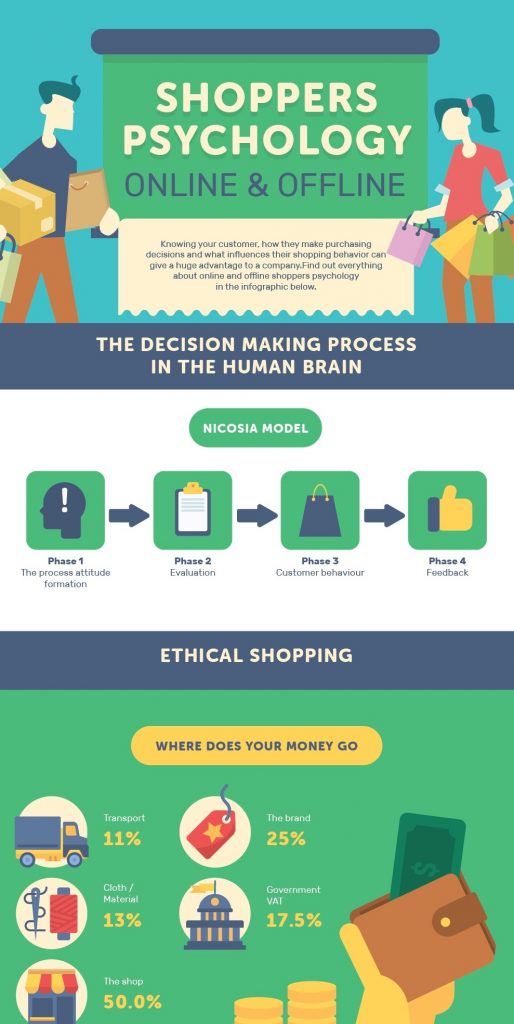 Whether you're in the market for a new pair of jeans, browsing a retail store for a new blender or looking for a new home, most shoppers feel in control of their purchasing decisions. The truth is that there is a specific science behind what influences purchases. If you have ever gone into a store for particular items and come out with more than intended, you have successfully been influenced by shopper's psychology.
While finances play a big role in lifestyle, emotions also influence decisions. A study published in the Journal of Retailing and Consumer Services found that emotions can be twice as important as knowledge in consumer buying decisions. Expectations, fears, desire for certain a social status can all influence buyers just as much as the "normal" aspects such as price and location. Decision-making is influenced by smells, colors, sounds, and even the Facebook Ads that are scattered throughout your newsfeed.
No matter what your business is, you need to know your customer, how they make purchasing decisions and what influences them. According to Shoppers Psychology Online and Offline, the decision making process in the human brain features four phases: the process of attitude formation, evaluation, customer behavior and feedback.
Businesses use a wide variety of psychological strategies to entice shoppers to buy services and products. With advances in psychological research and technology, sales tactics have become increasingly more sophisticated and more effective. Studies find that 60 percent of consumers are more likely to buy a product that displays the word "guaranteed" on the packaging or in the advertising. Understanding how consumers process advertisements they see, read or hear is important. People remember 10 percent of what they hear, 20 percent of what they read and 80 percent of what they say or do. These statistics show us that the brain processes visuals 60,000 times faster than text!
Due to these astonishing statistics, colors and signage are extremely important for all businesses. Research shows that 93 percent of customers place visual appearance and color above all other factors. The colors utilized for branding can increase brand recognition by 80 percent! This infographic breaks down just how much color and signage influence consumers and states that 75 percent of customers will tell others about a store based on only the signage, 76 percent will enter a new store based on the signage and 68 percent said that a brand's signage reflects on the quality of products and services.
When consumers shop online, 87 percent base their decisions on price, 71 percent on discounted offers, 68 percent on trustworthy reviews, 67 percent on brand reputation and 64 on how easy the site is to navigate. In short, shopping is not a straightforward activity and lots of factors combine to create the perfect shopping experience. It's vital to tap into the emotions customers use during the consideration process to effectively marketing to them to influence their purchasing decisions.
How can you use psychology to generate a successful marketing campaign?  For our clients, we often use tactics such as:
Creating eye catching graphics
Writing and posting engaging, unique content
Giving away gifts
Building emotional connections
Partnering with influencers
Promoting incentives
Establishing exclusivity
Knowledge and insight into human psychology can greatly boost your marketing efforts, as well as your sales. It takes time, research and dedication to know your target audience. A great deal of human interaction is based on impulse, which means incorporating psychological cues into your marketing strategy can help tug at the emotional strings of your audience. If this is something your company needs help with, contact us at Denim Marketing.