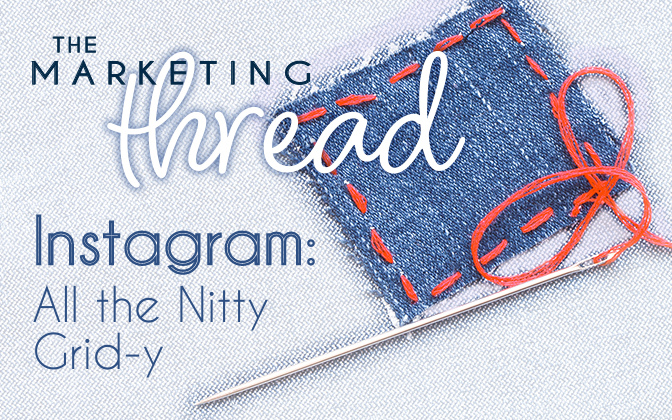 With over 1.3 billion users, Instagram is one of the most popular social media platforms in the world. There have been several shifts since its start in 2010, and today Instagram is an ever-changing platform with a complex algorithm and new updates at every turn. From a business standpoint, maintaining merely a general understanding of Instagram is no longer enough. Keeping up to date with the latest platform strategies and content tactics is crucial for success.
Hosted by Digital Content Producer Todd Schnick and various Denim Marketing team members, The Marketing Thread is a series of short digestible videos released monthly discussing current marketing trends. From social media best practices, generation-based marketing, media relations, blogging and many other helpful tips designed to promote successful marketing strategies.
In this feature, Todd is joined by Denim Marketing Account Manager Mandy Holm to discuss everything there is to know about how to strategically utilize Instagram for your business.
Why Should You Care?
Some businesses may not recognize the full benefits of utilizing Instagram within a social media strategy, but the platform boasts incredible user statistics that shouldn't be overlooked. Although Facebook seems to reign supreme, research shows that users tend to spend around the same amount of time on both platforms. Posting on Instagram is a great way to bring more traffic to a business' home page, as research shows 60% of users discover new products on the platform and about 130 million users per month 'tap' to learn more on shopping posts from businesses. As Instagram is visually oriented, the platform also makes it easier to share products and services with consumers.
Speaking of Content…
The reason why consumers love Instagram is for the visuals included on the app, and businesses need to take advantage of this to earn greater trust from customers. Most consumers do not trust brands, and they often view companies as faceless enemies that are just out to make money. Putting a face to a company is a great way to humanize a business and build strong relationships with returning customers. Generally, posts with faces receive 38% more likes than posts without.
Businesses should use Instagram as an opportunity to showcase the people behind the organization. The truth is that seeing images of people inherently makes users more comfortable and helps them more easily identify with brands.
Another way to earn favor with Instagram users is to highlight a lighthearted side of the brand by sharing humorous content and posts on trending topics. Incorporating user-generated content and humor into an Instagram grid brings a fun side to any business profile. Easy ways to create engagement include creating funny captions or asking questions to followers that prompt them to comment fun responses. However, it's important to keep brand identity in mind as the business shares these posts to ensure the brand maintains a consistent online presence.
Including the highest quality photos in a grid is also an important feature for any business, but even more so in the new home industry. Professional photography is preferred in many, if not all, aspects of home selling but especially on a visually-driven platform like Instagram. This shows potential customers that the business cares about providing high-quality products. Balance the grid by strategically alternating between posting photos of interiors, exteriors, close-up details, living spaces and photos with people.
Beyond these guidelines, we have a few more additional best practices to consider for a successful Instagram content strategy. Tag locations when applicable as posts with a location receive 79% more engagement. Use emojis when appropriate to break up text and show brand personality. Lastly, work in video content when possible as videos earn over two times more engagement than photos on Instagram.
What the Hashtag?
Hashtags are incredibly important to use on Instagram as the platform's entire search function is built on hashtags. This useful feature offers potential customers an easy way to find the brand. Posts with at least one hashtag average 12.6% more engagement. Hashtags help increase a post's organic engagement, reach and visibility, but it's not as simple as using any hashtags you'd like.
Hashtags should be specific search terms that have the most usage and drive the most engagement. Be strategic when selecting the right hashtags for your brand by using between nine and 12 hashtags per post and searching relevant terms on Instagram to find those showing the most usage. For those unsure of hashtags to use, there are great resources to discover hashtags that may work best for your posts and business including Google and other hashtag extensions or apps such as Hashtag Expert and RiteTag.
Creating a Cohesive Instagram Grid
The Instagram aesthetic of a brand is the first thing potential customers notice when they visit the brand account. It conveys brand voice, personality and helps followers instantly recognize brand content when it appears on their feed. A cohesive grid on a business' page is key to showing off a specific aesthetic.
The easiest way to establish an aesthetic is to keep content on the brand Instagram page in the same color scheme, layout and tone. Using the same filter on Instagram for each post or purchasing presets from Etsy to apply in the Adobe Lightroom app are easy ways to accomplish this.
Applying a preset helps bring photo tones come together and helps brands keep a consistent theme. Presets are a great option to avoid adjusting photos from scratch, especially if you are new to photo editing. Photos and backdrops posted on the brand Instagram might differ – but a cohesive color palette can help bring it all together.
Another important aspect of creating a cohesive grid is carefully considering the format of each post. The ideal sizing for Instagram is a square, which means each profile contains a square grid format to showcase all shared photos. Be aware of this platform-preferred shape and crop photos ahead of time in Canva or Paint to the appropriate sizing or simply keep the photo zoomed in when publishing. If the photo is zoomed out, you risk important features and text appearing cut off in the grid view – and that ultimately looks sloppy to visitors who might only view the business page in its grid overview.
Using posts to create different patterns on the profile Instagram grid is also a creative way to capture user attention. When it comes to selecting a grid layout, there are plenty of options from puzzles to text line, mixed square, row by row, checkerboard, border grid, diagonal and rainbow. For example, a puzzle layout creates one big picture on the grid by posting individual sections of the photo, while a text line layout is a creative way to include quotes or information on a grid that requires posting three photos that follow a specific pattern.
Pros and Cons of a Curated Instagram Feed
As with any social media strategy, there are pros and cons to creating a curated Instagram feed. Some pros include that doing so makes a great first impression, which can increase the percentage of people who follow after visiting the page. It also allows for bulk content creation and conveniently scheduling everything in advance. Lastly, it offers a seamless, aesthetically pleasing look that can make the brand stand out among its competitors.
However, one of the primary cons is that users are starting to favor authentic content rather than perfectly curated content. This content strategy also may not translate well across all social media platforms where the brand has a presence. Posts that look great on Instagram and create a striking grid may not deliver the same message or be as visually appealing when it is an individual post on other platforms. Commitment to maintaining a specific grid layout also means losing the flexibility to post timely updates and breaking news as it would disturb the flow of the grid.
Determining the best Instagram strategy for your business comes down to overall brand goals and objectives.
Do You Need a Dedicated Instagram Landing Page?
Although Instagram originally displayed posts in chronological order, it has since updated to a new algorithm that switches the order of posts on user feeds to match what the platform believes each user prefers to see. As a result, many brands have begun using a dedicated Instagram landing page, a standalone web page that displays all Instagram posts and their individual links. Although this can be time-consuming and isn't something that can be scheduled in advance, this indicates that the company is invested in optimizing its social media presence for customers.
The best part is that the link in the account bio remains the same. If the brand posts multiple times a day or once every few days, users that don't browse on an hourly or daily basis and might see posts out of order will still be visiting a link that offers relevant information.
Consider Best Times to Post
A successful Instagram strategy should also consider the best times to share content in order to receive high reach and engagement. Statistics show that Instagram users engage more on weekdays. As the best times to post changes from year to year, refer to resources such as Sprout Social to keep up with optimal timing for content. The latest Sprout Social update for posting to Instagram breaks down the best times to post for engagement, consumer goods, finance and more.
Compared to other platforms, Instagram has scattered points of engagement on weekends and mornings. If you intend to post on a weekend those posts aren't doomed, but it is important to be aware of the more popular engagement times and aim to post earlier on those days.
Engagement Starts from Within…
Engagement starts from within your company with employees and raving fans! While the new Instagram algorithm shows users the posts it thinks they will most enjoy first, the platform also tracks every time users click "Read more," "Learn more," directly send a post to a friend or share a post to their story. As engagement increases on a brand account and individual posts, the Instagram algorithm begins to suggest that content on the timelines of people who do not follow the brand. Therefore, it is always beneficial for businesses to encourage staff and happy customers to interact with its page!
Consider partnering with the Denim Marketing team for strong social media content strategies and best practices to improve online engagement for your brand. For more information, call 770-383-3360, ext. 20 or contact us.
Join Carol Morgan, Todd Schnick, Courtney Stewart and Mandy Holm for this free video series as they delve into topics guiding home builders and related companies toward marketing success. The Marketing Thread is a can't-miss new series that promises to boost any marketing strategy with effective tips.
View all videos from The Marketing Thread on the Denim YouTube channel.