Peachtree Residential has built new luxury homes in Georgia and North Carolina for over 30 years. Known as "The Builder Who Listens," Peachtree Residential is regarded for its superior service and commitment to exceptional craftsmanship. The builder delivers high-quality townhomes, move-up homes and luxury residences in several new home communities throughout the Atlanta and Charlotte areas. Many Peachtree communities offer vacant home sites, providing homebuyers with the opportunity to customize the build of their new home from flooring to cabinetry, fixtures, appliances, paint colors, countertops and more.
To improve brand reach and awareness, Peachtree Residential began working with Denim Marketing in May 2019. Denim Marketing strategically worked to meet those objectives by focusing on boosting website traffic and social media traffic through a content-focused marketing strategy.
Since May 2019, Denim Marketing has achieved outstanding growth in website and social media traffic for Peachtree Residential including:
159% increase in total website traffic
145% increase in social media traffic
The Denim Marketing team writes search engine optimized blogs for the Peachtree Residential website and Atlanta Real Estate Forum, each of which are distributed where they will earn the best reach among the builder's target audience.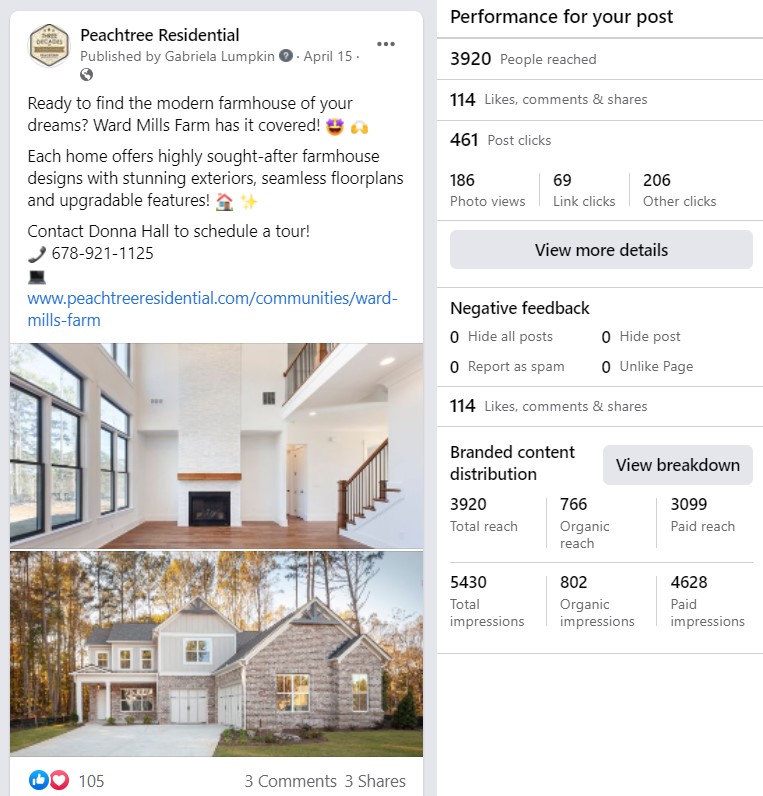 Denim Marketing also plans and creates content for the Peachtree Residential social media platforms, manages social media engagement and sets up social media ads on Facebook and Instagram. Denim Marketing also creates appealing video shorts featuring the builder's communities and floorplans which are shared on social media as organic and paid advertising content. These strategic tactics have led to fantastic growth in traffic and engagement for the builder!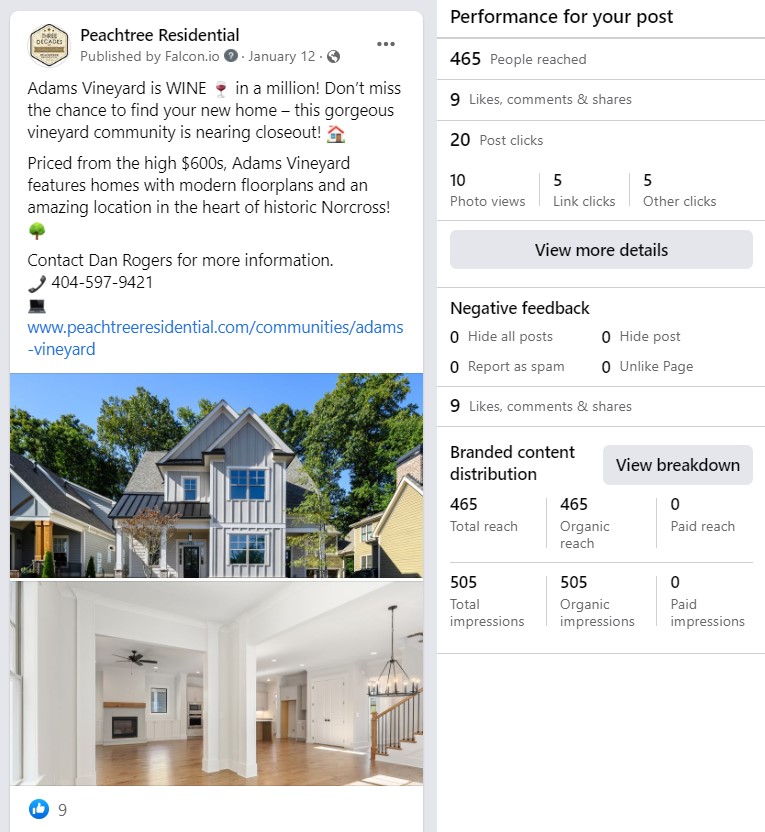 Website traffic has seen a terrific increase from 3,791 traffic units in July 2019 to 9,813 traffic units in October 2021. This was an incredible increase of 159% for Peachtree Residential overall website traffic. The majority of this traffic came from social media, followed by organic search and direct visits.
Social media traffic to the website has grown from 1,770 traffic units in July 2019 to 4,330 traffic units in October 2021 – a dramatic increase of 145%! When social media traffic is compared year-over-year to from October 2019 to 2021, the Peachtree Residential website received over four times as many visits. The social media traffic was led by Facebook and followed by Instagram, most of which were visits from social media advertisements.

Peachtree Residential saw the most successful social media results on Facebook. Initially, the Peachtree Residential Facebook had 849 page likes in May 2019, and today that number has increased remarkably by 6,257 for a total of 7,106 page likes!
737% increase in Facebook followers
3,879% increase in monthly Facebook impressions
760% increase in monthly Facebook engagements
The blogs produced by Denim Marketing have also achieved excellent organic traffic results for the builder. Blogs cover topics such as available homes, new communities, model home details, home design trends, outdoor living features, buyer incentives, floorplan features and more. From May 2019 to October 2021, monthly blog views have vastly increased by 207%!

The Denim Marketing team continues to execute this content-focused strategy to consistently produce phenomenal results for Peachtree Residential and maintain its strong online growth.