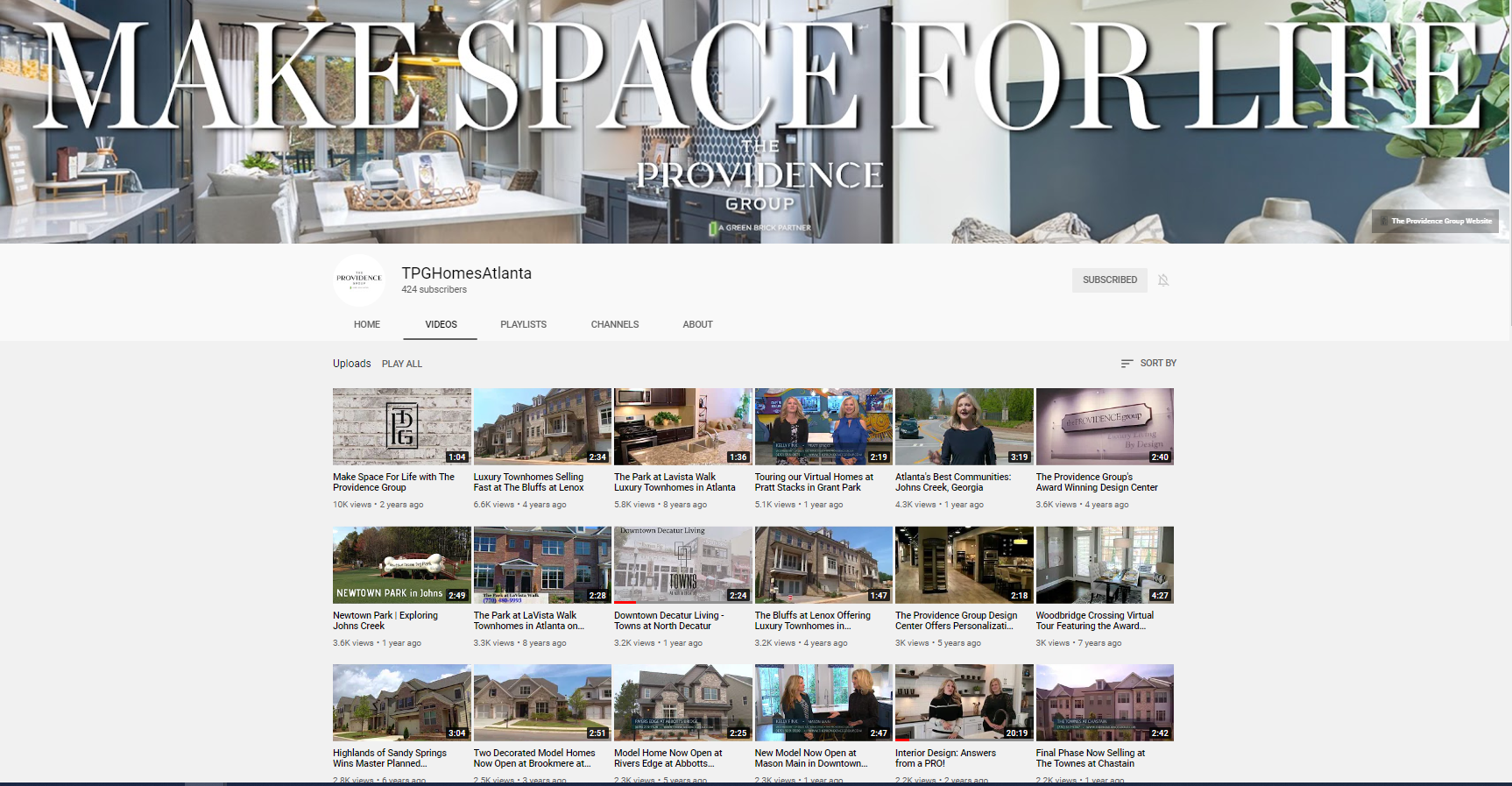 Now more than ever before, video content has evolved to serve a vital role in online marketing and selling of homes. Not only is video an engaging and entertaining format but it is also versatile and easy to share across multiple channels. After being forced to temporarily close down sales centers, home builders nationwide turned to video as a new method for maintaining their home sales, marketing efforts and communication with potential clients. One Denim Marketing client, in particular, found incredible video success during these challenging times.
While the COVID-19 (coronavirus) pandemic certainly made the regular use of video content even more essential, The Providence Group of Georgia, a Green Brick Partner, recognized the growing homebuyer demand for video long before it became a necessity. The Atlanta home builder had already launched a video blog (vlog) series and had been featuring segments of Atlanta's Best New Homes Show on social media. To maintain this video momentum, Denim Marketing stepped in to help implement a combination of effective strategies and tactics across both social media and the builder's website to help drive more traffic to its YouTube channel.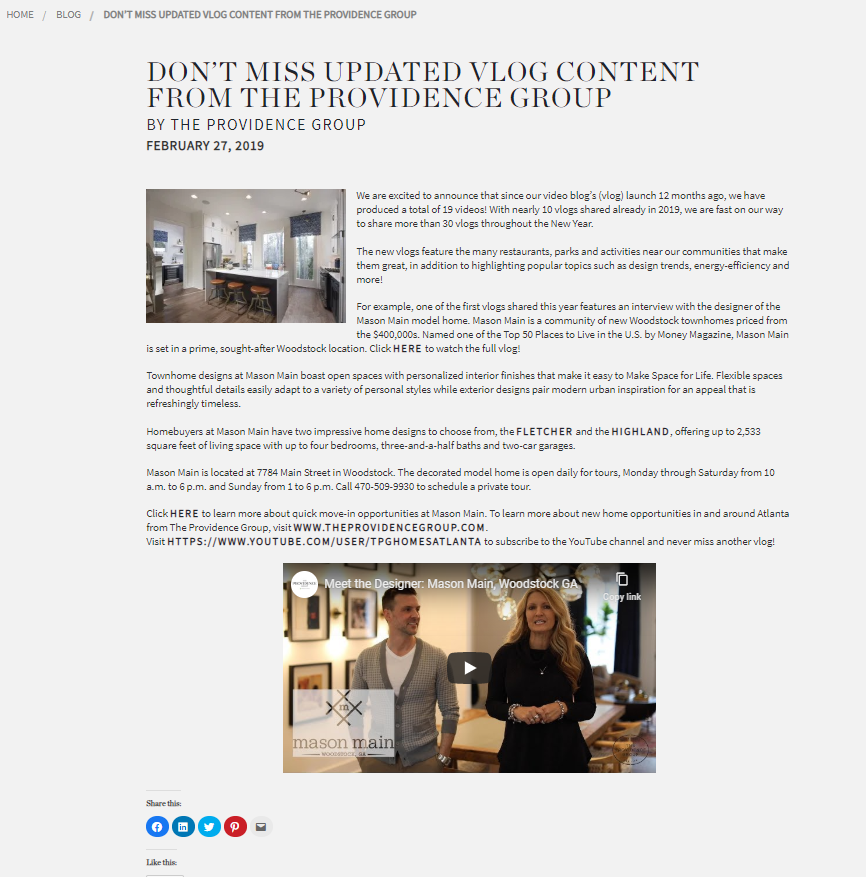 The multi-site/channel video campaign was strategically designed to find potential homebuyers across Facebook, Instagram, Twitter, Pinterest and YouTube. Using social media alone, the vlogs and Atlanta's Best New Homes Show segments were promoted as video-specific blogs and individually linked videos, each social media post included a link to drive traffic from the post to the YouTube channel so that viewers could interact with that video, as well as others on the channel.
Along with social media, several other tactics were also incorporated to help further promote The Providence Group videos and YouTube channel and make the viewing experience even more enjoyable for its audience. Specific tactics included:
Publishing individual blogs announcing each video and promoting those blogs via social media (Facebook, Instagram, Pinterest and Twitter).
Creating Facebook ads that linked to different videos every month.
Pushing subscriptions through a Facebook ad campaign featuring a custom graphic linking to an automatic subscription URL to push subscriptions to the builder's YouTube channel.
Consolidating all vlog and Atlanta's Best New Homes Show videos into their own respective playlist categories on YouTube for viewers to easily explore and enjoy.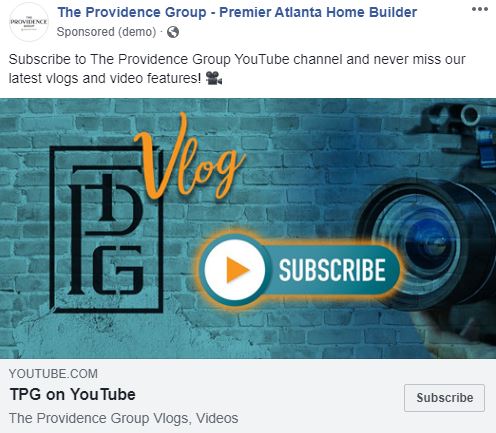 From these strategies and tactics, The Providence Group experienced tremendous growth in its YouTube channel. From June 2019 through June 2020, the builder's YouTube channel earned 36,919 views and 224.3K impressions, a 68.7% increase (compared to 132.9K impressions from 2018-2019) with 982.6 hours of watch time. In addition to views and impressions, the channel also gained 90+ new followers. This is a 26% increase in followers, which exceeded 400 total and a 16.06% increase in total views.
The Facebook ads relating to the vlogs, Atlanta's Best New Homes Show videos and subscriptions to the YouTube channel from June 2019 through November 2019 accumulated an impressive 733,835 impressions, a reach of 361,647 and 6,325 results (link clicks, post engagements, video views, etc.).
Getting viewers to hit the "Subscribe" button is not an easy feat, but the fact that this video campaign garnered as many new subscribers as it did makes it an outstanding success. As an added bonus to the video campaign, The Providence Group website received the highest amount of traffic from social media in 2 years!