It is important for businesses, in particular home builders, to be involved in the local communities they serve and build in. Kolter Homes – a leader in developing next-generation, highly-amenitized, master-planned active adult communities in the Southeastern U.S. – recently partnered with Denim Marketing to facilitate its community outreach efforts in Hoschton, Georgia, the location of its newest active adult community Cresswind Georgia at Twin Lakes.
Community outreach, also known as business outreach, refers to immersing a business and its team with local events, activities and causes that are important to the public with the goal of helping locals improve their lives while also increasing brand awareness of a business within that community. Basically, it is creating a relationship with the community.
Beginning in August of 2020 amid the COVID-19 (coronavirus) pandemic, Denim researched a variety of community outreach opportunities including membership, sponsorship, advertising and speaking opportunities with the City of Hoschton, the Jackson County Area Chamber of Commerce, the annual City of Hoschton Fall Festival, the Hoschton Women's Civic Club and the Hoschton Area Business Alliance, as well as explored needed contributions to the West Jackson Fire Department, the Jefferson Police Department and the Northeast Georgia Medical Center of Braselton.
Cresswind Georgia joined the Jackson County Area Chamber of Commerce and started sponsoring events and advertising. Early in the relationship, the Chamber delivered information that was incorporated into welcome packets for Cresswind Georgia residents. Cresswind Georgia sponsored the Chamber newsletter and hosted events at the community, like a Chamber t-shirt day.
The biggest event that has been held so far is the Chamber Business and Social Hour (BASH). The Chamber BASH is a networking event held multiple times throughout the year at different locations with various host sponsors.
Attendees of the Cresswind Georgia BASH also enjoyed the official opening and ribbon cutting of the community model home park with several prominent Hoschton dignitaries in attendance including City of Hoschton Councilpersons James Lawson and Tracy Carson, Former Hoschton Mayor Theresa Kennerly and President and CEO of the Jackson County Area Chamber of Commerce Jim Shaw. This was a fantastic, fun event that promoted good community relations.
Denim Marketing attended the event, took photos and distributed a news release announcing its success. The story earned placements in several publications including Atlanta Communities Magazine, Private Communities and Builders Club Rewards.

Community outreach efforts continued into 2021 with The Red Thread Kitchen, a new local restaurant bringing farm to table with its southern fusion cuisine, partnering with Cresswind Georgia at Twin Lakes to bring its in-restaurant aquarium to life. The restaurant formed a team to fish for bass at the community's lakes to transport to the aquarium and swim among the goldfish. This exciting event was featured in the local BraseltonNews TODAY newspaper, both in print and online.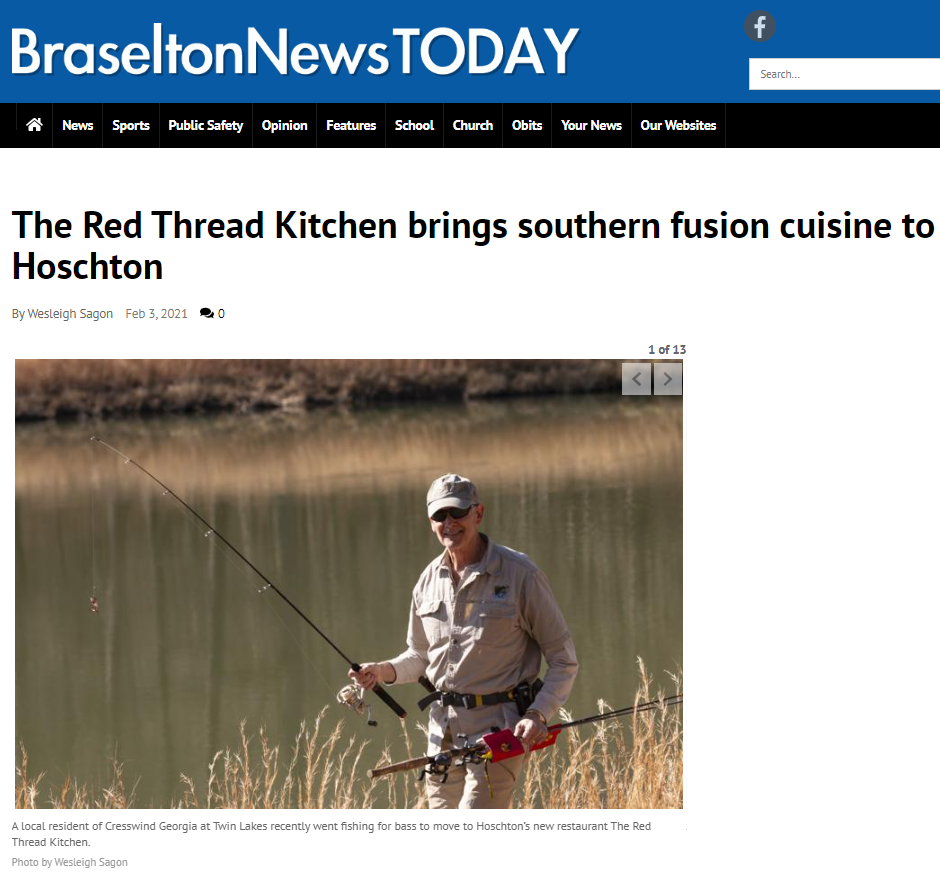 Finally, Cresswind Georgia at Twin Lakes hosted Hoschton Day to feature multiple local vendors and businesses. Nearly 200 residents donned their custom community name tags and mingled throughout the community's model home park to learn more and taste local products. This community event was featured in Builders Club Rewards and Private Communities.

A new neighborhood or development is exciting for both homebuyers and the local community; however, it is important the community supports it and is equally excited about it. Consistent community outreach efforts for Cresswind Georgia at Twin Lakes have helped residents position themselves to be involved in their new community, both inside and outside the neighborhood gates.
If you are interested in community relations and community outreach, contact Denim Marketing.