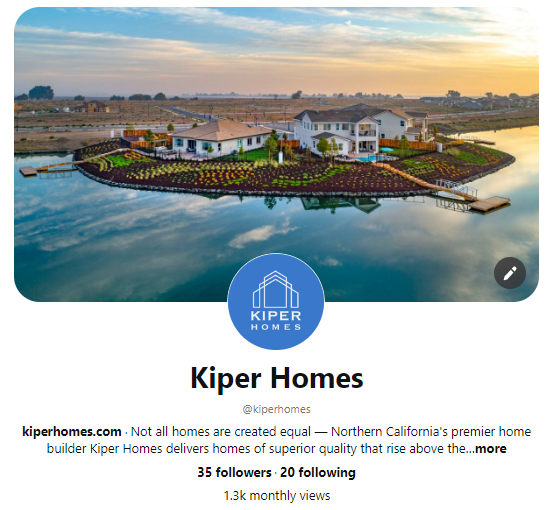 Kiper Homes builds quality, regionally inspired new homes throughout the Northern California area including Lathrop and Manteca. When Denim Marketing first began working with this client, we primarily focused on increasing social media interactions and following on Facebook and Twitter. After those social media channels started to see success, we launched the Kiper Homes Instagram page and started campaigns to increase following on that site.
Once those social media channels became more established and started driving consistent traffic to the Kiper website month to month, the Denim Marketing team implemented a more effective Pinterest strategy by overhauling irrelevant boards and creating new ones with better groupings, like active communities, streetscapes, model home photos and videos, all with alternative text for additional SEO value.
Like so many social media accounts that have been online for a while, the Kiper Pinterest needed some cleaning and updating. The Kiper Pinterest previously had several Boards linking to since-sold-out communities, some with no pins at all and some related to too-broad of topics, like "Falling in Love with Fall!" and "Be 'Wet Weather' prepared!" Many community Boards were also missing model home photos.
We utilized engaging copy and hashtags to further expand reach, impressions and results and created more relevant boards while merging others as appropriate:
Kiper Homes Blog
Balboa in Lathrop
Catalina in Lathrop
Newport in Lathrop
Freestone in Manteca
Carousel in Hollister
Mayfair in Hollister
Virtual Tours
Testimonials
Gourmet Kitchen Goals
Bathroom Goals
Outdoor Living Spaces (a relevant Board as most Kiper floor plans feature California room options/extensive outdoor living options)
Legacy Communities – (merged Sold-Out Community Boards into one)

Before the Pinterest overhaul, the Kiper Pinterest page garnered an average of 633 monthly views. In the last year, the Kiper Pinterest garnered an average 1K+ monthly views, its highest views reaching 2,800 and typically reaching or exceeding 1,000 monthly average views.
Pinterest traffic to the Kiper Homes website has increased 100% year over year.
As a highly visual social media platform, Pinterest offers businesses in all industries and of all sizes an outlet to market themselves in a visual way. Many users use Pinterest as a source for inspiration and frequently discover new brands and products on the platform. For home builders with beautiful imagery, like Kiper Homes, Pinterest is a social media must.
Take advantage of Pinterest in your business' social media strategy! It is proving to be a successful tool in driving website traffic with its enhanced SEO elements. To get started, contact Denim Marketing at 770-383-3360 or click here.