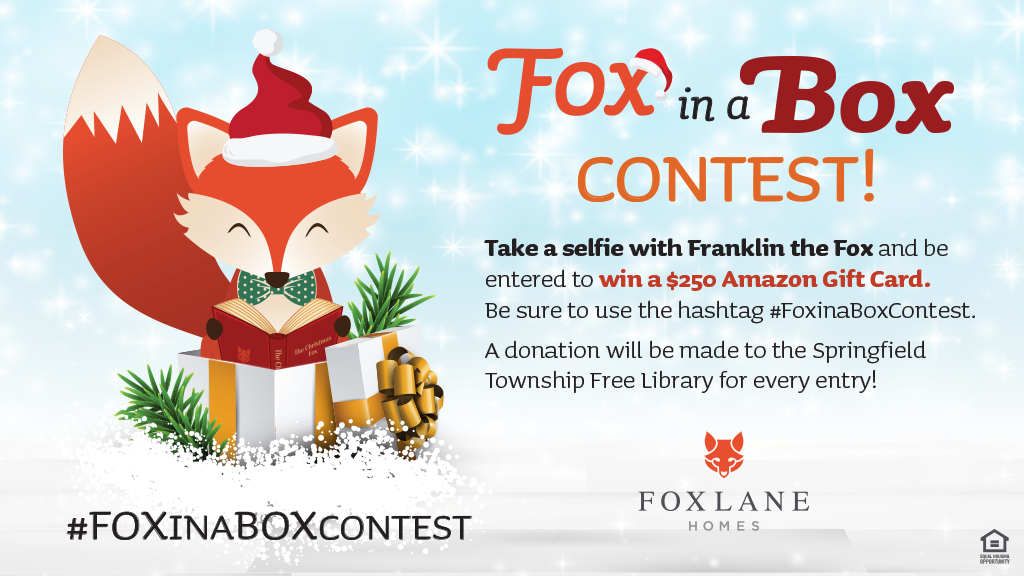 The holiday season is a wonderful time for brands to deliver unique content to engage their target audience whether it's creative, lighthearted or even charitable! Posting holiday-related content offers brands a fun way to share their products and services – as long as they offer content that truly captures attention!
In November 2020, Denim Marketing created the Fox in a Box contest for Foxlane Homes. This holiday campaign acted as both a contest and fundraiser to promote the builder's newest model home and give back to the local community. While each contest entry offered participants a chance to win a $250 Amazon gift card, it also drove a donation of $10 from Foxlane Homes to the local Springfield Township Free Library.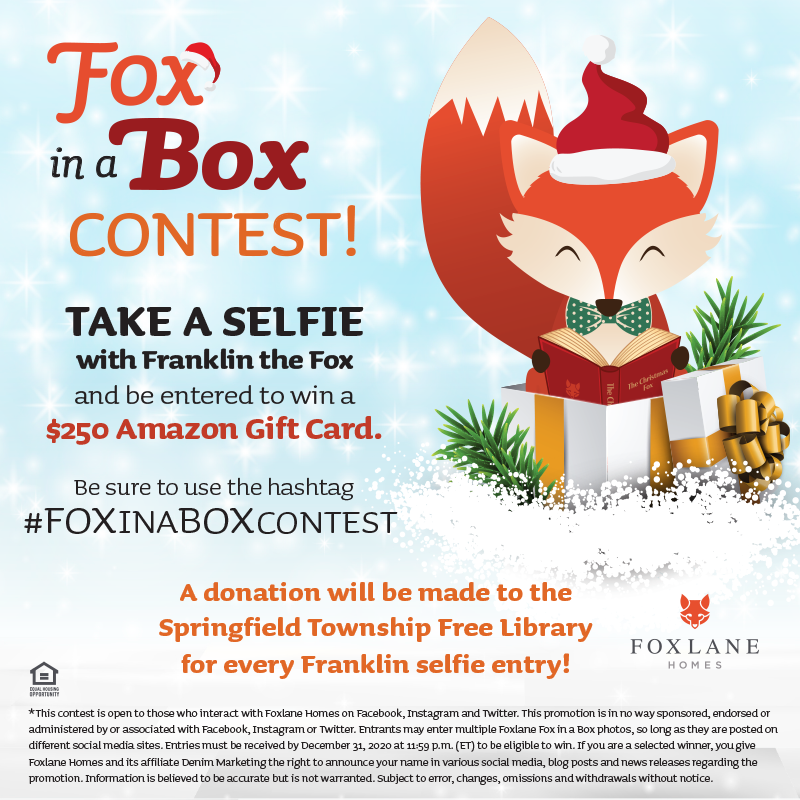 To enter the Fox in a Box contest, participants were invited to find the hidden Franklin the Fox. When participants discovered Franklin, they were encouraged to take a photo or selfie with the fox and share it on Facebook, Instagram or Twitter with the hashtag #FoxinaBoxContest.
Each social media platform where the photo was shared counted as a single entry, which encouraged participants to share their photos across every social media channel. Participants could also share their posts directly to the Foxlane Homes Facebook page to be counted as a super entry.
To help increase visits to the builder's newest model home and the Springfield Township Free Library, Franklin the Fox was hidden at both locations for double the fun! While the contest brought attention to the builder's homes to generate new homebuyer leads, it also presented a charitable opportunity to drive interest toward the local library in support of the community.
The Denim Marketing team provided the idea for the Fox in a Box holiday contest and produced graphics created by our Creative Director Dina Gundersen. Our team also wrote and shared a blog post on the Foxlane Homes website that shared the details of the contest including how to participate, the contest prize, the donation per entry and how to directly donate to the library. Throughout the campaign's duration, the Fox in a Box announcement blog received 251 visits.
To raise awareness about the holiday contest, Denim Marketing promoted it through social media ads on Facebook and Instagram. These ads performed well, garnering 10,397 total impressions, a total reach of 6,821 and 1n256 total engagements.
This festive holiday campaign successfully enhanced the builder's social media engagement with homebuyers, increased visits to their new model home and helped draw attention to a valued local organization.
Foxlane Homes is a Pennsylvania-based home builder that offers luxury new home communities located in the Philadelphia and Pittsburgh suburbs, as well as coastal Delaware. Every Foxlane community offers homeowners access to lovely communities, highly rated schools, family-friendly floor plans and more. Foxlane offers homeowners the opportunity to select a home site within a community and enjoy a wide array of design customization options to create the ideal family home.