Heatherland Homes is a metro Atlanta-based home builder and developer that is adept in finding the perfect properties and crafting exciting new communities inspired by the area that surrounds them. Communities are convenient to restaurants, shopping and local attractions, as well as nearby interstates for easy commutes. Within each neighborhood, one is sure to find a variety of spaces for both relaxation and entertainment including front porches, pocket parks, firepits and other community amenities.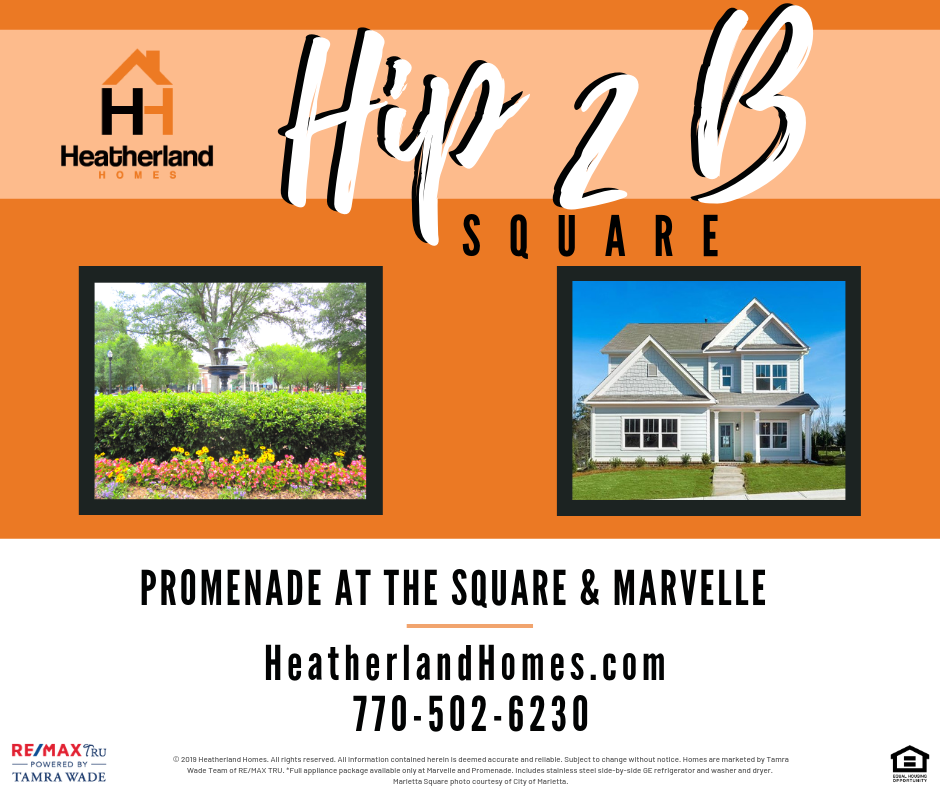 When we first started working with Heatherland Homes, the builder wanted to find a way to promote its two new Marietta communities located within walking distance to the Marietta Square. The goal was to craft a campaign that not only made people aware of the community, but also encouraged potential home buyers to visit the community model homes, eat at one of two popular Marietta Square eateries and fully experience the lifestyle they'd enjoy if they chose to call Marvelle or Promenade at the Square home. In addition to encouraging potential home buyers to visit the communities, Hip 2 B Square also gave those who placed a binding contract on a home during the campaign a full appliance package that included a stainless-steel side-by-side GE refrigerator and washer and dryer.
Working alongside the Heatherland Homes and Tamra Wade (sales) teams, we brainstormed, concepted and developed a multi-site/channel campaign that was designed to find home buyers wherever they may be – on social media, via email, browsing other real estate-related websites and more. Strategically titled "Hip 2 B Square," the campaign was promoted on Heatherland's social media sites, including Facebook, Twitter, Instagram and LinkedIn, as well as the builder's blog. The campaign was also promoted using traditional public relations, email marketing, digital advertising and social media advertising methods.
The campaign news release received placement in multiple online news outlets, and the blog on the Heatherland website was the second most popular piece of content on the website during the month of the campaign. The new Heatherland website launched the same month as the Hip 2 B Square campaign, and in just 10 days, social media from the campaign sent the most traffic to the site averaging over 1,000 visits. Additionally, engagement on the Heatherland social media sites was up tremendously. Facebook engagements were up 43.6% and link clicks were up 50%, while Instagram impressions were up 104%, engagements were up 292.7% and profile clicks were up 136.4%.
During the month-long campaign, we saw the most effect on traffic at Promenade at the Square- a newly announced community that was lacking in traffic prior. Throughout the month, there were 191 total traffic sources to the community, compared with just 7 the previous month! In addition, sales doubled at these two communities in May when compared with the previous month.
Through this unique campaign, we were able to help Heatherland Homes bring much-needed awareness to its two new Marietta communities with tremendous success. In fact, the Hip 2 B Square campaign was so successful that Heatherland Homes decided to extend it for another month, adding in another nearby community!