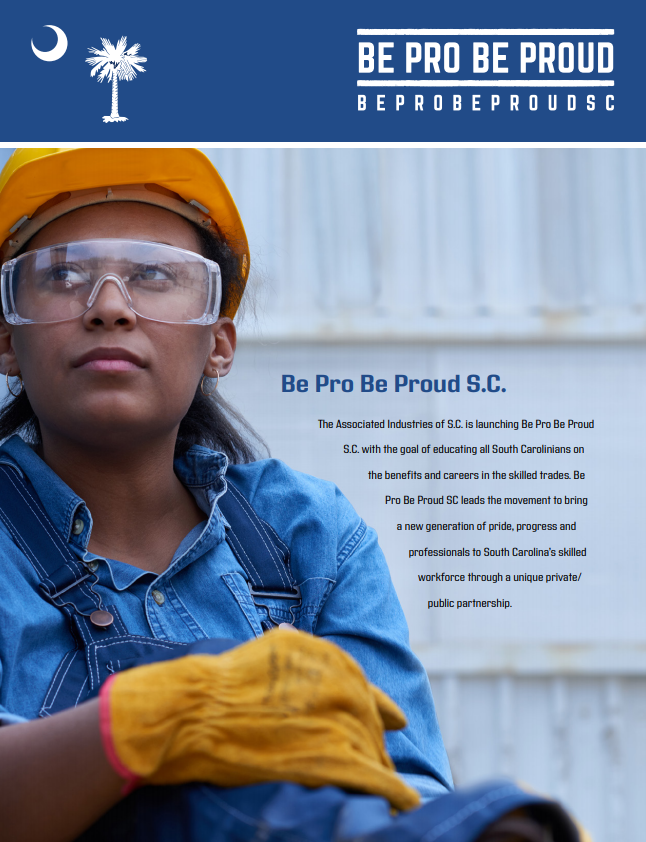 Be Pro Be Proud is South Carolina's proactive response to the work force housing shortage faced by the residential construction industry. The growing need for a skilled workforce is an essential tool for the economy of South Carolina. Because of this challenge, the Home Builders Association of South Carolina (HBASC) and related trade associations have formed a powerful collaborative to promote skilled trades in South Carolina: Be Pro Be Proud SC.
The ultimate goal of Be Pro Be Proud SC is to transform the future workforce by increasing the pool of qualified workers and re-instilling pride in the skilled trades. This is achieved by creating a custom-built, state-of-the-art, military-grade, double-expandable 53-foot 18-wheeler with simulators that allow kids to learn about skilled trades in a hands-on setting using interactive, virtual reality and gamified simulators.
In order to launch Be Pro Be Proud SC, the state had to raise funds to build out the tractor trailer and to facilitate this, HBASC hired Denim Marketing to create a fund-raising brochure on the project. Needless to say, it was a huge success, with the brochure helping to raise $1.8 million.
Denim Marketing wrote the copy for the marketing brochure, which was designed by our Creative Director Dina Gundersen. The colorful and inspirational brochure prominently features the state of South Carolina's colors and a fun design with photos of students working in the trades.
Mark Nix, Executive Officer with the Home Builders Association of South Carolina, said, "Working with Carol and the team at Denim Marketing made this project super easy. They understood our goals for the piece from the beginning, and the end result is fantastic."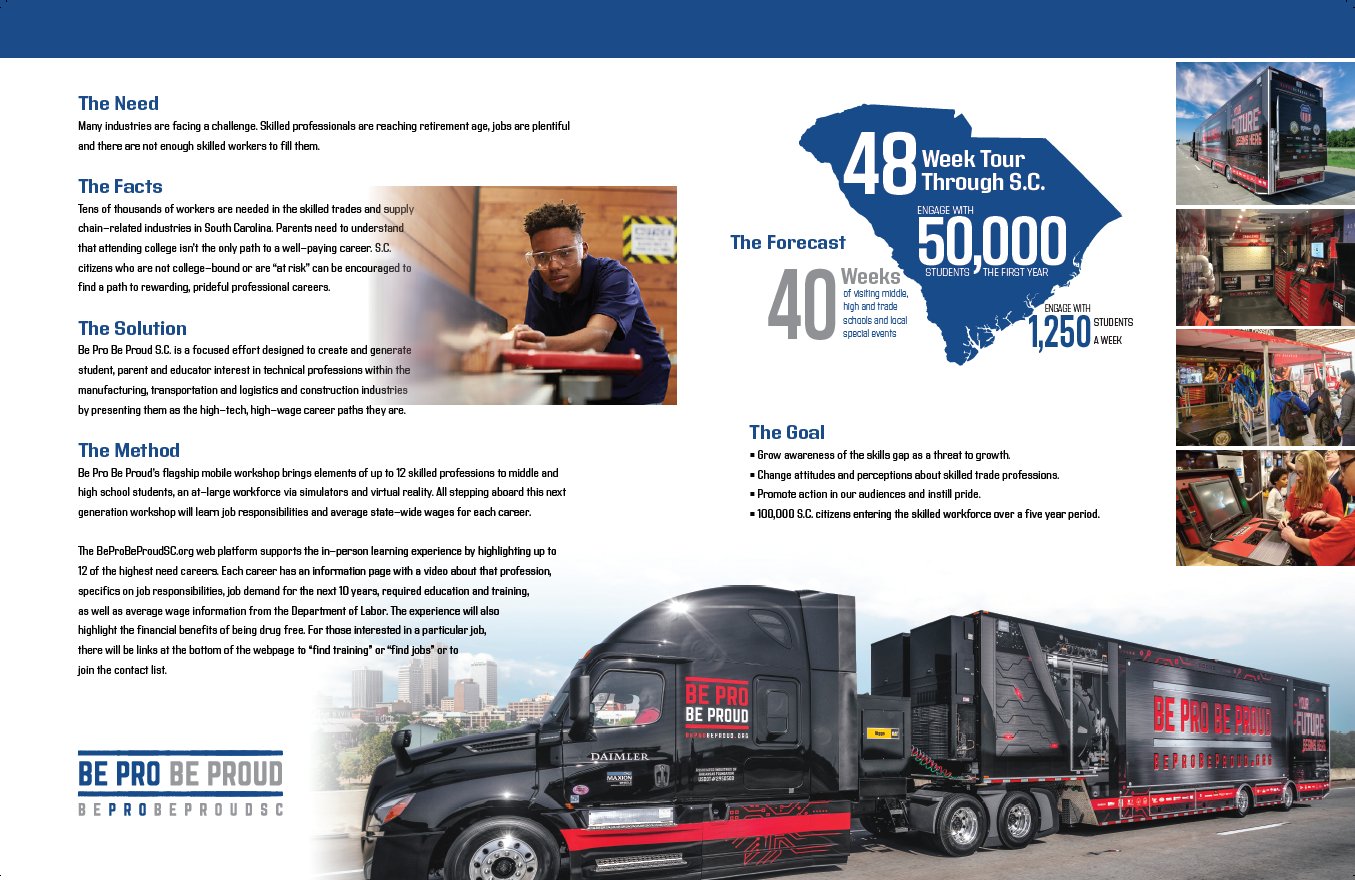 The goal of Be Pro Be Proud S.C. is to educate all South Carolinians on the benefits and careers in the skilled trades. Be Pro Be Proud SC is a unique private/public partnership designed to create and generate student, parent and educator interest in technical professions within the manufacturing, trucking and construction industries by presenting them as high-tech, high-wage career paths.
Be Pro Be Proud SC is now up and running in its flagship mobile workshop. In its first three months on the road, the program presented at 34 events, saw 1,685 students and had 27 visitors.
Woolard Technology Center in Camden, S.C., says, "I had two diesel mechanic apprenticeship openings at the DOE Bus Maintenance Shop, but no students were interested. After the Be Pro Be Proud tour, I had two students apply for the apprenticeship program!"
Be Pro Be Proud is booked solid for 2021 with 57 school events scheduled and eight foundation events, and they are starting to book for 2022. The program is geared to fifth grade students and older, as well as adults.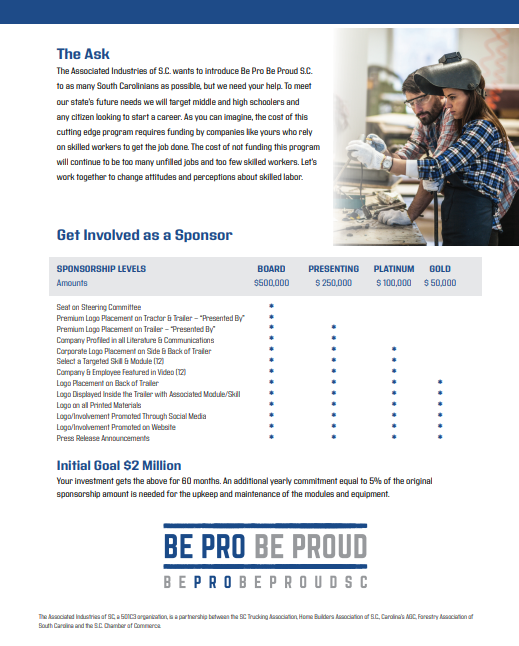 The workshop can be deployed everywhere across South Carolina. It is a well-lit, colorful, animated, and temperature-controlled environment that students are excited to experience. This innovative campaign has "pop," and the "wow factor" to deliver a "road map" to students that clearly demonstrates the value of skilled trades professions, along with local schools, training facilities, and available jobs on the Be Pro Be Proud website. The program will not only educate students about skilled trade careers; it will give them tools and resources to get hired in a profession that will transform their lives.
Recent statistics from the 2018 U.S. Bureau of Labor Statistics Occupational Employment Statistics Survey shows that half of payroll workers in construction earn more than $47,290 and the top 25% make at least $66,290. In comparison, the U.S. median wage is $38,640, while the top 25% makes at least $62,510.
According to this same data, the National Association of Home Builders reports that year-over-year, median wages in construction outpaced the national median wages, 3.2% vs 2.5%. Wages of various construction trades, laborers and helpers rose even faster, ranging from about 7% for plasterers, stucco masons, roofers' helpers, tapers and floor layers to 3.6% for construction laborers. Stonemasons saw their wages rise by more than 6% and terrazzo workers received wage hikes of more than 5%.
Among construction trades, elevator installers top the median wages list with half of them earning over $78,990 a year, and the top 25% making at least $100,720. The median wages for rotary drill operators is close to $70,000, with the top quartile of the pay scale earning over $77,610 annually. First-line supervisors of construction trades are next on the list, with half of them making over $64,600. Boilermakers are a close fourth-highest paid construction craft. Half of these craftsmen working in construction earn over $64,480, and the highest paid 25% bring in over $78,250.
Programs like Be Pro Be Proud S.C. ensure that we have future generations of skilled workers entering the home building industry with a strong tool belt of skills!