Donley Homes, the premier Pickerington new home builder, celebrates its 50th anniversary in 2021. Since its creation in 1971, Donley Homes has built more than 1,500 new homes in the greater Columbus area. To help celebrate this benchmark year, we created a year-long marketing plan to execute over four quarters. Each quarter builds upon previous strategies, as well as introduces new tactics to continue the hype surrounding the 50th anniversary of Donley Homes.
Donley Homes prides itself on offering standard features considered upgrades by other builders, as well as applying a hands-on approach to the building process. Members of the Donley team, including President Mike Donley himself, are onsite every day to evaluate the quality of material and workmanship throughout the entire new home build. These qualities, amongst many others, are coined "The Donley Difference." For this reason, Denim Marketing kicked off the 50th anniversary campaign with a new tagline, "Celebrating 50 years of the Donley Difference." This new tagline and a special 50th anniversary logo are continually featured on the website, social media, blog posts, graphics, email signatures, videos, news releases and other marketing materials.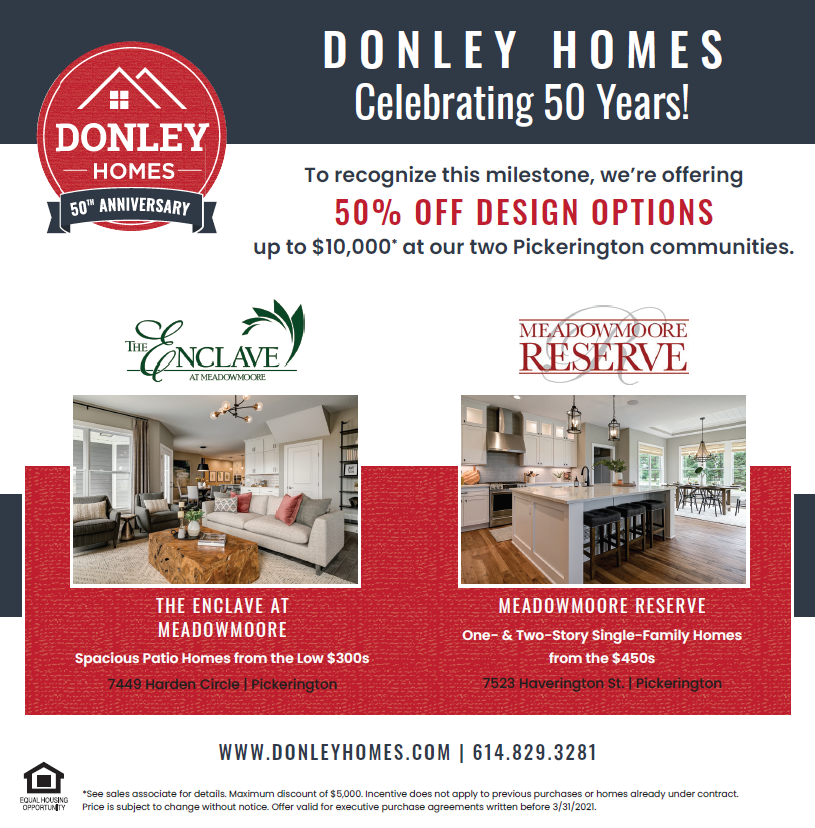 In addition to facilitating the creation of a new logo and coming up with an anniversary tagline, the Denim Marketing team launched several incentives in the first quarter of the Donley campaign. Donley Homes agreed to incentivize buyers with 50% off design studio selections up to $10,000. The builder also decided to give back to the local community by donating $50 per home sold to three local organizations: The Pickerington Food Pantry, Tyler's Light and the Pickering Education Foundation. Other tactics employed to launch the promotion and raise awareness of the milestone anniversary included writing a news release that was sent to local media, implementing a blog on the Donley Homes website, and working with a local publication to create print and digital ads.
Moving into the second quarter, Denim Marketing will continue to utilize the 50th anniversary logo and tagline whenever possible, as well as launch new incentives, including a 50th anniversary bonus to Realtors. Additionally, Denim Marketing will plan and oversee a summer event celebrating the Donley Homes milestone.
Building on the tactics from the first half of the year, quarter three includes a new incentive and an agent event. This agent get-together offers goodies and giveaways for key Realtors that Donley Homes' works with to show thanks. Wrapping up the year and the 50th anniversary, Donley Homes will offer a new incentive to buyers. In addition, the builder will continue executing several marketing strategies implemented in the first quarter, including the use of the 50th anniversary logo and tagline, donation to local charities and incentives.
The Donley Homes 50th Anniversary Campaign was designed to help spread awareness of Donley Homes' success, while also giving back to the community that helped it grow into the successful multi-generational builder it is!