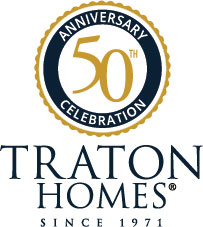 Celebrating its golden anniversary, family-owned Traton Homes commemorated 50 years of offering Atlanta area home buyers 'Altogether More' in 2021. Doing anything successfully for 50 years is impressive, whether that is enjoying a successful marriage or running a homebuilding company.
Denim Marketing is proud to work with Traton Homes to promote this milestone in the company's history, and equally proud of the ongoing relationship with the builder as a trusted marketing partner since 2002. During this time, Denim has focused on crafting and sharing stories with the home builder's potential buyers in an engaging and meaningful way through press releases, blog posts and social media.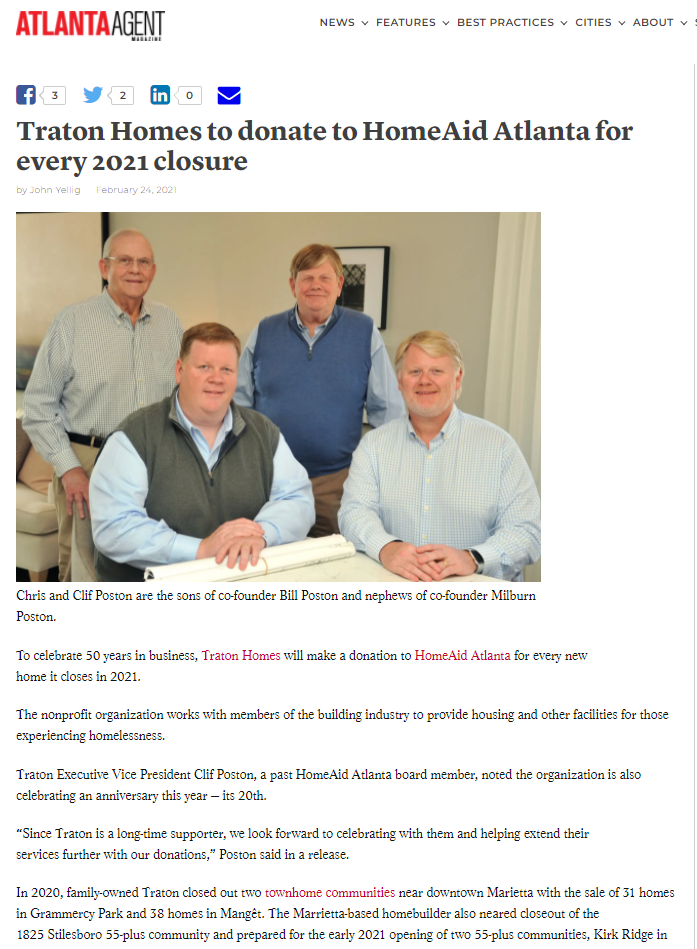 For the 50th anniversary, it was important to Traton Homes to tie the anniversary and home sales to a relatable charity. As a HomeAid Atlanta board member, Denim Marketing's President Carol Morgan knew that 2021 was the 20th anniversary for HomeAid Atlanta and that Clif Poston had previously served on the HomeAid board. It seemed fitting to suggest this nonprofit as the beneficiary of Traton's anniversary donation since is it so closely tied to the building community. Traton Homes loved the idea and decided to make a donation to HomeAid Atlanta for every new home closed in 2021. HomeAid Atlanta builds new lives for families and individuals experiencing homelessness and is supported by donations of services and materials from members of the homebuilding industry.
In order to spread the word about the anniversary and the donation, Denim Marketing crafted a news release and a feature story for the local press. As a result, articles ran in Atlanta Communities, Atlanta Real Estate Forum, Builders Club Rewards, News Break, Atlanta Agent, Metro Atlanta CEO, Marietta Patch, the Atlanta Business Chronicle, Marietta Daily Journal and others. These articles generated more than 250,000 impressions, helping commemorate the anniversary and success of Traton Homes, but also providing HomeAid Atlanta with outlets to spread their mission and vision while reaching potential future donors.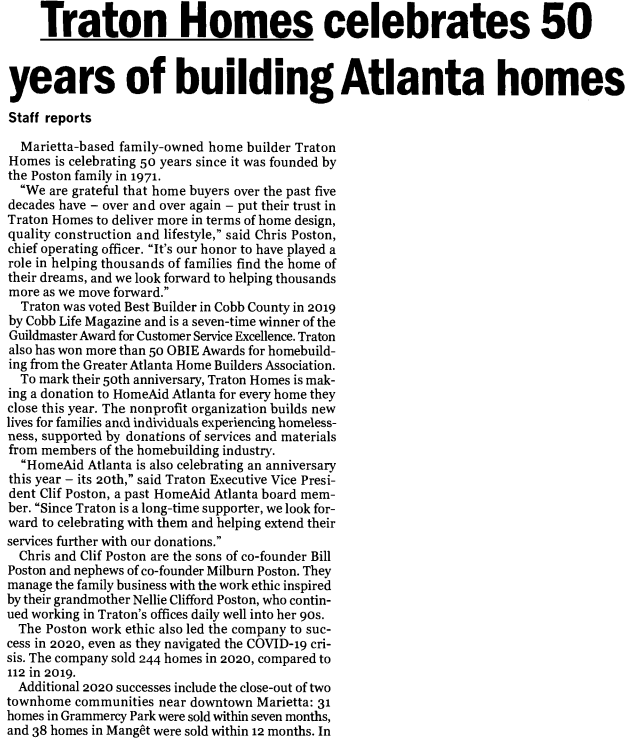 The Marietta Daily Journal piece is particularly important to the positioning of the anniversary story and the optics in the builder's hometown of Marietta, Georgia. Chief Operating Officer Chris Poston is quoted in the article as follows, "We are grateful that homebuyers over the past five decades have – over and over again – put their trust in Traton Homes to deliver more in terms of home designs, quality construction and lifestyle." He continues, "It's our honor to have played a role in helping thousands of families find the home of their dreams, and we look forward to helping thousands more as we move forward."
Of the partnership with HomeAid Atlanta, Traton Executive Vice President Clif Poston, a past HomeAid Atlanta board member, says, "HomeAid Atlanta is also celebrating an anniversary this year – its 20th. Since Traton is a long-time supporter, we look forward to celebrating with them and helping extend their services further with our donations."
Voted Best Builder in Cobb County in 2021 by Cobb Life Magazine, Traton is a seven-time winner of the GuildMaster Award for Customer Service Excellence. In addition, Traton has won more than 50 OBIE Awards for homebuilding excellence from the Greater Atlanta Home Builders Association. The hometown builder blends careful, up-to-date design and top-quality materials to create enduring appeal and exceptional value.